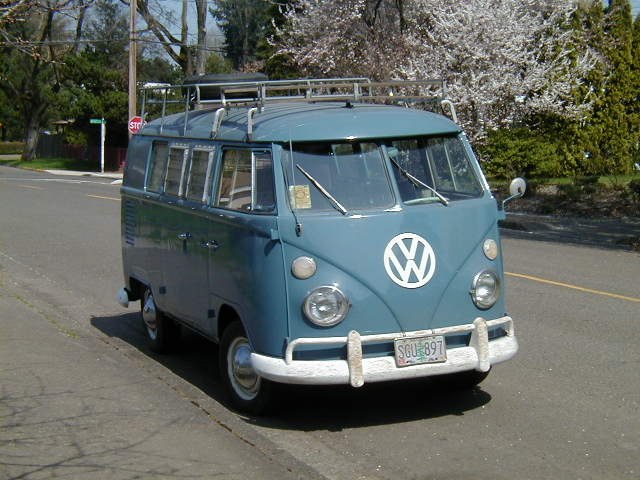 At home in Eugene, OR.
Eugene, Winter '95
Barbara starting breakfast in Eastern Oregon.
.
See the official Volkswagen AG " birth certificate " of my buses.
Back to the WetWesties Homepage
1965 Standard Microbus

Barbara and myself spent one month touring California, visiting friends and living in the bus, which has a 1971 Westfalia interior. I scraped off absolutely all the paint out down to the bare metal, which I am pleased to say, has no rust whatsoever. The exterior restoration is finally completed, after 2 years of struggle... I used my favorite VW color, dove blue.I am now working on the interior: baltic birch plywood paneling, insulation, original spice rack & child's cot, etc.

.

.

.

1969 Kombi

This is probably the best Volkswagen I have ever owned. Not only it helped developing my mechanical skills (thanks, John Muir) but it ended up being a very reliable vehicle, with which I traveled thousands of miles across the US and Mexico. And, listen to this, the heater worked! It was my faithful companion for five years, serving as work tool (gardening business), recreational vehicle(vacation travel), and shelter (ocassional living quarters). Unfortunately, I had to sell this bus to be able to buy the splittie.

.

1991 Westfalia GL "Fafner"

This is one of the last Vanagon Westfalias sold in the US, based on a VIN survey that took place at the Vanagon list. Equiped with factory cruise control, Heidelberg VII radio/cassette, alloys, electric(and heated) mirrors, power locks/windows/steering, A/C, dual heaters, manual 4 speed, and the complete camping package. In addition, the original owner added a tow hitch, 3M window tint, bra, fog lights and aluminum side step. To that, I added an Alpine 6-CD changer, VW gravel guards, and brand new Michelins A/T. With only 60K miles on the odometer, I still have a lot to enjoy out of this one. Actually, after several years of owning the vehicle I am still impressed with its quality, design and flawless performance. Go here to learn why I named it "Fafner".