'91 VW Westfalia GL For Sale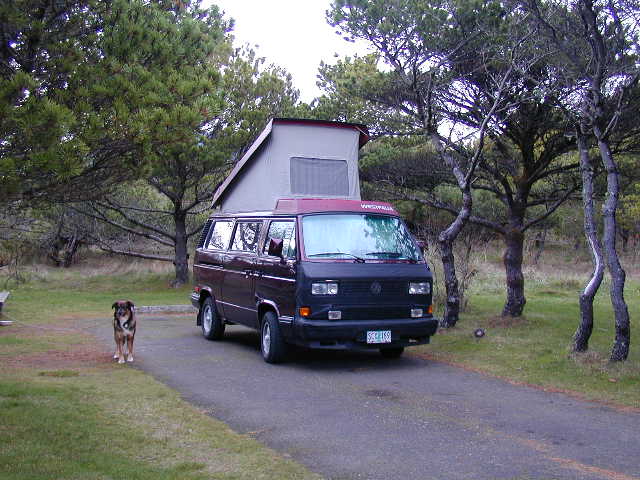 ---
The particulars:
1991 Vanagon Westfalia GL "Fafner"
VIN WV2ZBO253MG009428 (among the last Vanagons built)
82,000 original-highway-miles.
Oregon registered and insured.
Bordeaux Red Pearl Metallic (rarest of the 4 available Westfalia colors for this year)
Every possible factory optional for the year: cruise control, power windows, heated power exterior mirrors, 
power door locks (including side door and rear hatch), alloy wheels (5), A/C, 
Heidelberg AM/FM cassette with anti-theft feature.
Full Westfalia package in excellent shape: All tables, ice tray in fridge, original exterior gas flue cover (usually missing), 
skylight mosquito net and sun shade (usually missing), skylight and complete skylight mechanism are brand new. Rear hatch mosquito net, 
front windshield curtain. Original Westfalia and camping equipment manuals for stove, Dometic fridge, and electrical 110v circuits. 
<![if !supportEmptyParas]> <![endif]>
<![if !supportEmptyParas]> <![endif]>
Go here for a list of the standard Vanagon Westfalia GL features for 1991.
<![if !supportEmptyParas]> <![endif]>
<![if !supportEmptyParas]> <![endif]>
Miscellaneous:
-Original VW's vehicle and camper manuals.
-Brand new factory back bumper 
-No leaks of any kind, no heads problems.
-Comes with VW's Autobahn touch-up paint spray can.
-Comes with VW AG's "birth certificate"
-Working (!) digital LCD factory dash clock
-41/60 Interstate battery (top of the line).
-Working fire extinguisher
-A/C has never been used since new. The original owner was allergic to it, and I have been reluctant to spend the money for recharging the system for something that I need three weeks a year in Oregon and will compromise the engine's longevity.
-Original Heilderberg radio/cassette player with auto reverse, works great. Original factory speakers.
-Second owner, have owned Fafner since 1/10/97
<![if !supportEmptyParas]> <![endif]>
<![if !supportEmptyParas]> <![endif]>
Non Factory Extras:
-Alpine 6-CD exchanger with remote, under front seat. Works great, new condition.
-Colgan Custom Bra (lifetime repair warranty)
-Genuine dealer front grey carpet set with VW logo
-Michelins LTX M/S 195/75 R14 with very little use.
-Cupholders (Multivan-style)
-3-M window tint
-Tow hitch (1,500 #) (I have never towed anything in order to maximize engine longevity)
-Front seat Covers
-Auxiliary lights with original VW dash switch that matches the rest of the instrumental.
<![if !supportEmptyParas]> <![endif]>
Maintenance:
-Detail records of all the maintenance done to the vehicle, always using the best components available and factory replacements when possible.
-Synthetic Castrol changed every 3,000 miles, always with Mhale filters 
-Cooling system replaced and bled every two years with VW's Autobhan blue phosphate free anti-freeze (recommended for heads longevity).
-Dozens of printouts with factory recalls, servicing and common fixes procedures, maintenance schedule, tips, etc.
-New front brake pads and rotors. Should be good for a long time.
<![if !supportEmptyParas]> <![endif]>
What needs attention:
-Gas tank rubber seals are dry, so when the tank is completely filled it lets some gas out, which can be smelled for a while. This is a common problem in Vanagons and is fixed by replacing the rubber components (a very inexpensive procedure if you do it yourself). 
-If the vehicle is not used for a long period of time, one of the hydraulic valve lifter gets sticky and noisy. This noise goes away after driving for a while. This is also a common Vanagon deal, which is harmless to the engine. There are ways to minimize this; such as changing the oil frequently, regular and prolonged use, and using specific additives designed for this problem (like Bardhal for example).
-Fridge doesn't run on 12v. I never use it this way, so I have to verify why. Could be a fuse. 
-Tail pipe is corroded. I have a brand new spare bought at the Bus Depot (which I painted with high temp, black paint) and gasket for this. 
-A/C needs to be recharged.
<![if !supportEmptyParas]> <![endif]>
---
---
---
-Vehicle is in Eugene, OR.
-Feel free to contact me (Cris Torlasco) with any questions.
-While you are here, check out the WetWesties' web site.
<![if !supportEmptyParas]> <![endif]>
---