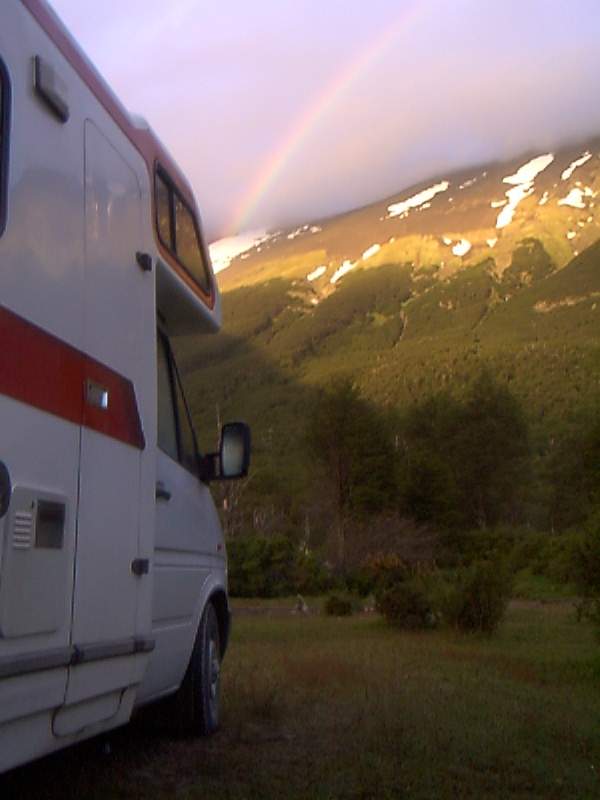 Unit 04 in Tierra del Fuego
Andean Roads has been recommended in the popular
82nd Edition, by Ben Box (see page 82).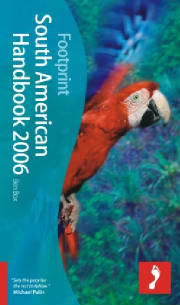 Some comments from past clients about our service:
"Hello Sebastian and Cristian,

We are already 4 weeks in our working-life again. Its a pity, but we look back at a perfect holiday in Argentina. A relaxing holiday, no things that we had to do, and we have seen nice scenery from Argentina in an easy way; with the motorhome. We enjoyed our holiday very much.

Thank you for all the information, the firestone book, the drive to the airport and all the friendlessness of you and the people we met during our holiday.

Thanks!
You can see some pictures of our holiday here:
http://picasaweb.google.nl/mrk.wentink/ArgentinaPrivate?authkey=mp6xMSsxITQ"
Mark, Miranda, and Luna Wentink, The Netherlands
___________________________________________________


.
"The holiday was a great success and we saw all we set out to see. We also had time to re-visit some places last seen by us in 1980. Everything you organised went without a hitch. Everyone of your relatives was where they were supposed to be when they were supposed to be, and were a delight to be with. The 2 hotels were excellent, particularly the one in B.A.(...)The other thing which impressed us was the flexibility of your service. We felt as if we were on a tailor made holiday, e.g. having the unit brought to us at Trelew airport & not having to return it until nearly time for our flight; & also not to a depot away from the airport."
Marilyn and Derek Stansfield, UK
_________________________________________________________


"Hello Christian,

We are safely back home and we had a fantastic holiday in Argentina! At this time Sebastian is still driving back to B.A. I can tell you that thanks to your help, especially in the organisation of the flights and the tour with your mother in B.A., all went very well.

Pity that the stay in the family estancia was not possible because of the rain.

Argentina is such an easy going country that after 2 days we felt at home and we did not need any assistance anymore.
(I found out that I had no problems to understand Spanish, however since I never studied Spanish with my mix of French and Italian I could remarkably well communicate and indeed I shall start a more serious study of the language...). In fact we fell in love with the country and its people that are friendly and always like to help where they can.

Argentina is created for motorhomes ("casas rolantes", I learned) that is if you are willing to accept that the levels of campings most of the time (not always) is not at European levels yet. We stayed in the wild a couple of times, with no problems at all. Add to this that diesel is only 40 eurocents a liter and that every day life is 1/3 of what we are used to.

Needless to say that everywhere we found beautiful spots of nature. In places like Puerto Madryn (yes we were close to the whales), Punto Tombo(200.000 penguins!), El Calafate and Ushuaia there are a lot of tourists but everywhere else the country and the roads are for yourself! There are a lot of works on the road and a lot that were marked gravel roads are already paved.

In my opinion your company is clearly a small family business. This means that we received the most personal attention I ever met.

The camper layout is comfortable and technically all worked well.

You will remember that at one time, when I was suppossed to transfer a downpayment I was hesitating and asked who are you? How can I be sure that when I shall arrive in B.A. anything will be OK and there will be a motor home at all!
Well I can say now do not worry!!! You are in good hands with the family Torlasco. Mother Elena was at the airport to bring us to the hotel and helped us to organize our first days in B.A. Later on she would again collect you when arriving from anywhere in Argentina or see you off when you leave but we felt this unnecessary as we could easily find our way around.

We have been surprised by the many road controls by the police (always friendly) and the MANY lomados (these are bumps that force you to slow down when entering cities and villages, sometimes there are series of these bumps! So be aware they are really mean!!)

When going south we had controls for meat and fruit. That is one day we did some shopping and a few kilometers on we had to first hand in the meat and 10 kms later the fruits !!!

I wish you a lot of success with your company. We are thinking to come back and include Chile in a future tour. We did Puerto Natales and Punta Arenas but we wish to see more, like the Carretera Austral that we missed because of the snow that blocked the paso near Villa Angostura the day that we wanted to cross.

If anybody wants to ask for info my email is pa2jjc@yahoo.com (mother tongue Dutch)"
Jan C. Clements and Gees Ottens, Malta
_________________________________________________________

"Hello Sebastian and Cristian,

I would like to thank you for your reception in Argentina, for the service you offered us with the renting motorhome Mercedes. This vehicle was in excellent use, a new model, well equiped. ( The only problem has been the hot water and the heating which were not effective under +5°, perhaps a non appropriate gas for cold temperature).

Here is a 3 weeks holidays summary :

Sunday 17 september : arrival at Buenos Aires ( one day late) at 3 o'clock, but Sebastian was there, waiting for us, explaining all the motorhome. We drove 80 kms and at 5 o'clock : sleep, a very long day but the bed was excellent.

Then we drove through Rosario, Cordoba, Tafi del Valle and the third night was at Quilmes. Cafayate, Calchaquies Valle, then the track for Chile by Paso Sico (all the papers were in order to cross the border, and for many controls of police force). San Antonio de Los Cobres, Polvorilla Viaduct. It was really a splendid track, with somptuous landscapes (the first night at 4200m at Polvorilla was hard, with a terrible headhache, we had to go down again at 3700 m...).

After one week we are in Chile : Laguna Miscanti, San Pedro de Atacama: salar, Valle de la Luna, Puritama (a hot river of 32° at 3250 m), and Tatio Geysers: a very bad track, 20 kms max. speed, and again a night at 4350 m., -10° ..., happy about the spectacle we saw when the sun rose! Calama, Chuquicamata, then the sea : Tocopilla, Iquique, Humberstone, Atacama geant, Mamina (hot spring), Los Pintados (geoglyphes), and return san Pedro de Atacama

Back in Argentina : We crossed the border by Paso Jama (the snow fell during the night, and the volcanoes were so nice with the blue sky, the white snow, just what a photographer expects!), then Humahuaca Valle, Jujuy, Parque nacional Yala with Termas de Reyes, Parque nacional Calilegua, and Salta city.

5.400 kms in 20 days.

Friday, 6 October : Sebastian met us in Salta city and picked up the motorhome. We took a flight Salta-Buenos Aires-Madrid-Paris (arrival saturday at 21 H at home).

We had prepared this travel since February, before choosing a rental company, it is always a good idea to make sure it will offer what they say on the web. We were very satisfied with your motorhome and service, so we are happy to write this in case it helps any potential client. We are also attaching some photos of our trip.

Looking forward to to see you again,"
Isabelle and Christian Porthault, France
_________________________________________________________



"Hello Chris,

I'm glad you recieved the money due in good order. I enjoyed your service (that is to say of you and all your family) very much and i hated the idea that something had gone wrong with the payment. It sort of cast a shadow on a, again, very beautiful holiday.

The first trip to Argentina i had no idea what to expect, i just wanted to see Iguazu. And i was totally stunned by the northwest. The second trip i thought i knew what to expect. And i was totally stunned by how different the south is. I was amazed how quickly the countryside changes on the way south (where i had expected a more or less repeat of the first trip). Looking back on both trips, the northwest made the biggest impression. And now i find myself wondering how they look on the Chilean side. But that has to wait for somewhere in the future, because i blew my holiday budget of last and this year on this trip. But i have over 600 photo's to sift through for the holiday scrapbook, that should last me for the rest of the year. In time i'll send you some of my favorites. Last thing. I picked your business because of the impression the internet site made, one of personal care and compassion. And that proved true.

Thanks for, so far, two beautiful holidays. My regards to your family, Eit."
Eit Boomsma, The Netherlands
___________________________________________________________________________



"Estimado Cristian
En Septiembre mi esposo y yo fuimos afortunados de encontrarnos con ustedes para organizar la mayor parte de nuestro viaje a Argentina y aprovecho para disculparme por no haberte dado mis comentarios antes pero el trabajo y 2 mudanzas de casa nos impidieron enfocarnos en cosas mas reconfortantes como recordar lo maravilloso que es tu tierra.

No cabe duda que aventurarse en un viaje así como lo hicimos nosotros podría acabar con resultados muy agudos, ya que nunca habíamos rentado un motor home y por supuesto jamás habíamos acampado pero ....¡ qué maravillosa experiencia ! , si me preguntasen si lo volvería a hacer, no lo dudaría , me encantaría vivirlo otra vez, fue la mejor manera de conocer gran parte de sus maravillosos escaparates naturales, las montañas nevadas, los ríos y lagos como espejos y la ruta seguía y seguía dándonos y dándonos , no podíamos parpadear, sería como perderse de algo !!

En todos los lugares en donde paramos la gente nos trató de lo mejor, un recibimiento casi familiar, esperado. Y así con esa calidez los platillos que nos ponían en la mesa eran insuperables, no importaba lo que pidieras, de lo mas sencillo a lo mas elaborado , del restaurante mas auténtico y local hasta el mas fino y turístico.

Buenos Aires nos dejó sin aliento: como turistas la sentimos vibrante y Europea, bulliciosa y cosmopolita, pero también la sentimos solidaria , La Buenos Aires de los pañuelos blancos y de los astilleros mudos, de los tangos desgarradores y el mate que une a la gente.

Definitivamente fue de resultados agudos, pero cada ángulo se lleva mi corazón.
Gracias Cristian en nombre de Raúl y Yunuen, por favor extiende un abrazo a tu familia ,recibimos un servicio excelente por parte de ustedes, definitivamente nos dan ganas de regresar !!"
Yunuen y Raul, Mexico/Espana
___________________________________________________________________________



"Hi Chris,

I really don't know where to begin!! Other than the grueling flight from Belize to Miami to Buenos Aires the trip was fantastic! Sebastian met us as planned at the airport at 0630 and gave us a very good overview of the
camper. It is certainly a good thing he delivered the camper to us at the airport...otherwise we may have spent five weeks trying to find our way out of Buenos Aires. He went way beyond the call of duty by driving us out of the area and heading us in the right direction.(...)Argentinean officials were always cordial at road check points even though I think we frustrated them at times by not understanding exactly what they were asking for. After seeing our documents they always waved us on with a friendly smile. Needless to say, the people in Argentina (and Chile) are extremely friendly and helpful. Our failure with the language almost always resulted in peals of laughter on both sides of the conversation.(...)On many occasions we camped on beaches or in no-fee areas of parks with no services whatsoever. While very isolated and deserted we never felt threatened nor were we ever bothered. (...) From our experience, I think you should caution future customers about the windy conditions on Route 3. Many days while travelling on it the wind was howling and the heavy truck and bus traffic made for some hairy moments.(...) We were not allowed to camp at Punta Tombo but the beaches between Camarones and Cabo dos Bahias are nice as well as Playa de Isla Escondido (our favorite next to Monte Leon).Thank you so much for all of your and Sebastian's help before and after the trip. Our best wishes to you for continued
success. It's a great way to see Argentina and Chile.

Best Regards, Mary & Paul"
Mary and Paul Shave, Belize
___________________________________________________________________________

"Hallo,

Already 2 weeks home again, and it is 3 minus and 30 cm snow since days brrr! Makes me think of our beautiful holidays in Argentina...we had such a good time there! (...) we want to thank you again for the perfect organisation! Pick up at the airport, driving with us to the bank and supermarket, the maintanance of the camper (8000 km, no problem ), the cleanness and compleatness of the sheets and blankets as well as the helpful service at the departure...were incomparable!!! We are looking forward to come back and do Tierra de Fuego and Torres del Paine... hopefully already next year!! We are sure to get a camper from you again!!Take care, warmest regards from Doris and Jörg"
Jörg and Doris Benecke, Germany
_____________________________________________________________________
"Hi Chris,

Everything was perfect - regarding Andean Roads - for sure next time we'll take a car from you. There was no problem (...). Also your brother explained us everything about the car so we had no problem with using it. (...) generally the car was in very good condition and it was no problem with it.

Argentina is a really beautifull country. I think one of the most beautifull we have ever seen. There is everything - mountains, desert, glaciers, lakes, animals. We had excelent weather - it was snowing one day and raining only the day we were going back to Buenos. We spent one day in Ushuaia, after 2 days in National Park (really worth to go), Punta Arenas (Seno Otoway), Puerto Natales, Torres del Paine (super trip - Lago Grey, there is a boat going twice per day 8:30 and 14:00, till the glacier - must go, much better than Perito Moreno), Calafate, Perito Moreno, Tres Torres, superb region between El Chaten and Punta Delgada - we took some secondary roads through estancias - the region was incredible - like "Malboro country" from ads :))), Bosque Petrificado - really must see attraction because of the landscape, Punta Delgada, Cabo Blanco (also super), Punta Tombo also with pingiunes, Penisula Valdes (whales were 0,5m fromthe boat!), and road to Buenos passing by Cerro Ventana region. We were really suprised by the beauty of region between El Chalten and Punta Delgada. It was exactly like north part of Namibia. And of course the animals :)))) sea lions,elephants, birds, whales, guanacos - all in big quantity :))))) People are very friendly and helpfull - even they speak only Spanish it not so big problem :))))).

We plan to visit north part of Argentina and Chile so you will hear from me for sure :))))).

Please thank Sebastian very much for his help. If you need any reference you can give my email address to potential customer - I can asure everybody that it is really worth to take cars from you :))))). Best regards for you and Sebastian
_____________________________________________________________________
"

There is no need for nostalgia to gild the memories of our tour because it is a plain fact that our days and weeks were simply splendid, with very few exceptions anyway. We managed to brush up our Argentine experiences of the 1970´s and 80´s and luckily added a great deal of new and fascinating encounters with people and landscapes. Yours is a really large, varied and beautiful country.
Ingrid and me would like to thank you again for all your help that made our trip possible and enjoyable. We highly appreciated the personal interest you took in our adventure."
Ingrid and Hermann Herschel, Germany/Guatemala
_____________________________________________________________________
"Andean Roads proved to be an excellent agency and thoroughly trustworthy (rather an important issue when wiring the advance reservation deposit...). There was so much to ask and to discuss before we decided to rent one of their motorhomes - Cris has always answered promptly and exhaustively and has arranged for all the special little details...

We have simply loved the motorhome - it had all we needed. It provides a great way to visit Argentina since we have spent most of the time in national parks or on the road between them. We have spent the nights in the most incredible settings - so many beautiful sunsets and sunrises. With a motorhome we could visit the most remote places and stay there for days. The high ground clearance was also useful on the more isolated gravel roads...
We highly recommend Andean Roads for their professional service and their great motorhomes. They have also arranged tickets internal flights that were almost twice cheaper compared to the price given in Europe or the foreigner fare price quote from Aerolineas Argentinas. After landing in BA they took us to see the most interesting sites in the city - a tour we definitely recommend.

We have loved visiting Argentina - it was one of the best trips we have done - if you want to find out more about it you can send us an e-mail (

jerneja@alpineon.com)

and we will be happy to provide you with details of our trip.

Mario and Jerneja, Golnik, Slovenia

See their wonderful photos of Patagonia

here

_____________________________________________________________________

"Our experience is that if you want to feel and live Argentina then traveling by car is the thing to do. After our trip, we can say that it is even better with a motorhome. You can travel at your own pace without having to worry if you will find somewhere to stay and in what conditions it will be in, especially if you have children. They do not have to get used to a new environment everytime you are somewhere else, they can sleep whenever they want and you can cook a meal easily anywhere, anytime.

We checked via Internet the different motorhome companies and chose Andean Roads for its excellent personalised and honest service. Whether it be, among others, the payment modalities, the special insurance coverage or the child safety seat installation in the motorhome which were arranged for us quickly and in an unbureaucratic way. The motorhome which we had fulfilled
our expectations. We travelled over 3200 km along the northeastern part of Argentina without any glitch.

I was really happy that Cristián (owner of Andean Roads) asked me if I would be so kind to write a couple of lines regarding the rental since I had previously commented to my wife that it would be a shame if others would not find out about the company. Thus I can say that we fully recommend Andean Roads as the company in Argentina for renting motorhomes. If you would like to contact us for further information then please feel free to at dd_auer@web.de"

Derick & Doris Auer, Germany.
_____________________________________________________________________
Hola Cristian, (...) Nuestro viaje de vuelta afortunadamente transcurrió sin ningún contratiempo.El único contratiempo fue la cantidad de trabajo acumulado que nos esperaba en Barcelona. También tenemos que felicitarte por la motorhome que nos alquilaste. Nos fué de maravilla, es muy practica y además estaba muy bien cuidada. Hemos pasado unos dias excepcionales en Argentina, una de nuestras mejores vacaciones. El paisaje es muy bonito y salvaje y la gente encantadora. No sabemos todavia cuando pero estamos seguros de que volveremos a Argentina. Dale muchos recuerdos a Sebastián y a tus padres. Han sido todos muy amables con nosotros y ha estado todo muy bién organizado. Muchas gracias por todo y un fuerte abrazo,"
Pau Gregori y Begoña Garcia Yanguas . Barcelona, Spain
_____________________________________________________________________
"Flamingos on the shores of Andean lakes, snow-capped peaks, tasty and varied local foods, peaceful colonial towns, a comfortable "rig" and very personable tour guide--we couldn't have asked for a better trip!"
Linda Fuller, USA


_____________________________________________________________________
"Our trip from Buenos Aires north to the province of Salta was fabulous! Thanks so much for helping us plan a completely worry-free trip. The people, the history and architecture, and landscapes were
incredible, and the photographic opportunities were simply amazing. We look forward to coming back soon!"
Greg McLauchlan, Oregon USA


_____________________________________________________________________
"Our trip from Buenos Aires to Ushuaia all over Patagonia was delightful. We drove for more than 7,500 km through Argentina without any problem, visiting beautiful places. Our eighteen-month old son found it beautiful too and enjoyed it very much. I do recommend travelling with a motorhome because it gives you the complete freedom of going and staying anywhere you like without having to worry about hotels and restaurants or bus connections or whatever."
Ivano Dei Giudici (and family), Italy

_____________________________________________________________________
"Pasaron ya dos semanas y nosotros tenemos un recuerdo muy bien de nuestro viaje, de su pais y de ustedes. Gracias por todo! Les mando unas fotos con la camioneta tal vez pueden utilizarlos en su pagina internet. Si quiere mas fotos de pajsajes o otros informationes me dice y puedo mandarles.

Nuestra ruta fue en todo mas que 6.000 km, lo que fue al limite por un mes para nosotros! Estes lugares (camping) nos gusto lo mas: Santa Teresita, Monte Hermoso,Balneario El Condor,Puerto Piramide,Digue Florentino Ameghino, Parque Nat. Alerce,Lago Nahuel Huapi (Camino por Villa Angostura),Ruta los siete lagos, San Martin de los Andes, P.N. Lanin Lago Huechulafquen, Lago Alumine."
Adrian, Monika y Elina Kempf, Switzerland.

_____________________________________________________________________
"(...)As for our impressions....our main intention was to visit Patagonia - we ended up spending nearly all our time in Argentina (3 days in Chile) and fell in love with the country. Beautiful exotic scenery, friendly helpful people, unique culture, excellent steak and wine - there was so much to love. We really want to return during Argentina's winter season and visit the northern part of the country - maybe in 2006 if our finances can support another big trip.

One thing we didn't like was the condition of Route 40. We expected the southern portion of it to be unpaved, but to us it also seemed unmaintained. (...) bad roads really take their toll on the entire vehicle especially the tires (we had 4 flats).

As for Andean Roads, we really liked the convenience and independence of having a motor home. When we come back to see the northern part of the country we'd like to rent a motor home again. In our opinion, the strengths of the motorhome you rented us are its fuel efficiency, its storage space, good strong batteries (for running lights/fans at night and starting the engine the next morning) and the size and comfort of the bathroom and bedroom. Also, Sebastian was very helpful! When he was dropping us off at the airport he made a brief stop at a supermarket so we could purchase some chimichurri mix to take home with us - that level of personal, friendly service is a real strength for you guys as a small company. We'd be happy to rent from you again."
Ray Saracino, California, USA

_____________________________________________________________________
"We loved it; the kids loved it so much that we are already planning our next trip to go back. Argentina's landsapes are astonishing, the people very friendly and helpful and it makes it all so easy to get around. We enjoyed every bit of it and cannot wait to go back to explore more of Argentina's nature and culture. We believe, our vacation has been even more special thanks to Andean Roads ingenious itinerary proposal, their warm and special welcome, as well as their support at the beginning of the trip. The motorhome was in perfect condition and very well equiped. All this made it possible to discover some unforgettable places. Thanks again to all of you!"
Tonia, Daniel, Luana and Noah Brunner, Switzerland/Colombia (First time)

____________________________________________________________________
"Querido Cristian

Como estas tu y tu familia? Ojala que todos vayan bien! Nosotros llegamos en Suiza en diciembre después de cruzar el Atlántico en barco de cargo y bajar desde Hamburgo en tren a Zurich...un viaje imborrable.

Siempre queriamos darles las gracias por todo lo que han hecho para nosotros. Estamos muy feliz que hemos podido hacer este viaje maravilloso con el apoyo de ustedes y conocer Argentina y su gente un poco mas. Los dias en El Arenal del Carmen fueron espectaculares, que lindo lugar y que linda mujer tu mama!!!! Llevamos muchas memorias en nuestras corazones. El otro dias fue al cinema para ver una película argentina....me emocioné mucho...."
Tonia, Daniel, Luana and Noah Brunner, Switzerland/Colombia (Second time)



_________________________________________________________________

"Patagonia in camper. Il mondo alla fine del mondo."
Article by our client Palma Agnese in the "Turisti Per Caso" web site (Italy):
_________________________________________________________________


Jennifer Widom, Alex Aiken, and kids one-year-around-the-world vacation (of which 2-1/2 months were spent exploring Chile and Argentina with one of our motorhomes):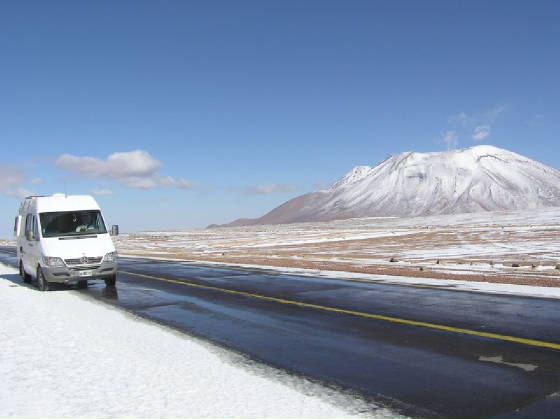 Photo courtesy of Isabelle Porthault
Copyright © 2006 Andean Roads Motorhome Rentals. All rights reserved.