Additional Services.
Overnight stay at "El Arenal del Carmen", a traditional 1150-hectare ranch in the Pampas. The main house was built in 1874, owned by Cristian´s family since then. Activities include: horse or horse cart riding, see the "gauchos" at work, visit a historic local general store, traditional food (including the world-famous asado), etc. Click on the adjacent photo for more information.

GSM mobile phone rental

Buenos Aires private tours, designed to fit your schedule and interests.

Motorhome driver and guide services.

Motorhome pick up and delivery to any location in the country (only for rentals over a month long).

Mountain bike rental.

Child car seat rental.

TV/VCR with remote controls rental(only available in some of our units).

Travel itineraries, done specifically to your preferences and time available, including information about road conditions, kilometers per day and total, places to camp each night, things to see, things to avoid, services available, etc.

New!!!!Motorhome storage. We can store your own motorhome in our enclosed facility, located 45 minutes north of downtown Buenos Aires. The service includes free shuttle to and from airport, hotel, etc. Our yard is secure and insured. There is no limitation as far as the length of the storage period.

We can guide motorhome groups through Argentina, adapting to your itinerary or using one of the many we have developed (which include campgrounds, national parks, dinners, side tours and attractions, etc.).

Feel free to ask us about any activities that you are interested in pursuing while in the area, we will be glad to help with suggestions and/or referrals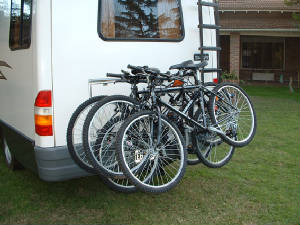 Mountain Bicycle Rental
Copyright © 2006 Andean Roads Motorhome Rentals. All rights reserved.