WETWESTIES @ DOSEWALLIPS, WA (TAKE 2)
Sept. 15-17, 2000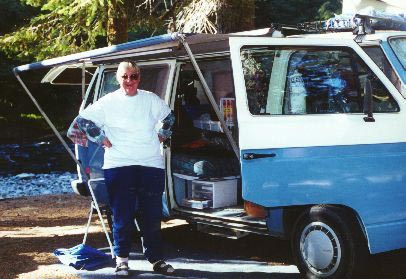 Our very own Beverly Beam
---

Kim and Mike's '71 Campmobile (from Portland, OR)
---

Dale and Trish's '72 Campmobile (Lily)
---

Tim Zimmerman's Westie
---

David & Gabrielle's Eurovan & Dale and Trish's Campmobile in the background
Gerard; an Eurovan photo !!
---

Luke's '67 ASI Riviera
---

The British (the Hanelines) invade the Great NW!
---

Hobie (on a hike with Dale Goodvin)
---

The Larsen's (from Shelton) '67 Westie on it's maiden voyage!
Back to The WetWesties site.
---