The Trip Reports
VW-related trip reports from destinations outside of the U.S.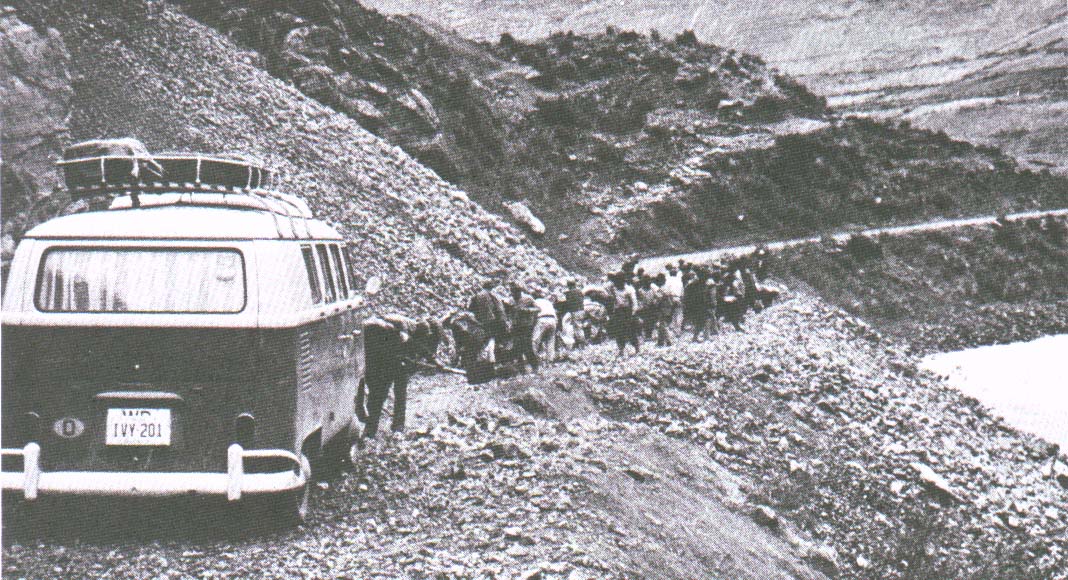 Peruvian natives clearing the road by hand for Ernst Jahn's bus- Inca Highway, 1967.


- South Africa  November 1998 (Cris Torlasco)
The only country in the world where the Vanagon is still made, and with great success!
- Mexico  December 1998(Jack Maynard)
Jack and Kelly's adventurous honeymoon trip, 8013 miles through Mexico in a 1965 Kombi.
- Argentina July 2000 (Cris Torlasco)
An interesting bread loaf full camper conversion, as well as a friend's collection.
- Germany September 2000 (Cris Torlasco)
A virtual visit to the Wolsfburg Factory, the brand new Autostadt, the commercial vehicle factory in Hannover, and the Westfalia Factory in Rheda-Wiedenbruck, as well as related museums.
Pan-American trips:
- 7 Months in a VW Camper- May 1967
Ernst and Edith Jahn's pioneering tour through Central and South America with a split window bus.
- Caravana - September 2000/February 2001
Two Vanagons going all the way to Tierra del Fuego, and back.
- Down South (and fast!!) - Sept-October 1999
Volkswagen AG's Guinness record breaking trip from Alaska to Tierra del Fuego, with a TDi Syncro Eurovan (in German).
- Tortuga Libre- July-December 1992
My 6 month trip from California to Buenos Aires (didn't drive a VW...) <![if !vml]>
<![endif]>
<![if !vml]>
<![endif]>
A barndoor's adventure through Africa, circa 1951
<![if !supportEmptyParas]> <![endif]>
<![if !supportEmptyParas]> <![endif]>