Originally sold as a "Tourist Delivery" bus, it was picked up on June 08, 1966 at the Nordrhein dealership in Dusseldorf, Germany by its original owner, Clyde W. He and his family toured Europe for two months in it, before shipping it to NY and then driving it to its home for the next 35 years in Seattle. They used the bus as a family camping car for all those years, taking good care of it, and never altering a thing from its original setup. The bus was garaged all of its life. They camped throughout the Pacific Northwest, and did one trip to Mexico in the Westy. Clyde had obviously a deep appreciation for his bus, judging from the amount of care he invested in it throughout all those years (and from his smile shown in the photos when posing next to it!). I had the good fortune of finding and aquiring this bus from Clyde's daughter-Gail-4 years ago.
Some photos of the bus' rich history (click on the thumbnails for larger photos):
Camping in Europe, 1966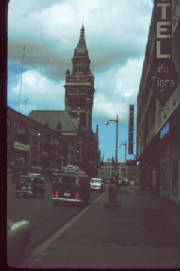 France, 1966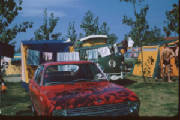 Camping in Europe, 1966
Touring Europe, 1966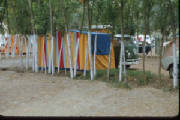 Camping in Europe, 1966
Italy, 1966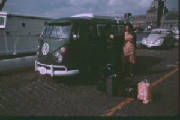 Ready to be shipped to NYC (that's Gail, Clyde's daughter)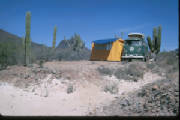 Camping in Mexico, early 70s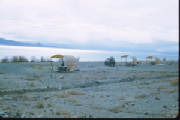 Mexico, 1970s
Camping in WA, early 1980s (that is Clyde's wife).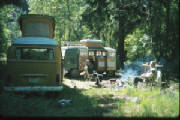 80s PNW camping with the family's newer Westfalia (Clyde and Gail)