April 30, 2002
San Juan Del Río, Querétaro. México
Odometer: 200,238
Written by: Cris
Our last day at Dona Elena´s house included communicating with my friend Joachim in Oregon to find a solution for the ongoing overheating problem with the car. He will meet us in Guatemala City with all the necessary parts and will spend some time with us. A German VW experienced mechanic, flying to meet us with all the necessary parts and knowledge. What more could we ask for! I will have to drive "Guapo" (as we started calling the van) pretty gently until we meet Joachim, to avoid any engine damage.
The farewell at Doña Elena´s was pretty sad and intense. After breakfast, we said goodbye to every member of the family individually (it took most of the morning), which involved some tears. Doña Elena´s hugs were long and comforting. Presents were exchanged. Mireya filled our cooler was with ice, fruits and cheese for the day drive. Our hosts at San Juan del Río overwhelmed us with their hospitality and friendship. This has been a constant through México, and Doña Elena has been the epitome of this. We feel so grateful to everyone we have met so far. How fortunate we have been.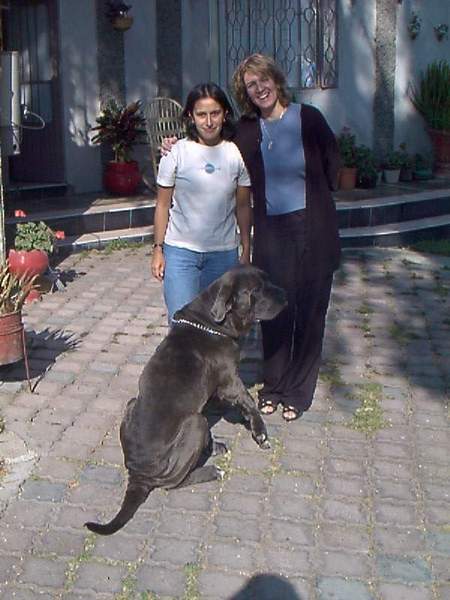 At Lola´s House in Huamantla
The rest of the day involved a mostly uneventful drive, heading SW towards the state of Tlaxcala, home of Dolores (Lola), a woman Bárbara had contacted through the International Women´s University, in which they both participated.
We reached Huamantla in the late afternoon, and found Lola´s house right away. While waiting for Lola to show up, we parked in a park nearby and took Chance for a walk. Later, Bárbara was stopped and interrogated by a security guard regarding where we were coming from. When Bárbara asked why he wanted to know, the guard answered "because of the change of clothes; it is not well seen" (Bárbara had changed clothes inside the car a short time before). Bárbara replied that when or where she changed clothes was a personal matter in which he had no business. To this, the security guard apologized and now said that it was for security reasons. Bárbara told him that we were coming from Oregon and the guard let her go.
Right after this incident, Lola arrived and made us feel at home in no time. Later that evening, her father-Pepe-arrived and we all engaged in a conversation about world economics, politics, Mexican culture and other themes until 2:00 AM. Pepe was so kind to offer us his own room and restroom, Claudia (Lola´s sister in law) gave us very good tips that ended up changing our itinerary significantly (for good), and we were treated with wonderful tacos al pastor for dinner.
May 1st, 2002
Huamantla, Tlaxcala. México
Odometer: 200,449
Written by: Cris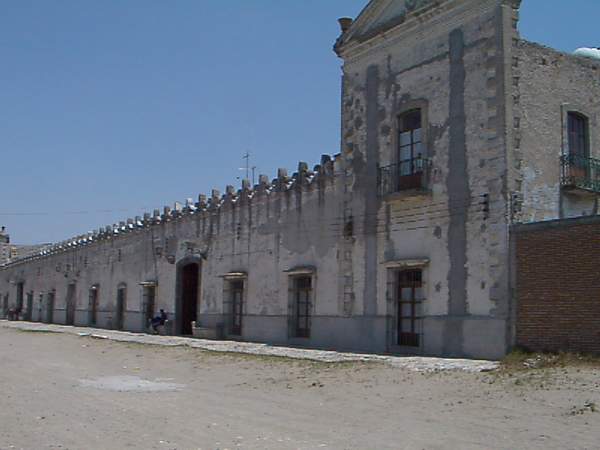 The Historic Ranch Near Huamantla
After a full breakfast, Lola took us to Agustín and Sandra´s ranch, close to Huamantla. The main house was an impressive (and huge) building that had been in the family for several generations. Agustín and Sandra (followed by their daughters) gave us a complete tour of the main house, explaining in the process it´s history and how they had been slowly restoring it to be as close as possible to the original building. They mentioned that often, their only guidance was looking at old photographs. They are doing a great restoration job, in my opinion. Later, Agustín guided us through the milk extraction facility (the ranch´s main activity) and gave us all the pertinent information. We thanked them immensely for providing us with the opportunity of getting to know an authentic Mexican ranch, and left to visit Puebla, not without first being invited to dinner in the ranch that same night. Yet another case of the excellent Mexican hospitality!
An afternoon in Puebla was, of course, not enough to get to know a city with such an important historic and architectural background. On top of that, it was May 1st, which is Labor Day in most of the world and meant that most places were closed. Still, we managed to see the downtown area, the city´s cathedral, and the church of Santo Domingo, with it´s impressive gold-sculptured Rosario Chapel. We also made a side trip to the nearby town of Cholula, were we saw a catholic chapel sitting on top of a Mayan pyramid. The story goes that when the chapel was built by the Spaniards, it´s builders thought that they were building on top of a hill. Later on it was found out that it was not a hill, but a Mayan pyramid! We chatted about the irony and symbolism of the whole thing.
We made it back to Huamantla just in time to freshen up a little and go to Agustín and Sandra´s dinner at the ranch. Once there, we met Agustín´s brother and his wife, and another couple. We enjoyed the good wine, food and interesting conversation until late in the evening. Once again, we were thankful to Agustín and Sandra for their hospitality.
May 2, 2002
Huamantla, Tlaxcala. México
Odometer: 200,600
Written by: Cris
After an unsuccessful visit to the VW factory in Puebla (they were closed due to Labor Day week), we travelled to Oaxaca. We first attempted to avoid the cuota (toll) by driving hwy. 150, but pretty soon realized that we were not making any progress with all these topes (speed bumps), heavy traffic, and stop lights. As soon as we realized that 150 was a mistake, we caught the fast (toll) hwy. , which goes through some pretty spectacular mountain scenery. The weather was very hot, and some of the uphill streches were miles long. Guapo´s temperature was close to the red end on several instances. Nevertheless, this toll road was a good idea.
We made it to Oaxaca city by 6:00 PM and parked in the main plaza (as we usually try to do when approaching a city), and walked its downtown for about an hour. Oaxaca´s center created a good impression in us, with it´s colonial architecture and nicely landscaped plazas and public spaces. Bárbara went to the Museo de las Culturas, where part of the gold and tresaure findings of nearby Monte Albán archeological site is exhibited (she thought that the museum was superb). In the meantime, I walked the downtown area with Chance and caught a free concert at the main plaza (see photo).
When it became dark, we followed our guide book´s directions to one of the few RV parks in the area, in a nearby town called San Felipe del Agua. We were left in by one of the tenants, since the owner was out of town. The place is really a maguey plantation (maguey is a local plant used for liquor production and other purposes), and it is located on top of a hill that oversees the whole city of Oaxaca. In a few minutes we were sleeping.
May 3, 2002
Oaxaca, Oaxaca. Mexico
Odometer: 200,890
Written by: Cris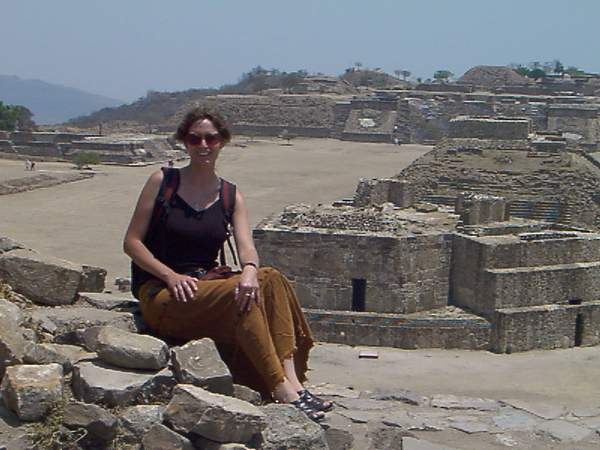 At the Spectacular Monte Alban Ruins
The highlight of the day was our visit to the Monte Albán archeological site. We saw the remains of huge pyramids, temples, palaces and dwellings built by the Zapotecos and later reused by the Mixteco people. We slowly walked the site, which is set on top of a hill, trying to imagine how life may have been like in this place.
Our plan of visiting the Museo de las Culturas back in Oaxaca again (first time for me) didn´t work out, since the whole city was a traffic mess due to a strike by the bus drivers union that consisted of blocking the most important intersection in town. The disruption that this did to Oaxaca´s traffic flow was huge! We were stuck in traffic for about 1-1/2 hour, not being able to find our way downtown, or even a way out of that mess. Finally, we decided to forget the museum and head south to Tehuantepec. On our way out of town I had the brake system checked, since every now and the it is necessary to pump it a couple of times before it starts braking. The main suspect was the master cylinder, and the inspection confirmed this. One more thing to add to Joachim´s list...
We drove through an extremely winding road going down towards Tehuantepec. We saw an 18 wheeler truck which had just overturned in one of the many curves. With the last daylight we found a small hotel next to the road and decided to stop there for the night.
May 4, 2002
Close to Tehuantepec, Oaxaca. México
Odometer: 200,978
Written by: Cris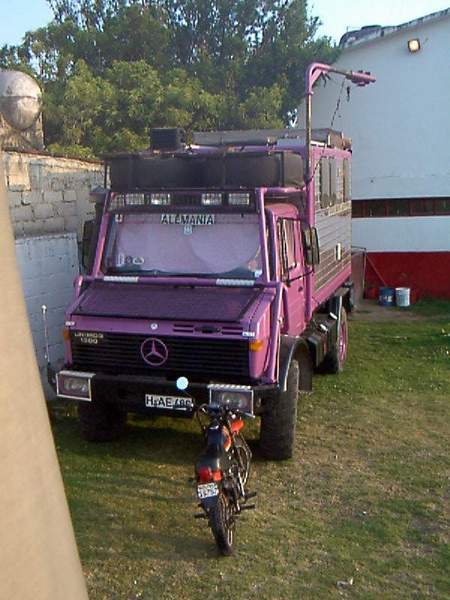 Rodolfo´s World-Travelling Unimog
As soon as we arrived into San Cristobal´s main plaza Rodolfo approached us interested in our vehicle and itinerary. Him and his wife Carol are driving the Americas northward in their Mercedes Benz Unimog, from Argentina to México. Similar to our trip, except they have taken 8 years to travel only from Bolivia to Chiapas!! In all that time, they have never payed for camping or hotel accomodations. Whenever available, the local Mercedes Benz dealership provides them with a secure place to sleep for free. They are planning to finish México and then ship the Unimog to Africa, and do a similar thing over there. What a life...Rodolfo must have seen in my face my desire to see their rig, so he invited me to take a look. They were staying at the local fire station. He took me there in his motorcycle, which they transport on the Unimog's roof. I met Carol and toured their vehicle (see photo). It can store up to 700 liters of diesel fuel (which gives it a range of 2,500 km without refueling), and 400 liters of water. When full, the whole thing weighs 8 tons. Some of it´s equipment includes 2 Eberspacher diesel heaters (one for stationary mode), photovoltaic panels, 3 12 volt deep-cycle batteries, generator, impact-resistant windows, etc.
Later, we came back with our camper and ended up staying at the fire station as well. The people working at the station were extremely friendly and let us use their showers and restrooms. The fire station´s dogs were not so happy about Chance, though. He had to sleep inside with us because of them, and early in the morning I placed him on Guapo´s roof, where he remained very entertained for hours.
May 5, 2002
San Cristobal de las Casas, Chiapas. México
Odometer: 201,300
Written by: Cris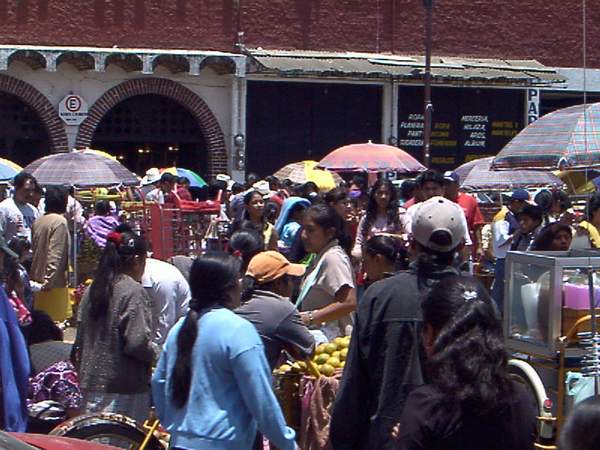 San Cristóbal´s Market
We woke up at the fire station pretty early and got in touch with our local contacts, Adelina and Michael (Adelina is Lola´s cousin). They are both working for NGOs in town, concentrating in the areas of the local indigenous people´s human rights. They were a great source of information about the Zapatista movement current situation and the local indigenous communities in general. Once again, we felt like at home; right away we were offered secured parking for the camper, and a room and restroom for our use. Even though we were very comfortable at the fire station, Adelina and Michael were people that we were very interested in meeting, so we decided to "move in" to their place.
We later walked to downtown and had lunch at the market, visited the crafts market and some of the city´s plazas, churches, and streets.