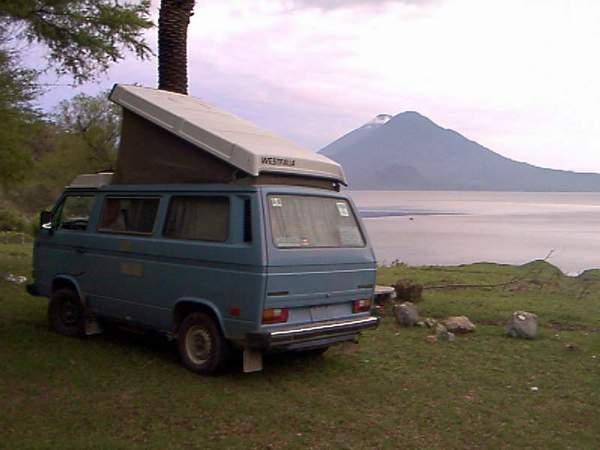 Our Beautiful Campground at Lake Atitlan
May 20/22, 2002
Panajachel, Guatemala.
Odometer: 203,061
Written by: Barbara
Panajachel is a picturesque town on the shores of beautiful Lake Atitlan. We found the perfect camping spot on the grounds of the Hotel Vision Azul, right next to the lake. There was nobody else camping there, so it was truly peaceful. We spent most of our time in Panajachel walking the cobblestone streets, admiring the colorful handicrafts (specially woven dresses, pants, huipiles, and bags) and eating in small restaurants on the sidewalks. Panajachel is a pretty touristy place where you can see many people from all over the world walking with huge backpacks, bargaining in broken Spanish with the vendors, popping in the several internet cafes, or chatting with the locals on storefronts stairs.
Coexisting with this crowd, there are indigenous men and women wearing their traditional clothing, many of whom come from nearby villages to sell their products. I never got tired of watching the intricate designs and color combinations of traditional weavings, each with a distinctive pattern according to the village of origin. The colors are mostly bright and the designs present variations in geometric-like figures, flowers, and strips of different widths and color. Some of the clothing items are used so that they overlap with other items, creating an even more striking effect. Here in Panajachel we saw women wearing head cloths in a particularly attractive way, similar to a turban but not exactly. In this area we also saw more men wearing woven traditional clothing, as opposed to other places, where only women were wearing their village clothing.
Since we entered Guatemala, both of us had been impressed by womens skill at carrying big loads on their heads. We had seen this in some places in Mexico too, but it seemed much more pervasive in Guatemala. Also, since we entered this country, we noticed many men walking with huge machetes, which are used to work in the fields, or even to cut the grass and bushes on the sides of the roads.
I also had the opportunity to talk with the coordinator of the Programa de la Mujer de FEDECCON (the Women's Program of the Federation of Cooperatives). It was interesting for me to learn from Catarina, a woman involved with such program, about what are the problems that indigenous women face. These difficulties include problems to obtain bank credits to start handicraft or food businesses (because banks have requirements that these women can't fulfill), exclusion from traditionally male cooperatives, difficulty to find markets for their products that pay fair prices, having to deal with intermediaries who keep much of the profits, or having to lower the quality of their products so as to balance the effort put into making it and its price. The Programa de la Mujer, coordinated by an indigenous woman herself, tries to organize women in cooperatives and to foster solutions to their problems with a holistic approach (addressing the economic, personal, and family dimensions of women's lives).
Unfortunately, I could not stay longer in the area to attend one of the cooperatives meetings in the village of Chirijox because we needed to rush to Guatemala city. We had arranged to pick up our friend Joachim at the airport on May 23rd. Once in the capital city, and after battling the dense traffic, we decided that the best place to spend the night would be the parking lot at the airport, since Joachim's flight was arriving the next day at 5:00 in the morning. It was the right decision, we slept in a parking lot with security guards all over the place, and at walking distance to the United terminal.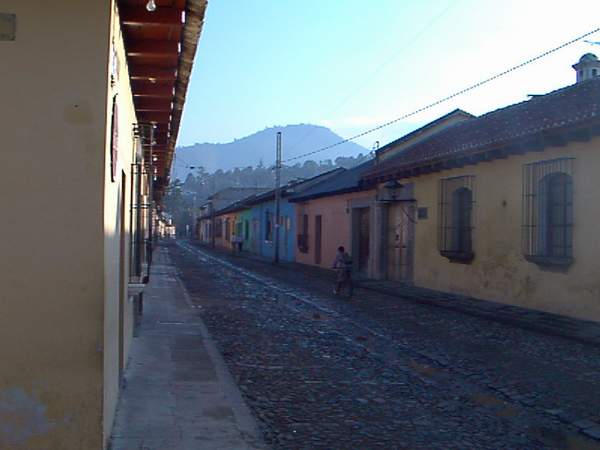 Antigua
May 23, 2002
Guatemala City, Guatemala.
Odometer: 203,172
Written by: Cris
Joachim was so kind to bring the needed parts for our vehicle from the US and to offer his skills as a mechanic to help me fix some of its irks. He brought (for those of you interested) not one but both tie rods, synthetic Castrol 5-50 oil, K&N air filter oil spray, water reservoir cap, and a brake master cylinder and calipers. It turned out that instead of one mechanic, we got two: Joachim's friend Glen came along. With both of them, we drove straight to Antigua, checked in at Posada La Merced (a great value for clean and nice rooms surrounding a courtyard). We then walked the downtown area of this beautiful city where the architectural clock seems to have stopped a century or more ago. The reason for this is, of course, that the place has been declared a humankind heritage area by the U.N. No modern construction is permitted in this city, which used to be the countrys capital until an earthquake hit it in 1773. In this extremely tourist-friendly place we found international cuisine, great coffee (best latte since leaving Eugene), colorful adobe brick houses with Spanish terra cota roofs, cobblestone streets, extremely old churches (some standing with the help of supports), a colorful and big market, and of course dozens of Spanish schools, for which the city is famous world-wide. In the late afternoon, we drove to Alfredo's coffee plantation. Alfredo is the owner of the house where we parked Guapo, he was so kind to invite us to check out his plantation (photo). It was very interesting not only to see the place, but to listen to his explanation of the whole process in situ. Perhaps it is worth mentioning that I became very sick, fainted for a couple of minutes, and threw up while having dinner at a restaurant that night, we later determined that it had been a bad case of food poisoning.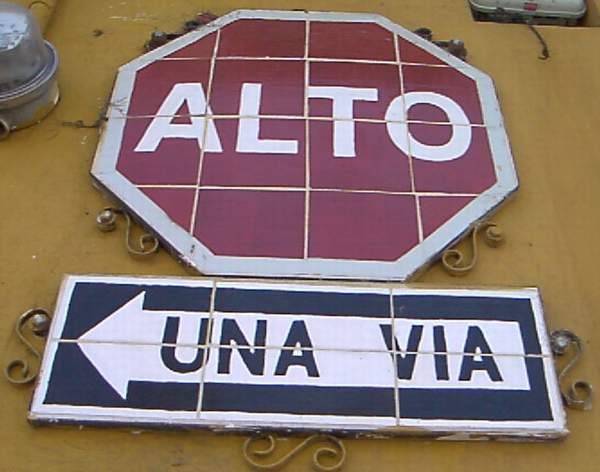 A Couple of the Antigua Tiled Street Signs
May 24, 2002
Antigua, Guatemala.
Odometer: 203,210
Written by: Cris
My day consisted of sleeping and recovering from last night's episode, while Barbara, Joachim, and Glen walked the city once again. Later in the afternoon Joachim and Glen worked on the Westfalia in a very quick and efficient manner, all I could do is watch...They had to improvise tools a couple of times, and worked in a very thigh and dark space. By late evening, Guapo had all the new parts from the US installed and running. I am grateful to these guys, who by the way never stopped joking and were always in good spirits. The issue with the temperature will have to wait for now, since I still need the right water pump and crankshaft pulleys. As a temporary measure, Joachim took the thermostat out to facilitate the water flow, which seems to be the problem. We stayed at hotel La Merced for one more night.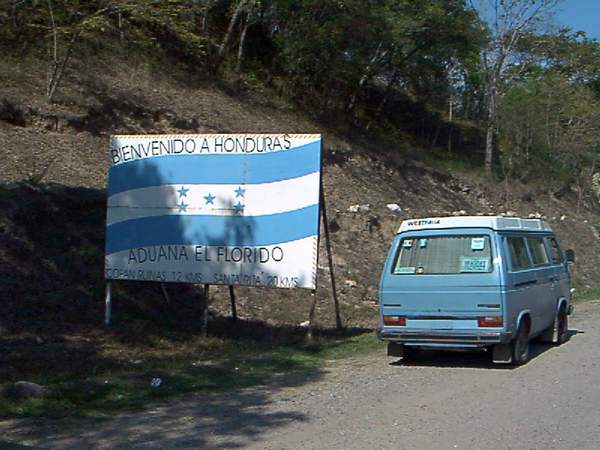 Welcome to Honduras
May 25, 2002
Antigua, Guatemala
Odometer: 203,210
Written by: Cris
Today we drove past the capital city and all the way down to the town of Copan, in northern Honduras. The latter is the site of a major Mayan archaeological site to which I had been in my trans-American trip in 92. Crossing the border into Honduras was relatively simple and inexpensive, about 45 minutes total and around U$S 35. Copan town has changed quite a bit since then, though. It now has a much larger infrastructure for international tourism, providing many hotels, restaurants, internet cafes, and other related vendors. Overall, Copan gave me a much better impression than the one I had from my first visit. Barbara, Chance, and myself got a deal at a hotel to camp in Guapo at their parking area. Joachim and Glen checked in at a different hotel.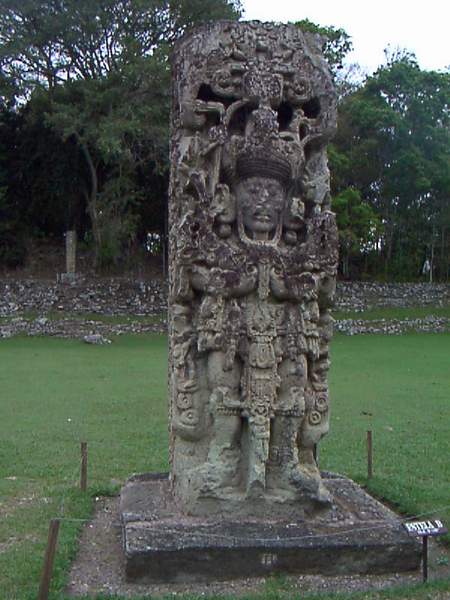 Copan Sculpture
May 26, 2002
Copan, Honduras
Odometer: 203,377
Written by: Cris
Copan ruins were not as monumental as some of the ones that weve seen before in this trip, but nowhere else had we seen such beautiful and intrincate sculptures. Joachim and Glen hired a guide, so our experience this time was much more fulfilling and educational. Our guide made some interesting connections between Copan and the major Mayan sites in Yucatan and Guatemala, to which we could relate, having just been in most of them.
After our tour, Joachim and Glen took a bus back to Antigua. Barbara and I continued our journey through northern Honduras to San Pedro Sula, and then to our final destination for the day: Lake Yojoa. The road before San Pedro Sula goes through a very nice mountain area. We found roads to be in very good condition in Honduras in general, and wondered if it was product of the reconstruction with foreign aid that took place after hurricane Mitch. Right before the sun went completely down, we made it to the lake and asked in a marina if we could park for the night. They wanted more money than we wanted t pay, but one of the employees there Alvaro, who lives next door, was kind enough to allow us to stay at his backyard (which borders the lake). We cooked dinner and went to sleep listening to the noises produced by the burro with which we were sharing Alvaro's backyard.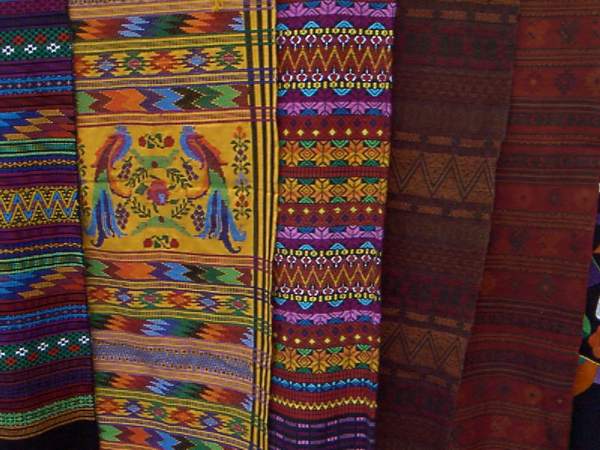 Guatemalan Crafts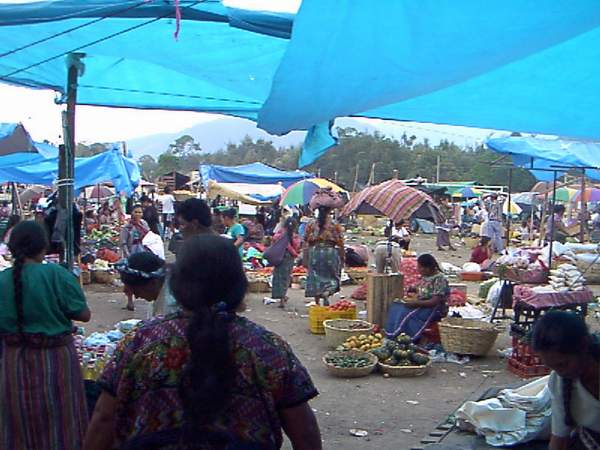 The Market in Antigua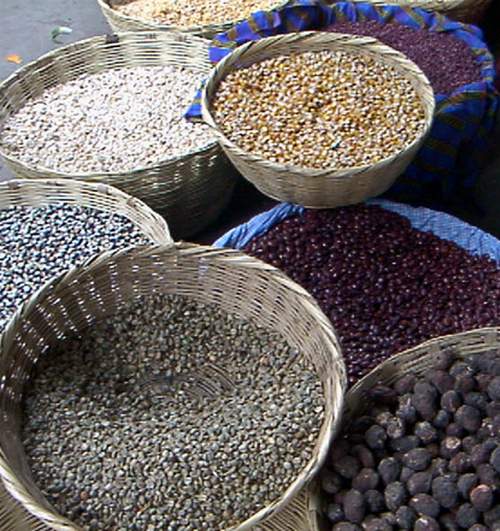 Colors From the Market in Antigua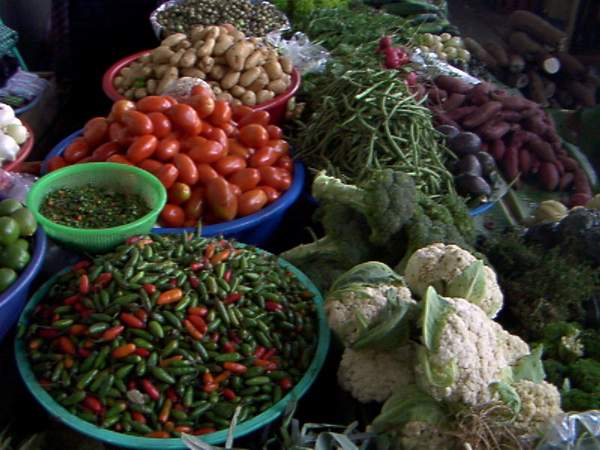 Colors from the Market in Antigua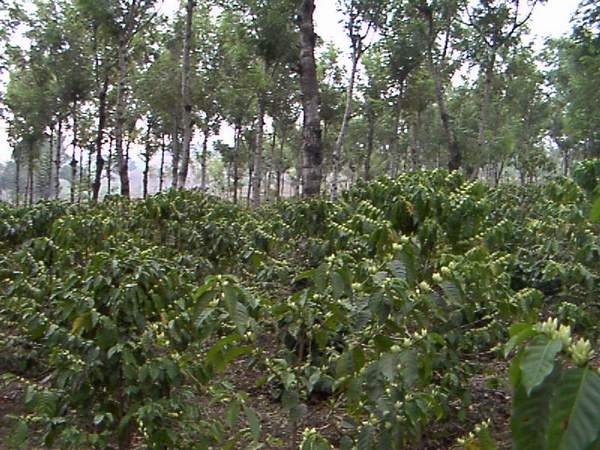 At Alfredo's Coffee Plantation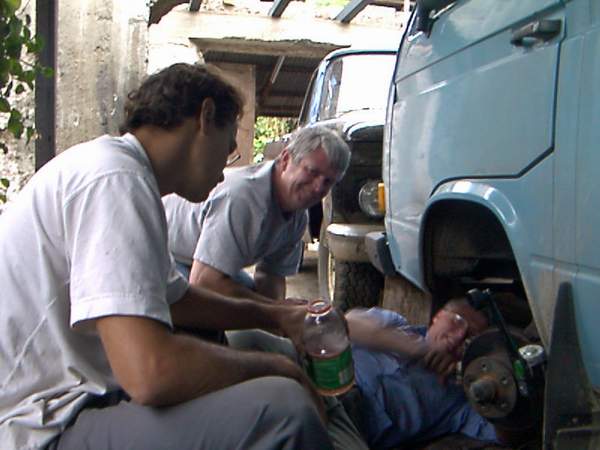 Joachim and Glen Working on Guapo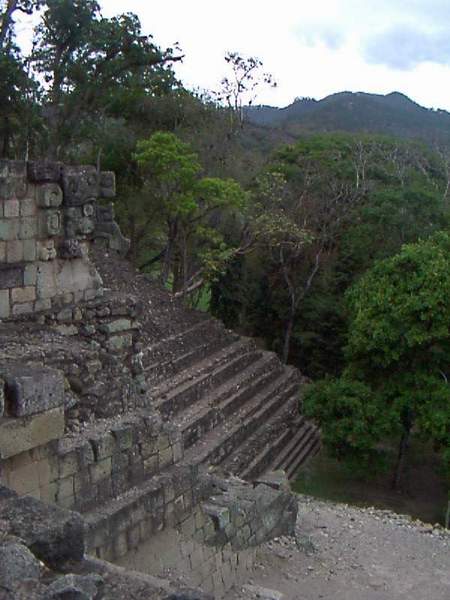 Copan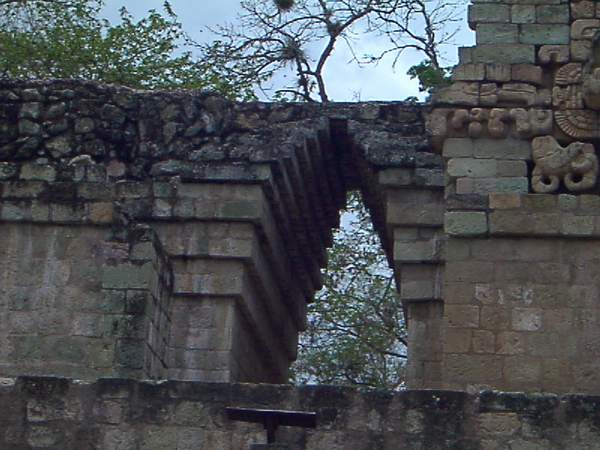 Mayan Alternative to the Arch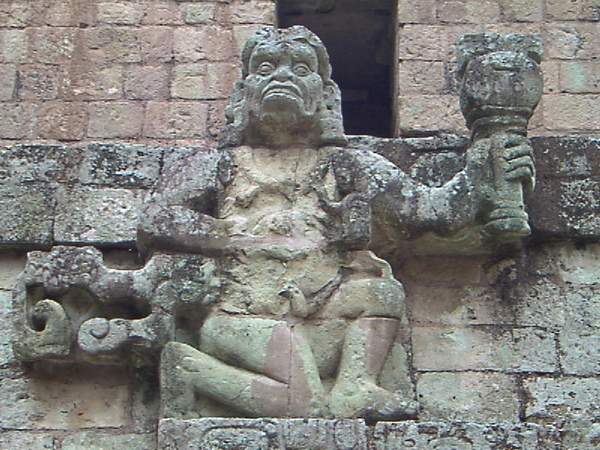 Copan Sculpture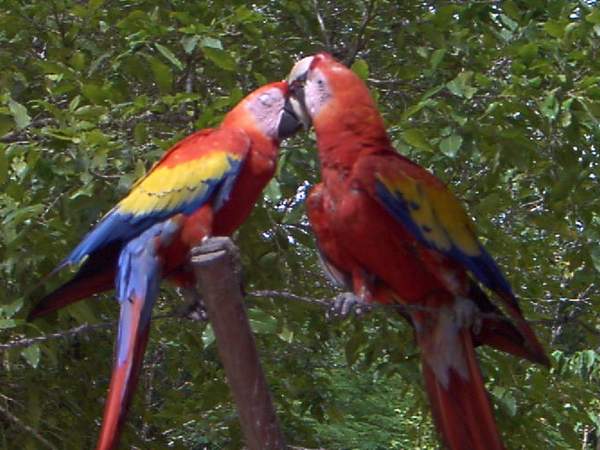 A Couple of Macaus, the Honduran National Bird