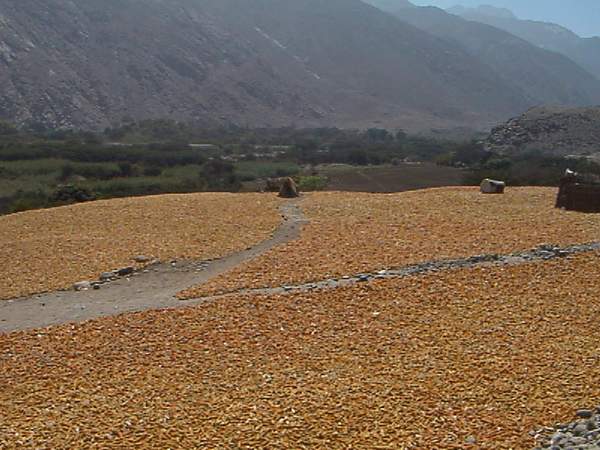 Drying Grains Next to the Road
July 15, 2002
Barranca, Perú
Odometer: 206,677
Written by Bárbara
We left Barranca around noon, heading to Huaraz, close to the Cordillera Blanca where you can find the highest mountain in Peru, Mount Huascaran (6768m). The road Barranca-Huaraz ascends from sea level to 12,900 feet, with spectacular landscapes of snowy peaks, farming fields coexisting with the desert, and areas of beautiful creeks, and wildflowers. Every now and then we would see big orange spots contrasting with the light brown desert landscape, to then realize that these spots were formed by hundreds and hundreds of golden corns grouped to dry under the sun. We thoroughly enjoyed this tranquil road, only interrupted by small villages with peasants working on the fields, women carrying huge loads or working with wool as the walked by the road, families chatting in the front door of their houses, and occasional herds of cows, sheep, and other animals blocking the road.
At 12,900 feet above sea level, I was starting to feel a bit short of breath, and with little energy. Cris seemed to be experiencing the opposite effect: he was so excited by the landscape that he seemed ready to run a marathon. We arrived in Huaraz just before dusk, and spent the night at the ugly Hostel Landauro, which was convenient because it had parking space, and we were too tired at that point to explore other sleeping alternatives. We did not sleep that well that night, perhaps because we were still getting used to the altitude and the dry climate, which makes one feel as if sleeping in an airplane. Or perhaps, we just got too used to sleep in our camper...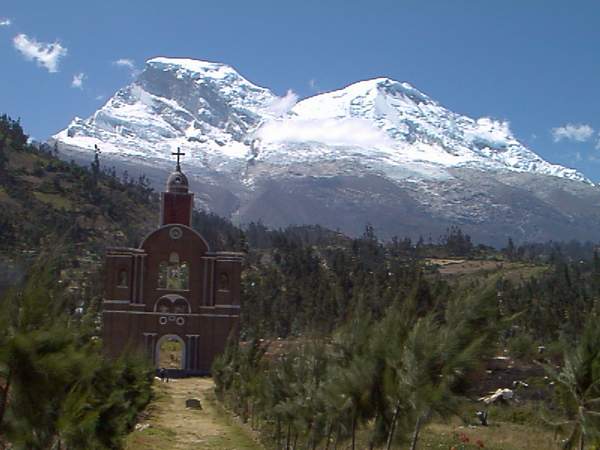 Monument in Yungay, a Whole City Buried by an Avalanche
July 16, 2002
Huaraz, Perú
Odometer: 206,912
Written by: Bárbara
Our goal for the day was to visit the Huascarán National Park. We headed to the park early in the morning, hypnotized by the landscape that we could already anticipate: snowy mountains and glaciers contrasting by a deep blue sky, crisp air, paths bordered by wild flowers, and clear rivers kept us euphoric. Our first stop was the old town of Yungay, which was buried by an avalanche coming from Mount Huascaran in 1970. According to our guide, the avalanche was the result of quake with epicenter in the ocean. He said that in three minutes the avalanche covered the whole city, killing approximately 18,000 people. Nowadays you can only see a few remains of the city: a destroyed bus, one of the church's walls, part of the old cemetery, and four palm trees that survived almost miraculously. What use to be a thriving town is now a big cemetery (campo santo) covered by flowers.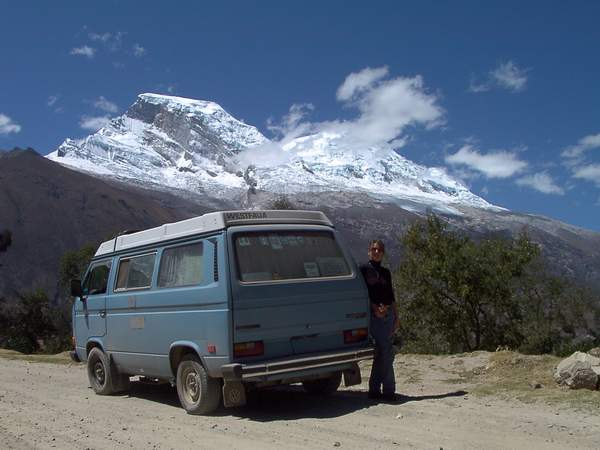 Approaching Mt. Huascarán
After a first hand view of what nature is capable of, we felt tremendous respect (borderline fear) for Mount Huascaran, the mountain to which we were getting closer and closer. We were able to see the Huascaran perfectly as we approached it, which was lucky since it's top is usually covered by clouds (or so we were told). According to a popular belief, the clouds surround the mountain to cover it's shame for what it did to Yungay.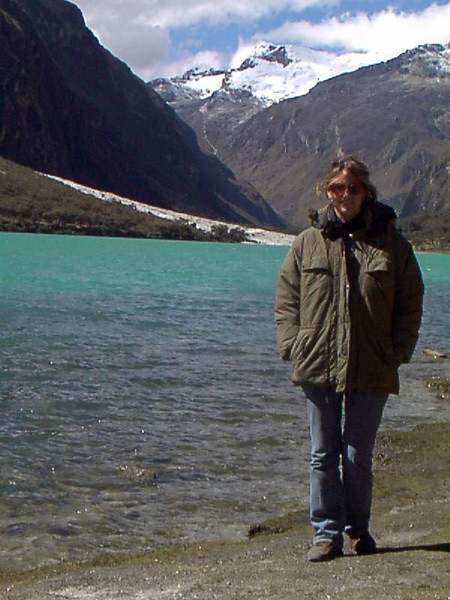 The Turquoise Lake Llanganuco
A gravel road goes from the new town of Yungay to the Huascarán National Park. When we arrived to the Llanganuco lakes, inside park, we almost could not believe that such a fantastic landscape was even possible. The turquoise color of the first lake was so strong that it seemed unreal, and the snowy mountains constituted the perfect backdrop. I believe that even Chance was aware that we were in front of an exceptional landscape, he seemed so happy, jumping around, and running like crazy! When we were coming back from the trip something unexpected happened: Guapo presented a seemingly serious mechanical problem...
July 17 & 18, 2002
Huaraz, Perú
Odometer: 207,026
Written by: Cris
Warning: the following paragraph is somewhat technical, skip if not interested (but you won't know the whole story!).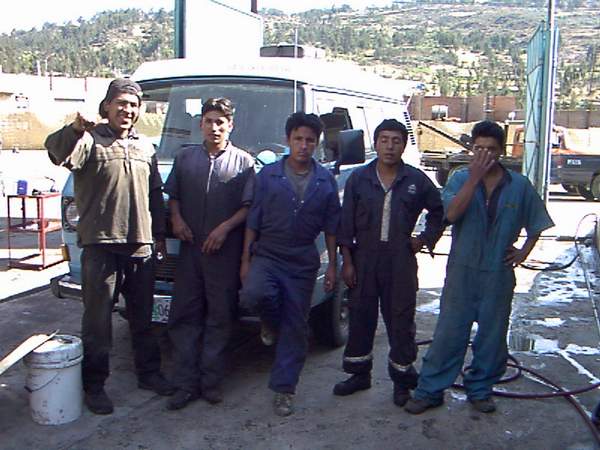 At Hernán's Shop
Coming back from the lakes yesterday, and with 3 hitchhikers on board, the oil pressure idiot light went on. We pulled to the side of the road immediately and checked everything. To my dismay and perplex ness, the cooling system was full to the top with engine oil, and the engine had almost run out of oil. My first thought was a leaking head gasket. I added all the spare oil I had in the vehicle and kept driving to Huaraz, not very far away, and constantly checking the engine temperature and oil pressure. By the way, I am so happy to have installed all the auxiliary gages before leaving the US; they have been helpful all throughout. We were lucky enough to locate a VW mechanic that same night (yesterday), who not only said he could help us, but accepted my proposal of us sleeping inside Guapo in his shop. So that was the beginning of our experience at Hernáns shop, which lasted three days and was, overall, very positive. In the morning, Hernán confirmed his first diagnostic last night: leaking oil cooler (which works as a heat exchanger by running coolant next to the oil, thus cooling the latter). Despite being brand new, the oil cooler had developed a leak. The oil system working under more pressure than the coolant system caused the former to transfer to the latter. The result was that every single component of the cooling system (radiator, pipes, hoses, tanks, water pump, heating system, etc.) had been impregnated with oil! A small nightmare yes, but at least the engine was undamaged. Once the problem was established, the next challenge was to locate a Vanagon oil cooler in a country that has no Vanagons, and from a mountain town in northern Peru...well we got very lucky, a big VW distributor in Lima had one in their warehouse (dont ask me why). Upon payment through a bank transfer, they sent it overnight and by the next morning we had it at the shop. In the meantime, Hernán`s workers and myself had completely disassembled the cooling system and cleaned all the oil. I noticed that the radiator had developed a small leak, so we took care of that, too. Once everything was installed back in Guapo, we spent a long time rinsing the cooling system of any left oil by adding water from one end and letting it pour from the other while running the vehicle until the water came out clean. Needless to say, Guapo got an unscheduled oil and filter change. So that is the story with the mechanical problem in northern Perú.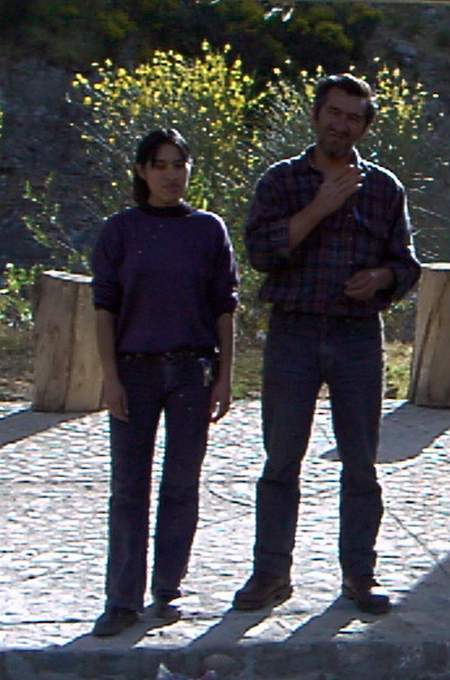 Lupe and Hernán
The other side of it was that because of spending those three days at the shop, we got to know Hernán, his assistant Lupe, and most of the workers there. Hernán is a very creative person and an admirer of the German engineering, who as well as fixing automobiles and trucks has designed and built several pieces of machinery, owns an assembly that produces some kind of slow-burning coal brick that is used to heat water, buildings or food, has designed water tanks that work with those bricks, owns a company that rescues vehicles that fall from the steep mountain roads in the region, performs maintenance and fixes the machinery and vehicle fleets of the nearby mines, and many other enterprises.
The stories and photographs that he showed us showing the many rescues to buses and trucks that had accidents in the local mountain roads are unbelievable. In short, Hernán and his team work (mostly above 12,000 feet above sea level) building roads and salvaging vehicles with cables and manual winches (!). Sometimes they take days, sometimes they find dead people inside, and sometimes they rescue vehicles from under the water. A very interesting profession, in my opinion.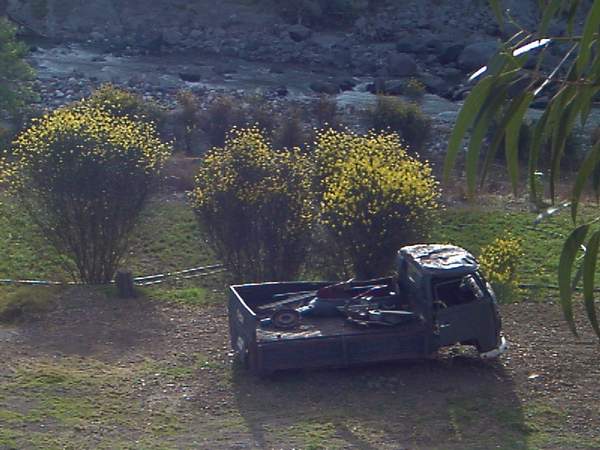 Abandoned VW Alert!

It was nice for us to be able to sleep in Guapo, even though it was in the shop, since all our belongings were there and it would have been difficult to coordinate moving back and forth from the shop to the hotel, bringing our stuff along, and more importantly, dealing with our dog Chance throughout this whole episode. Staying at the shop allowed me to closely follow and participate in what was being done to our vehicle. In the meantime, Bárbara explored downtown Huaraz. Hernán also invited us to his nearby property, located right next to the river. He is planning to be able to accommodate tourists in the future, by providing lodging options such as rooms, camping spots, hammocks, etc, as well as food products grown in the property. A kind of Finca Ixobel, if you will (see our Guatemala chapter). To my pleasant surprise, there was an abandoned early 60s VW single cab in the property which Hernán is planning to get rid of. Instantly, I got my toolbox and took every part that could be salvaged, including glass, door handles, ID plate, tailgate hardware, Peruvian license plate, etc.

Our stay at Hernán's shop did not only served the purpose of fixing Guapo, but provided us with the opportunity to meet local people and places, and learn more about Huaraz and Perú. Luckily, we dont feel that we wasted our time while waiting for the camper to get fixed.

July 19, 2002

Huaraz, Perú

Odometer: 207,033

Written by: Cris

Early in the morning, Hernán took us to a nearby natural hot spring complex where after bathing in the pools we took one of the most pleasant showers in the whole trip; natural warm water at the perfect temperature coming out of outdoor showers with a nice view of the mountains and a creek, excellent. Yesterday, Barbara and I had decided to do what our Lonely Planet guide calls ¨almost impossible¨, and skip Lima by traveling south to Cuzco through central Perú. Our maps showed a road that went south without hitting the coast, and we thought that even though we were probably talking about gravel roads, choosing this central route would give us a chance to know the heart of the Peruvian Andes, which is not frequented by tourists because of past problems with guerrilla from the 70s to the early 90s, lack of infrastructure, and surely other reasons that escape my mind (or understanding). Little did we know the kind of roads that we would have to negotiate during the next days, and how hard was going to be getting to Cuzco. The magnificence of the places we saw made it all worth it, though.

We departed Huaraz around noon, heading south to another section of the Parque Nacional Huascarán. This park and its surroundings was a definite highlight for us, the landscapes we saw today are among the most beautiful in our whole trip. We drove very close to permanently snowed peaks (nevados); naturals gasified springs, prehistoric art paints, glaciers, and more. Our altimeter indicated that the gravel road that crosses the park goes from 11,000 to 14,400 ft. above sea level, which definitely tested Guapo's power at high altitudes, successfully. This had been a concern of mine since we left Oregon, I did not know how the injector pump would work in the Andes altitudes and Huascarán was the first test. The outstanding views didnt stop when leaving the park, where our high altitude allowed us to see snowed mountains chains all over. We saw very little traffic today, around 3 vehicles overall. We made it to the tiny mountain town of Huallanca by early evening, ¨checking in¨ at the local paid parking lot (something very common throughout South America). These parking lots would prove very useful during the rest of our trip, a place that every town or city had, where we could safely sleep in our camper for a very modest price. This was also the first night where we needed to use our Ebërspacher gas heater, which kept us cozy despite the low temperatures outside.

July 20-21, 2002

Huallanca, Perú

Odometer: 207,113

Written by: Cris

During these couple of days we drove the section Huallanca-Huanuco-Pampas. The first 100 kilometers took us a whole day, traveling through dirt roads with loose gravel, streams, precipices and other complications. The vistas were spectacular. We went through small rural towns, transporting local people from one place to the other (many people confuse us with the public transportation vans and signal us down), we saw corn drying next to the adobe dwellings, and were stopped by the police to pressure us to give a ride to a couple of priests which we had decided against a second before. We also found out that we had broken the lower bolt of one of the rear shocks back at the Huascarán National Park, so we had to drive a long portion without the mentioned shock; perfect for a bumpy road...