Bolivia/ Northern Argentina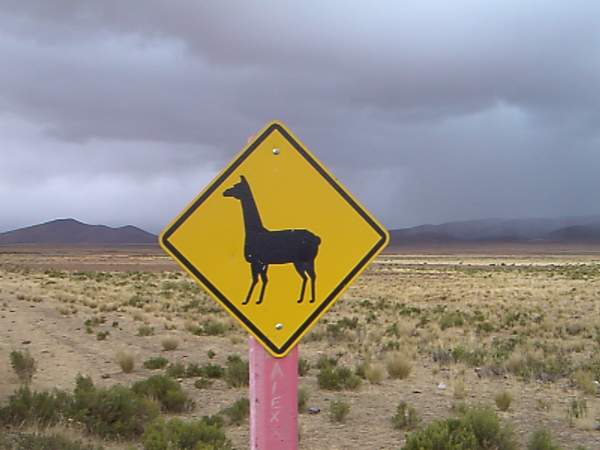 July 29, 2002
Huari, Bolivia
Odometer: 208,590
Written by: Cris
We made a risky decision today. Since we calculated we had an extra day until the time we were supposed to meet my parents in northern Argentina, we chose to visit the Uyuni salt flat (salar), which, with an area of 12,000 square kms. is the world's largest. Getting there was not an easy task, we could have been stuck for days waiting for rescue. The 140 miles of dirt road (for lack of a better word) to the town of Uyuni wondered through the immensity of the Andes plains and mountains, hitting rivers (there were no bridges, Guapo was submerged to the top of the wheels in several instances), very steep inclines (which tested the limits of our first gear), sand, and seemingly ghost towns.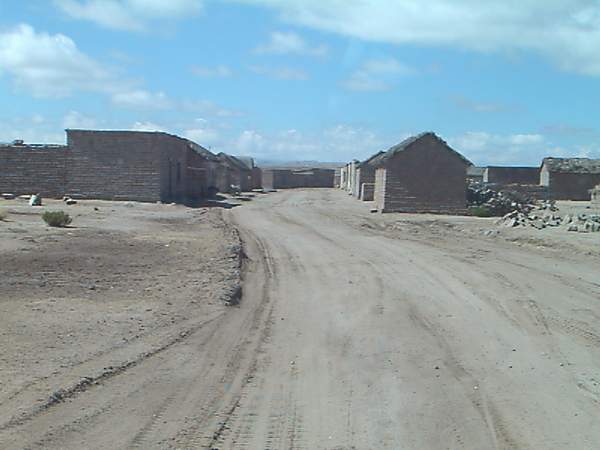 One of the Ghost Towns Along the Way to Uyuni
We found out that the best way to test how deep the rivers were before crossing them was to throw a rock to the middle of the crossing and have Chance chase it. It worked out great.
We didn't see any traffic during the whole day, and wondered several times if we were in the right path, since signs are extremely rare in this area. We often found a confusing "Y" where both roads had the same hierarchy, it was just a matter of instinct (and luck) to choose the right one. Fortunately, our map indicated that the road roughly followed the train track, which we could see every now and then. Just before pulling out the GPS, we would always find a clue that confirmed that we were in the right track. When crossing one of the few towns encountered (they all looked abandoned), we found a barrier interrupting the road but no one around. After a few minutes of waiting, I got out of the car and saw a little booth with the door open. In its dark interior, a Bolivian soldier awaited behind a desk that only had a bunch of blank receipts on its surface. This is normal procedure in Bolivia, no matter the importance of the road, there are toll stations/control booths managed by the military, in which you are expected to stop your engine, get out of the car and walk inside a booth where you will be asked where you are coming from and where you are going to, among other things. By the way, we haven't been able to understand the usefulness of these two questions yet, which were asked to us many, many times throughout the continent. We could answer that we were coming from the States, or from the nearest town, or from anywhere in between and that wouldnt make any difference. We chose to always mention the last town we had been as our origin, and the next town as our destination, and soldiers seemed to be happy with that. Rather than a security issue, both questions were probably an official way to satisfy the soldiers curiosity about where the heck us two, a dog and that weird vehicle were coming from. Anyway, this particular officer was charging us for a municipal tax for crossing that particular town. There were so many reasons why this was wrong that I had to pause for a second before replying. I mentioned, for example, that this was a federal highway (use the term "highway" loosely), and thus paid by the Bolivian citizens through taxes; that this was not a good incentive for tourism to that beautiful area, which can most probably bring much more money into the region than the tax in question; that the condition of the road was simply terrible, and evidently the money charged was not being used for improving it; that there was no way to know who would keep this tax contribution and what would it be used for; etc. etc. After all that, I paid the so called municipal tax, mentioning that I did not agree with it, and took off. We left a very astonished and speechless soldier inside that booth.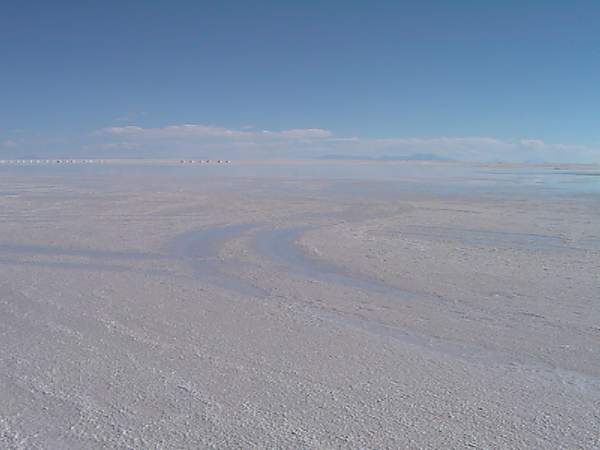 White Immensity at Uyuni
By mid afternoon we finally reached the eastern edge of the Uyuni salt flat, a place of magnificent beauty. It is hard to describe the feeling coming from being surrounded by hundreds of miles of a pure white, perfectly flat area at 12,000 feet above sea level. The distant Andes mountains in the back seemed to be floating in the air, the wind was the only sound. The three of us spent a while experiencing all this, until a caravan of 4WD Toyota Land Cruisers showed up in the horizon, traveling towards us. They made their way zig zaging through the flat, with their lights on. When they finally reached us, we learned that they were transporting foreign tourists, back from a 4-day expedition in the area. There is a hotel in the middle of the salt flat that is entirely made out of salt blocks, including its furniture. I recalled reading about it in an article about the worlds most exotic hotels.
We followed the Toyotas to the town of Uyuni, and arranged to stay at the gas station attendants backyard. This is a unique town, the foreign tourist population seems to be about 30% of the local, there are internet cafes, hotels, restaurants, crafts, tour shops, etc. Things you don't expect to see in such a desolate part of the world. Our minds, however, were focused in our journey out of the area the next day. We had asked around about the condition of the road, and the answers, although diverse, had been mostly negative. We were told that we could not do it in our vehicle, only in a 4WD. The main obstacle being the infamous Km 33, where sand piles up on the road, creating good sized dunes. We wandered through town looking for anything resembling a metal plate that could be used under a tire in case of being stuck, with no luck. With so little resources and no wood in many miles, we had little chance of finding anything like that discarded. That night was a bit on the chilly side, and when trying to turn on the Eberspacher gasoline heater I realized that one of the many rocks I hit that morning had bent the unit and its fan was not working properly. So things remained not as warm as we would have liked for the rest of the night...
July 30, 2002
Uyuni, Bolivia
Odometer: 208,732
Written by: Cris
Today was definitely the hardest driving day in our whole trip. We left Uyuni before sunrise, thinking that it would be better to be ahead of the traffic going our way (if any) in case we got stuck and needed some help. After 33 kilometers of heavy washboard we arrived to the sandy spot, and stepped out of the car to examine the situation. Three sections of the road were completely covered by more than a foot and a half of thin sand, the longest of them being about 100 feet. The biggest problem, however, was the center section, which was a lot taller than Guapo's clearance. So we took out our little German Army shovel and started digging, not an easy task at 12,000 feet above sea level. With Barbara and Chance out of the car to reduce weight, I backed up about the length of two blocks and then started going forward, as fast as Guapo would let me. By the time I hit the sand I had enough momentum to go across the first sand dune, our shovel work had been a success.
Going Through the First Sand Obstacle
We found a diesel truck stopped before the second dune, with it's driver and passenger in the process of finding the best way to proceed. We helped them with the shoveling and were able to go across it successfully, not without some interesting maneuvering work. I got to the third dune before the truck , and after the usual scouting I realized that our chances to go through it without getting stuck were minimal. We agreed to try going around it, over a surface that seemed to have had water at some point but it was still not hard enough to make us feel confident about driving over it. We had to act quick, because the truck was behind us and if they decided to take the road option and were successful in doing so, we could be stuck with no help for who know how many hours or even days. So I caught some speed and went by the side of the road. Guapo started to dig into the surface as soon as drove off the road, until it got stuck. . . We were too far away from the road for even a long cable or rope that could pull us out with the help of another vehicle. We DID NOT want to spend the night there; we were starting to be burned out from the high altitudes, extreme temperatures, desolation and terrible roads. To our despair, and having seen our incident, the other truck decided to go straight over the dune on the road, and was able to cross it. They were nice enough to stop after doing so and helped us out pushing Guapo. After pushing (with the help of the engine) the vehicle back and forth we were able to compact the surface enough to catch some movement and made it back to the road. Close one!
Well, we didn't have much time to celebrate. Contrary to what we thought and were told, we were not done with the dunes. . . A short half an hour later the road was again interrupted by sand, this time a long stretch of about 200 feet. We had to shovel it's center section entirely in order to prevent contact with our vehicle that would make us loose valuable momentum and could even damage something. Just when we were about to give it a shot, we saw a 4WD Toyota Land Cruiser passing by, cutting through a secondary path in the desert in order to avoid the sand obstacle on the main road (and us, I presume). It must be bad if even 4WD vehicles avoid it, I thought. On the other hand, the route that the Toyota had taken looked too primitive for Guapo, so we decided to stick with our original plan. Once again, I backed up about 300 feet and caught some speed, and was able to cross the sandy area. While waiting for Barbara and Chance to walk back to the vehicle, I was so happy and loaded with adrenaline that started dancing and screaming, celebrating our success. Shortness of breath caught up with me pretty fast though, due to the lack of oxygen at those altitudes.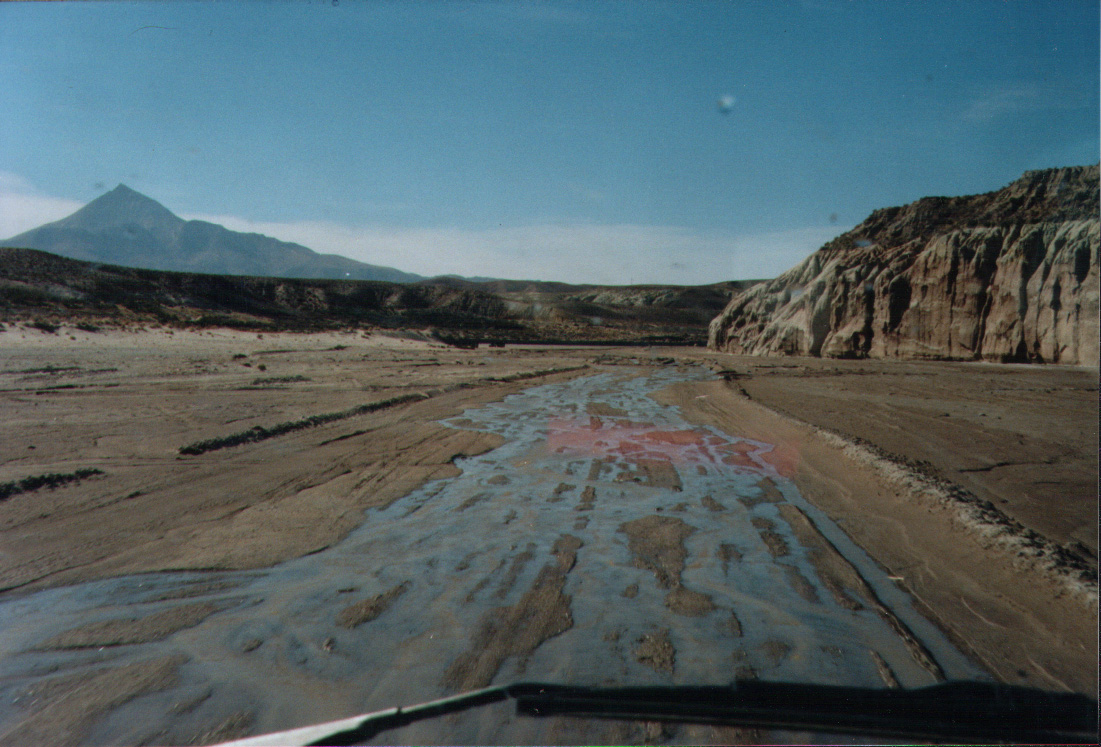 The Road Followed the River (Literally)
We were now done with the dune problem and hopeful that we would be able to make it on time to the encounter with my parents, in two days. We were not done, however, with dealing with bad road conditions. At one point the road started going through a river bed (which had some water in it). Not next to it or even across it, but following it... The water level kept rising as we drove on, but we could see tracks from other vehicles and had not seen any detours. Under those conditions we got to the remote mining town of Atocha, a very interesting place on its own. After enjoying about 5 blocks of pavement, the road took us back to the river, and this time with more water. When we reached a point that it felt that we would get stuck at any second, a miner informed us that the road veered off the river very close from there. Fortunately, this was true. We spent the rest of the day driving through steep inclines (up and down) and heavy washboard and dust, but fortunately no more sand dunes or riverbeds!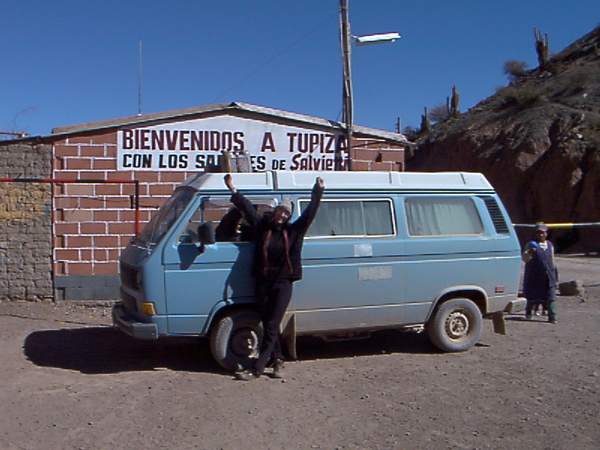 Made It To Tupiza!
We had a hard time reaching our goal for the day, the city of Tupiza in southern Bolivia. At one point we decided to pull out the GPS, since we thought we could be lost and heading back into the Andes towards Chile! Fortunately this was not so and we reached Tupiza by late afternoon, extremely happy to be back in a populated area. We slept in a parking lot that night.
July 31, 2002
Tupiza, Bolivia
Odometer: 208,863
Written by: Cris
So we spent my birthday #37 in this pleasant town, famous for being where Butch Cassidy and his partner were shot. It was nice to relax here for a whole day, after all that challenging driving. The weather was very pleasant and we spent the day wondering between the main plaza, the market, and the Internet café. We found the flag stickers that we were missing for our back hatch: Bolivia, USA and Argentina. If we could only find a Belize sticker we would be done!
Luckily, I found a tire shop in town that had an air compressor, which allowed me to clean our dust-clogged air filter. Later, we checked into a much-needed hotel and enjoyed it's few amenities, mainly the hot water shower.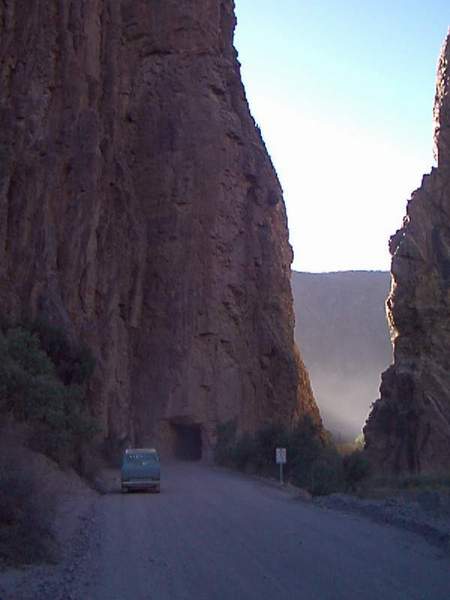 Pan American Highway, Before Villazon
August 1/2, 2002
Tupiza, Bolivia
Odometer: 208,863
Written by: Cris
The anxiety generated by being so close to the border with Argentina caught up with us, so we spent the whole day driving, with little sightseeing. The Pan American Highway between Tupiza and the border with Argentina is not paved, with portions of heavy washboard and others with a thin dust that penetrated absolutely every little corner of our vehicle. We made it to Villazon an hour before scheduled, and proceeded to deal with the last border crossing in our long trip south. Needless to say, both of us were extremely excited when, still from the Bolivian side, we noticed a sign welcoming us to Argentina; not only the last country in our journey, but our native land as well. Getting out of Bolivia was fast and free (as it had been getting in). After about half an hour of immigration and customs paperwork on the Argentinean side (no fees), we were already in La Quiaca (Argentina's northernmost town), and driving south to the nearby town of Tilcara, where we had arranged to meet with my parents that same day. Once in Argentina, the roads changed drastically; good pavement, signs everywhere, bridges, shoulders, etc. What a luxury. Another thing that called our attention was the presence of private cars on the roads, as opposed to most of the countries we have visited on this trip, where most traffic is either public or commercial transport.
Once in Tilcara, we met with my parents, Maria Elena and Jorge, as planned. We were all very happy and excited, and didn't stop talking for hours. After celebrating by dining out (a rare thing for us), we all stayed in a pleasant rustic inn for the night. We were very happy to finally be in Argentina, in the company of my parents, and so close to Buenos Aires and the rest of our families and friends; but at the same time I couldn't help feeling strange about how close we were getting to the end of this amazing trip, how close to changing the fabulous lifestyle that Barbara, Chance and myself had experienced during the last four months. I was not ready to give an end to such a wonderful trip...
We all decided to spend one more day in Tilcara, relaxing and chatting (we had a lot to catch up!).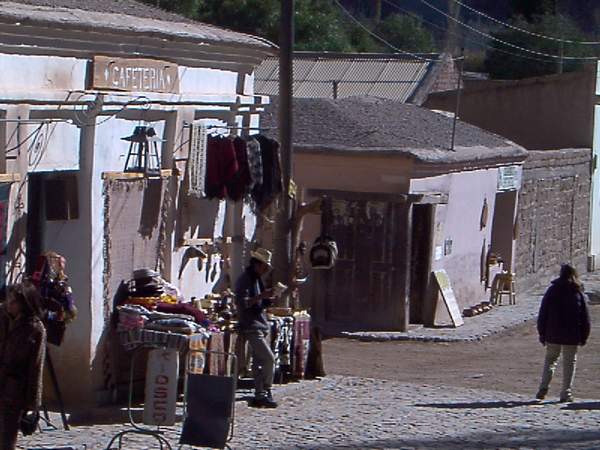 Purmamarca, Argentina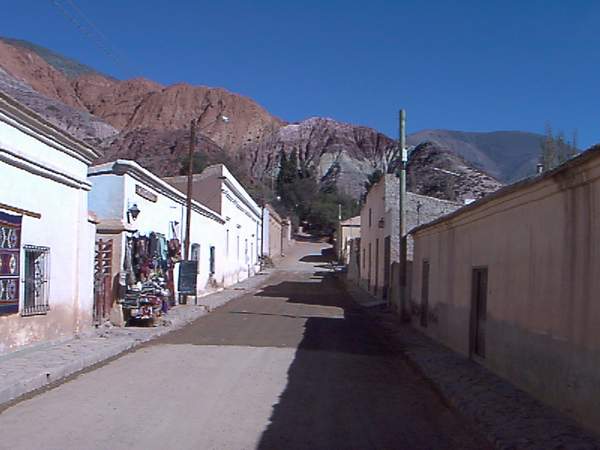 Purmamarca, Argentina
August 3, 2002
Tilcara, Argentina
Odometer: 209,048
Written by: Cris
Today we caravaned to the nearby Valles Calchaquies with my parents. This is a beautiful area in the foothills of the Andes Mountains of northern Argentina which I used to frequent at a younger age. Not the most direct road to Buenos Aires, but worth visiting. We went from the Jujuy province into the Salta province, crossing the latter's capital city (of the same name) and then heading west to the mountains. By early afternoon we arrived to the picturesque town of Cachi. We walked the tranquil streets, surrounded by old adobe houses painted in white, a characteristic of this town. My parents stayed in the recently-renovated hotel of the Automovil Club Argentino (Argentinean Automobile Club) or ACA for short, and we slept in our little "hotel on wheels" once again. That night, both weather and surroundings were particurlarily pleasant; we went to sleep feeling completely safe and contemplating the many stars visible from this unpolluted part of the world.
August 4, 2002
Cachi, Salta (Argentina)
Odometer: 209.267
Written by: Cris
We enjoyed a typical argentinean breakfast (nothing unusual, very similar to a continental).Today we spent the day travelling through the Valles Calchaquies, from Cachi to the town of Cafayate. I specially enjoyed the itinerary, since every place brought memories of my previous visits to the area, many years ago. Along the way, we visited points of interest: the Marques Hostal in Molinos (ex-home of the last Spanish gobernor in the country), the picturesque town of Angastaco, and the well-known pottery factory of the Cristofani family in Cafayate. As usual in the valley the weather was close to perfect; dry, mild, and sunny.
That night, my parents slept at Cafayate's ACA. We stayed at the Guapo Inn once again.