US West Coast
April 8, 2002
Location: Eugene, OR
Odometer: 196,934 miles
Written by: Both

We left Eugene at 2 pm of a sunny Monday. Our original plan was to leave on April 6, but the trip preparation seemed to be never-ending. We had already said goodbye to various people on various occasions, and we started to feel as in a Garcia Marquez style story--imagining that really we were never going to leave; that days, months, and years passed, and we were still at Sandi's and Robert's home; that we stayed there until we were 80 years old, but always as if we were going to leave the following day. Finally, we decided to leave Eugene even if everything was not 100% ready, choosing to continue doing leftover things on our way. That afternoon, we drove south on I-5 and spent the night at a rest area north of Sacramento, the place was filled with trucks which had their diesel engines running for long hours, but nothing seemed to bother us inside our cozy accommodations; we were too tired. This was the first night of the trip, and the first time that the three of us slept in the Westfalia. We were not feeling unwound or on a relaxed vacation mode yet ...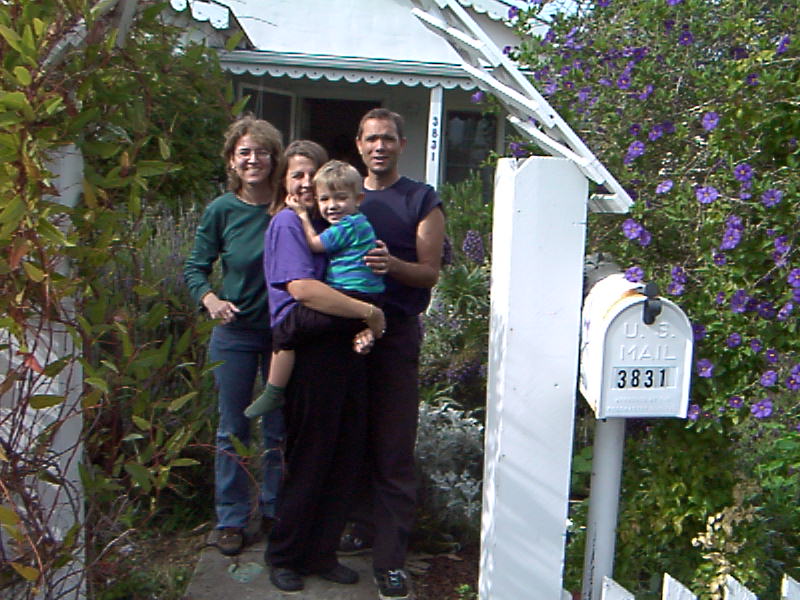 Barbara (left) w/our Santa Cruz friends
April 9, 2002
Location: Sacramento, CA
Odometer: 197,340 miles
Written by: Bárbara

We left the rest area early in the morning, just in time to hit the Bay Area rush hour. After a few hours we arrived in Santa Cruz. We met there with Steve and Gwynne and their sweet son Liam (3-1/2 years old). During that first day we went to the beach, had pizza for dinner and then went to sleep early. Cris also picked up the front end bushings that he had ordered from Oregon at the local VW dealership.
Steve and Gwynne's home is very pleasant, with lots of light, and beautiful plants and flowers in the yard. It was wonderful to get to see our good friends again.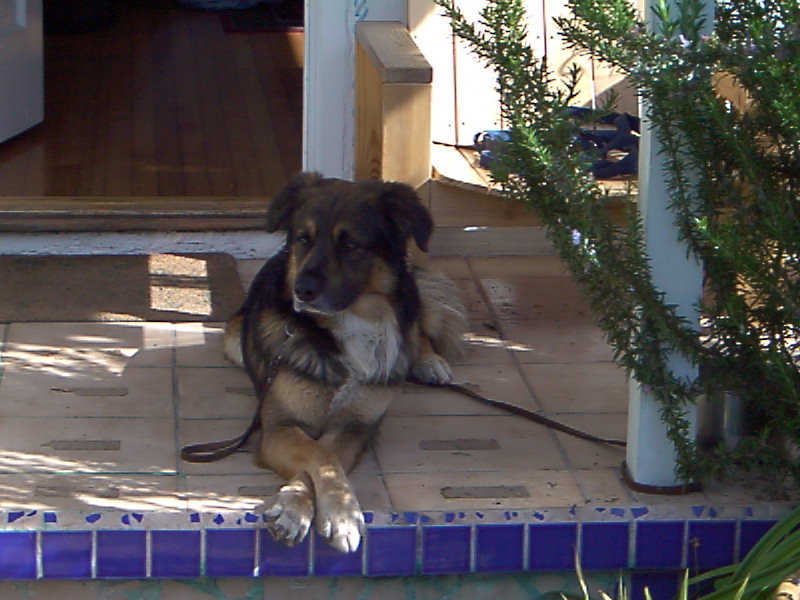 Chance kicking it back in California
April 10, 2002
Location: Santa Cruz, CA
Odometer: 197,670
Written by: Bárbara

In the morning, we attended one of ZunZun shows (Zun Zun is the music and theater group for children formed by Steve and Gywnne). The audience consisted of more or less 100 kids between 1 to 5 years old. The show was partly in English, partly in Spanish, and partly in Portuguese, and Steve and Gywnne did an excellent job entertaining and teaching them about the environment and other cultures. The children and the parents who were taking care of them were truly enchanted. And so were we. After the show we had lunch in front of the ocean. We spent the rest of the day running errands, and at night we had dinner at a Mexican restaurant, were we met with other friends (Cristina--who had known Cris since the times he lived in Santa Cruz--, Felicia--a woman who also had lived in the area, and is now a professor interested in women's issues in Latin America--, and her friend Adam).

April 11, 2002
Location: Santa Cruz, CA
Odometer: 197,670
Written by: Bárbara

This day went by really fast running errands, including some related with the car (whose front end problem could not be totally solved yet). Around 4pm we left to Los Angeles after saying goodbye to Steve, Gwynne, and Liam, who we deeply enjoyed seeing. Once in the road, we thought that it would take us around 5 hours to get to Los Angeles. But this estimate was more applicable to faster cars--not our old Westfalia. Everybody and their sisters were passing us on I-5, all the time. We wanted to get to see my friend Gwen, who used to study Sociology at the University of Oregon, and is now living and studying in L.A. We felt a sense of urgency, given that Gwen was going to leave on a trip the following day, early in the morning, and I really wanted to see her, even if just for a few hours. Gwen waited for us awake until almost midnight. Cris and Chance went to sleep instantly, but Gwen and I laid on the bed and talked and talked until 2 in the morning, like teenagers. Around 6 am Gwen departed, but she was so kind to let us stay in the apartment for the weekend, during her absence. Her home is only a block away from the Hollywood Blvd, close to the famous Chinese Theater, the old Hollywood hotels, the place were the academy awards are given, and countless shops with movie star related souvenirs, pictures of pop culture icons, lingerie, second hand items, and all kinds of funky stuff.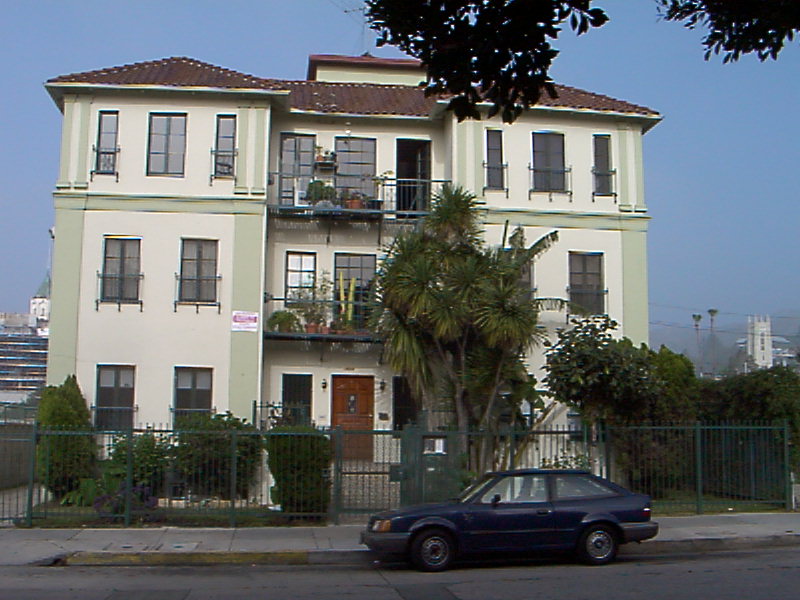 Hollywood facade
April 12, 2002
Location: Hollywood, CA
Odometer:197,929
Written by: Barbara
Our main mission for this day was to go to the Argentine consulate to renew Cris' passport, which was going to expire in the middle of the trip. To our surprise, we did all the paperwork without a glitch. Furthermore, the Consul recognized Cris last and middle names (which he shares with his father), and asked to meet him in person. He had met Cris' father professionally in the past. Once the passport deal was done, we headed back to Hollywood (with a very loud front end noise). We walked around Hollywood Blvd. , reflecting upon the many differences of this culture and the one that we are familiar with in Eugene. We did some more errands (key duplicates, post office, groceries), all at walking distance from our place. Chance was a bit confused walking through the busy areas filled with tourists and other things that he is not used to, but I think he enjoyed spending a day outside the camper and exercising a bit, nevertheless.
Having access to Gwen's apartment facilitated our stay in many ways, especially since it is a very pleasant and comfortable apartment. (Gwen's neighbor, however, likes to listen to a loud Christian radio station at 5am. When in the middle of my dreams I heard the exhortations of a pastor, I think about God's Kingdom, for a moment I was not sure whether I was in a Hollywood movie or in the day of the Last Judgment.) Chance was completely happy in the apartment, especially since this building is apparently one of the few where dogs are allowed. Thus Chance was very entertained with new sounds and smells. Thanks so much Gwen!! Though we were anxious to hit the open road, at the same time we still needed to finish things that we would not be able to do afterwards, so staying here a bit longer was a good decision.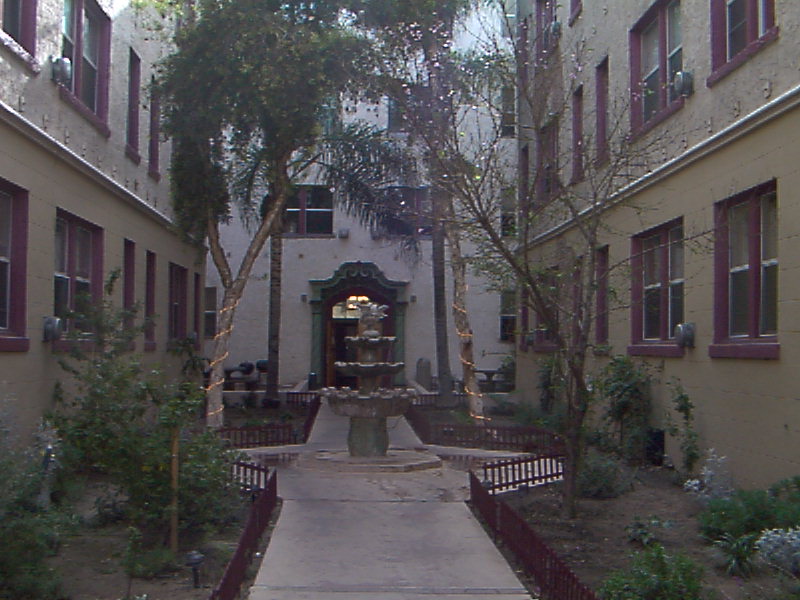 The Hollywood apartment complex
April 13, 2002
Location: Hollywood, CA
Mileage: 197,929
Written by: Cris
Today was not the day to leave LA, either. We waited the whole day for a contact that was supposed to get us late model Vanagon front seats, which are much comfortable and have adjustable armrests. Both of us agreed that this would probably be our last chance of getting a hold of something like this, so we decided to spend yet one more day in the city of angels. We worked setting up this web site for a big part of the day, did some shopping, and relaxing at our friend´s place in Hollywood.
April 14, 2002
Location: Orange County, CA
Mileage: 197,929
Written by: Cris
This morning we finally got our seats, what a difference on our comfort and backs' well being they make! Glad we waited. I also fixed (with the big help of Vic) the temperature issue (the van had been running too hot in the freeway, due to a wrongly-sized water pump pulley). I am getting more used to the GPS now, it came really handy for guidance within the LA area. We left that afternoon heading east on I-10 tired but happy about having a better-prepared vehicle.