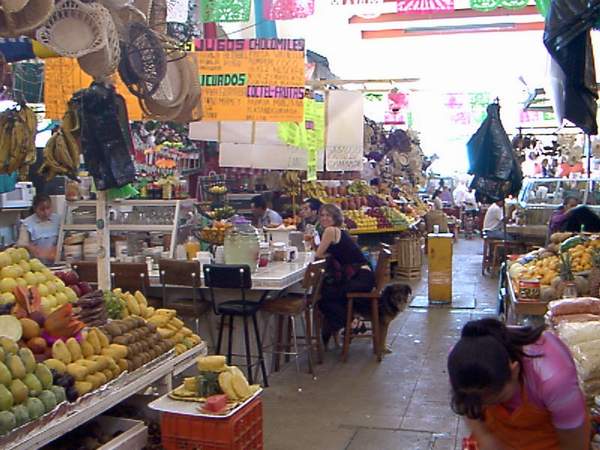 The Mercado, best place to eat
April 22, 2002
Durango, Dgo. Mexico
Odometer: 199,587
Written by: Cris
The arrangement at the Hotel Campo Mexico worked great; they let us park the camper next to one of their comfortable bungalow style room and gave us a key so we could use its restroom. We had the whole place for ourselves, with the exception of a few other guests, so we spent a very comfortable time in this open area conveniently located close to downtown Durango. Today was a bit different to our days so far. We spent most of the morning doing errands including writing Week 2 reports, downloading photos, and organizing the interior of the Westfalia, something badly needed. The afternoon went by with two hours in the Internet café doing e-mail and updating the web site, and doing some groceries (the latter included a little misunderstanding that made us lost contact from each other for about an hour. This made us think about having some sort of plan "B" in case we lose track of each other again).
Durango is a nice city, full of activity and home of a University. The colonial architecture legacy from central Mexico starts to show up here, mainly in it's impressive cathedral and churches--lots of churches.
By late afternoon we were on the road again, heading south to Zacatecas, a place that both of us were anxious to visit for its renowned architectural qualities.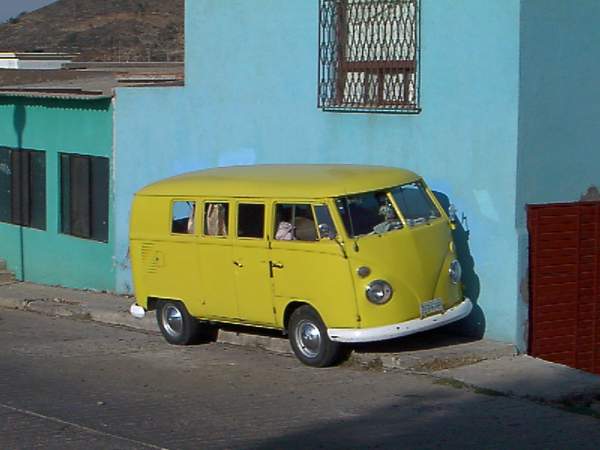 A Survivor in Zacatecas
April 23, 2002
Zacatecas, Zacatecas. Mexico
Odometer: 199,769
Written by: Both
Last night we tried the "Pemex Solution" for the first time, with wonderful results. Pemex is the Mexican state-owned oil company (Petróleos de México), which has the monopoly of all the gas stations in the country. Gasoline and diesel prices are uniform throughout Mexico, with the exception of some remote areas where it is slightly higher. Currently, a liter of diesel is 4.72 pesos (9 pesos is one U$D), which puts the cost of a gallon at about U$D 2.00. Not too bad.
Anyway, the "Pemex Solution" consists, as suggested by the excellent book Traveler's Guide To Mexican Camping by Mike and Terry Church (which we fully recommend for a trip by automobile through Mexico), on asking the attendant at a big 24 hr Pemex station (preferably after filling the tank there) for a spot to park your camper for the night. It worked like a charm for us last night in the outskirts of Zacatecas. Having Chance sleeping outside of the camper added to the sense of security. Both Barbara and myself prefer saving the hotel money in some cases, but we should be careful and balance that with the safety factor. So far, Mexico has felt very safe. More than half of the cars on the road are newer and a lot more expensive and cleaner than our old Westfalia, so we dont need to worry about calling too much attention anyway.
While walking in Zacatecas, we bumped into a split window VW bus by chance, one of the last 3 remaining in the whole city, according to the owner (see photo above).
We spent all of today walking the magnificent downtown Zacatecas and visiting some of the main buildings from it's colonial past:
-The Cathedral, an impressive construction in Mexican baroque style.
-The museum Rafael Coronel, which has one of the biggest mask collection in Mexico and is located in an ex-Jesuit convent that is one of the nicest buildings that we've been so far, elegantly and tastefully restored and landscaped. We learned about the importance of masks in Mexican culture from the pre-Hispanic period to the present. We never thought much about masks, but seeing the variety, craftsmanship, and multiplicity of uses of masks throughout the country's history changed our views. For instance, masks were used for religious, celebratory, didactic, and political purposes during different periods and regions of Mexico. We saw dozens of masks representing the devil, animals, monsters, and folk characters, each of them fascinating in their colors, shapes, and mystery.
-El Eden mine, now open to tourism, and once the site of both wealth creation and exploitation in this part of Mexico, starting in the XVI century. According to the guide, miners regularly died of tuberculosis and silicosis in this place, living to an average of only 35 years old, if they did not died in an accident before. Children were also employed in the mine. The wealth and grandiose buildings of Zacatecas were a byproduct of the mining industry. The guide also explained that miners were usually indentured for life, and that their children inherited the debt to the mine owners. The ultimate destiny of much of the mine silver and oher metals during colonial times was Spain.
That afternoon, we drove to San Felipe town, just before the next heavy weights: Guanajuato and San Miguel de Allende.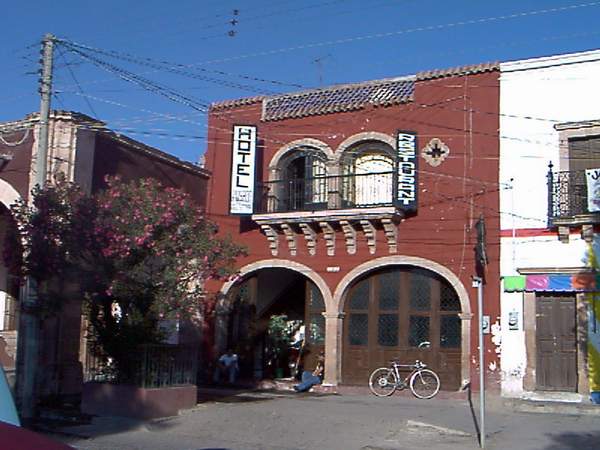 Our Hotel in San Felipe
April 24, 2002
San Felipe, Guanajuato. Mexico
Odometer: 199,943
Written by: Cris
San Felipe was a wonderful location for a stop over. We stayed at the tiny hotel across the main plaza. Our room had a balcony with view of the plaza and our camper parked next to it. Chance slept in the balcony, it took some work to convince the hotel owner to let the dog in, I had to explain that there were no pulgas (fleas) or barking involved. Both in the evening and morning the birds in the plaza were uncharacteristically loud, to a point where we had to raise our voices to have a conversation!
After our now traditional on-board breakfast of French press coffee, toasts and fruit, we headed south to the famous city of Guanajuato, one of the finest examples of colonial architecture in the continent.
On a busy commercial street on our way out of San Felipe we noticed a pick-up truck with a camper shell backing up against us in a rather fast manner. Considering the sometimes chaotic nature of Mexican streets, we didn´t pay too much attention to this at first, thinking that whoever was at the wheel would see us coming and avoid us. Well, the truck kept coming directly against us, crossing the street in a diagonal and very fast by now. We barely missed it (by no more than 3 feet) and when we looked back noticed that there was no driver, it had been parked with no gear or hand brake engaged and was going down the street at least 25 mph! Amazingly, it missed the many buses, cars, bicycles, dogs, and pedestrians that were circulating in both directions and ended up in a ramp about half a block away on the opposite side of the street without even hitting a curb. We laughed thinking about the drivers face when he/she came out to look for the vehicle and found it in a completely different location and with one wheel hanging up in the air!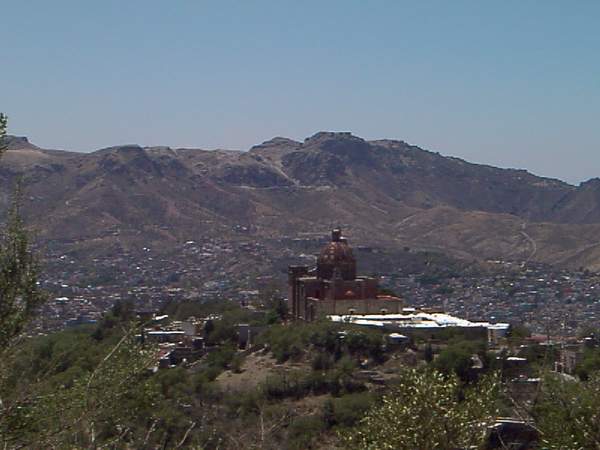 Guanajuato
Once in Guanajuato the narrow streets were extremely busy, but traffic flowed remarkably well given the complicated system of medieval-like streets and long tunnels in a city that evolved following a river's curves and was not designed with automobiles in mind. In our usual reconnaissance drive we observed school kids jumping on to the rear bumpers of automobiles in order to get a ride, with no asking involved. Drivers didn't seem to matter.
While resting under the shade of the trees of one of the many plazas, we talked with a couple of older locals, who told us a bit about the citys history and present. According to them, Guanajuato ranks among the nicest cities in the world, together with Brujas in Belgium and Toledo in Spain. They also mentioned that the tunnels, despite their old appearance, were built not more than 30 years ago, in order to ease traffic congestion.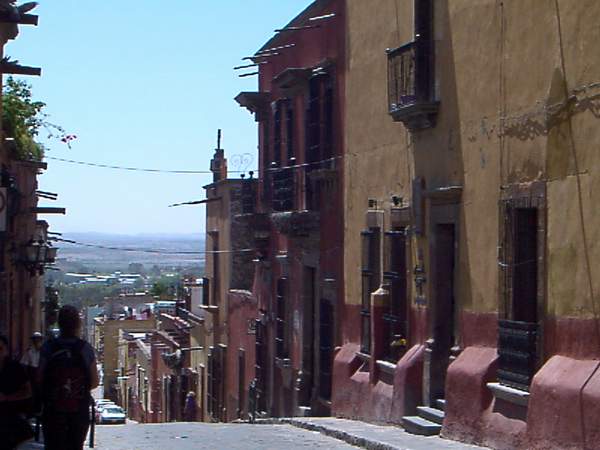 San Miguel de Allende Street
April 25th, 2002
San Miguel de Allende, GTO, Mexico
Odometer: 200,079
Written by: Barbara
We woke up at the Mirador of San Miguel de Allende not the Mirador Hotel, but the parking lot of a hill that has one of the best views in town. San Miguel is another remarkably beautiful colonial town and great to walk. And that's what we did for most part of the day: we walked the laberintic streets appreciating the colors and designs of the houses and other buildings, spying the inviting courtyards through open doors or windows, and watching the diversity of people that populates San Miguel's streets, from mestizos, indigenous people in traditional clothes, tourists with their shorts, funny packs or backpacks, and Americans who migrated to San Miguel de Allende. Apparently many Americans chose this place to retire, so it was not surprising to see many cars with United States license plates, many more than in other parts of Mexico. There's even an American consulate there, which is significant given that San Miguel is a relatively small town. We also visited the Cathedral, the main plaza (El Jardin) where lots of people meet, chat, and relax; the lush Benito Juarez Park (where people go exercising early in the morning or hang out under the shade of the trees when the sun blazes); the Lavanderia, where local women do the laundry by hand; and the Centro Cultural El Nigromante, which offers a variety of artistic activities and has a nice coffee place in the cool courtyard . Every corner of San Miguel was photo-worthy. We could not resist staying one more night.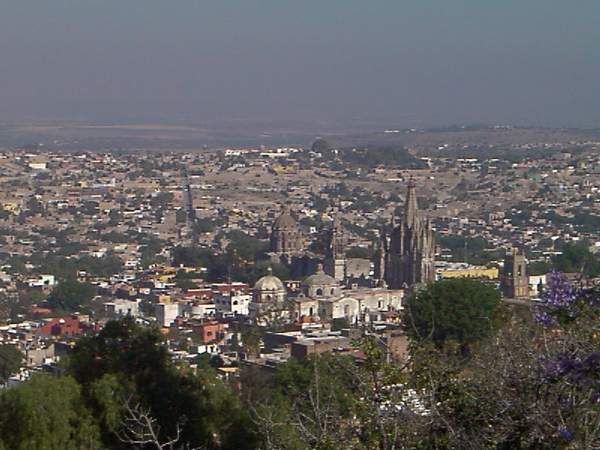 The City of San Miguel de Allende
April 26-28th, 2002
San Juan del Rio, Queretaro, Mexico.
Odometer: 200,238
Written by: Barbara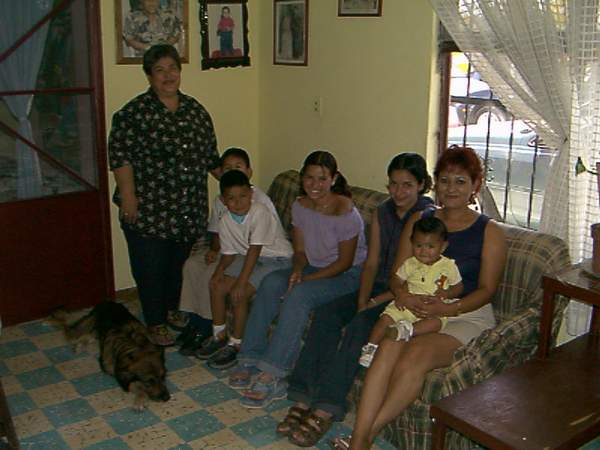 At Doña Elena´s house
On April 26th we headed to San Juan del Rio, Queretaro, in the hope of visiting our friend Doña Elena, who is a relative of our Mexican friends Nora and Marcos (she is Nora's mom). When we left Eugene we were not sure yet of exactly which routes we were going to take, so we did not know whether we would be able to go through San Juan del Rio. Doña Elena knew through Nora that our visit was a possibility, but because it took us longer to get there than expected, she thought that we were not going to go after all. When we arrived at her house by surprise the morning of the 26th, her face of awe and happiness seemed to be taken directly out of film with happy ending. She hugged us once, and again, and again, laughing, and exclaiming that she could not believe we really were there, hugging us once more as if the physical contact made our presence more real. Such warm reaction made us feel extremely welcome and even more excited to be there. From then on a series of parties, family gatherings, and culinary feasts followed. Doña Elena seemed to be determined to not let us leave San Juan del Rio without having tried every Mexican food specialty: in a few days we tried Pozole, chilaquiles, pies made from vegetables that were new for us (like Chayote), carnitas, all kinds of quesadillas and dishes with black beans; and many other delicious dishes. In addition, a casual mention to Mireya (Doña Elena's daughter in law) that Cris loved milanesas (breaded steaks), shortly translated in a full load of them that same day. During our stay in San Juan del Rio we met Doña Elena's numerous family, neighbors and friends. People were continually coming in and out of the house, especially women with their children who would drop by to say hi, to help with domestic chores, or to chat around the table while rinsing beans, chopping vegetables, or simply relaxing. We very much enjoyed the company and care of Doña Elena's family and friends, who made us feel at home in countless ways (to mention just a few examples, Elena gave us flowers from her flower shop, Chabela brought fresh fruit from her vegetable stand in the local market, Luz Ma helped us do the laundry and cooked for us many times, Narno and his coworkers washed our camper at the family's lube shop; Mireya and Doña Elena were constantly looking after our needs; Leticia and Marta also kept us in good company; the children made us drawings, and almost every person who entered that house did something to make our stay in San Juan deeply enjoyable.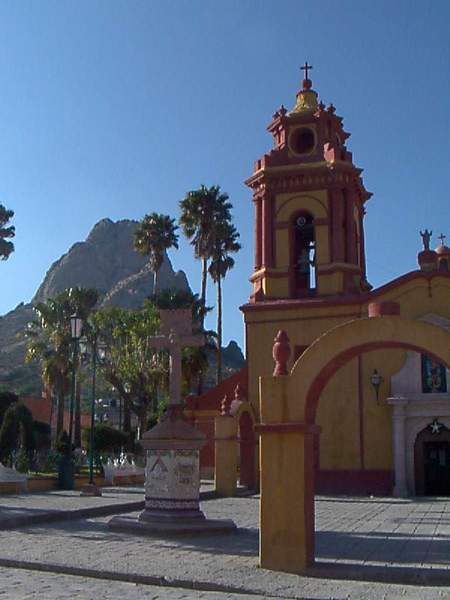 Bernal´s Cathedral with the Peñon in the background
On Sunday we went to visit two exciting places with Doña Elena, her son Narno, daughter in law Mireya, and two grandchildren Coco and Leo. First we visited the Peña de Bernal, a sort of mountain made of bare rock with a pyramid shape which is visited by people with different purposes such as rock climbers, hikers, and other people with their families who just want to enjoy the view. The Peña is quite beautiful, and the hike up can be particularly strenuous if done around noon. We did not get to the top because it was very hot and we did not carry enough water for the journey. Interestingly, we saw many people who were going up with almost no water, some women with high heels, and many children, and they seemed to be having no problem. I certainly know I would not have resisted the hike unless I was more prepared. I was already thirsty by the time we did about one quarter of the way! Fortunately, Doña Elena and Mireya had prepared a cooler full of fresh fruit and water, which we enjoyed under the shade of a tree. Afterwards we visited the small, but picturesque center of Bernal, and then on our way back we stopped at Tequisquiapan, another attractive town, with lots of activity in the main plaza area: booths with crafts, food, a band playing in front of the church, balloon vendors, and children riding kartings all over the place. At the risk of sounding like a commercial, I should say that it was a wonderful day!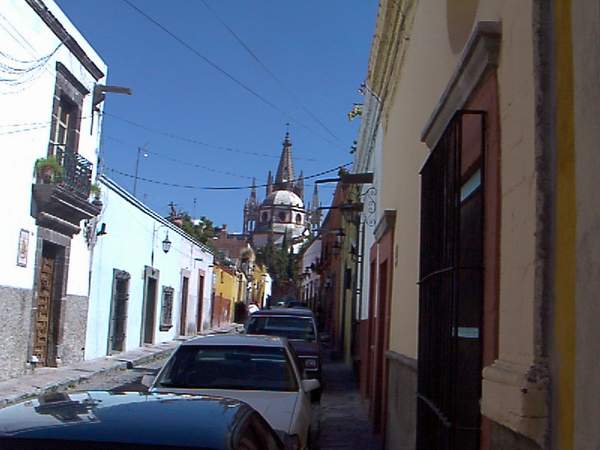 San Miguel de Allende Street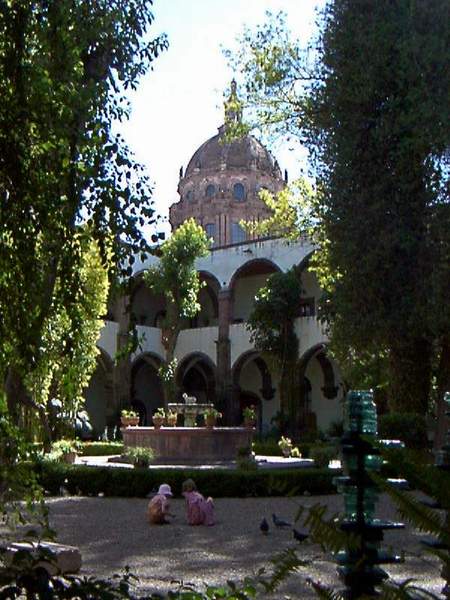 San Miguel de Allende Courtyard