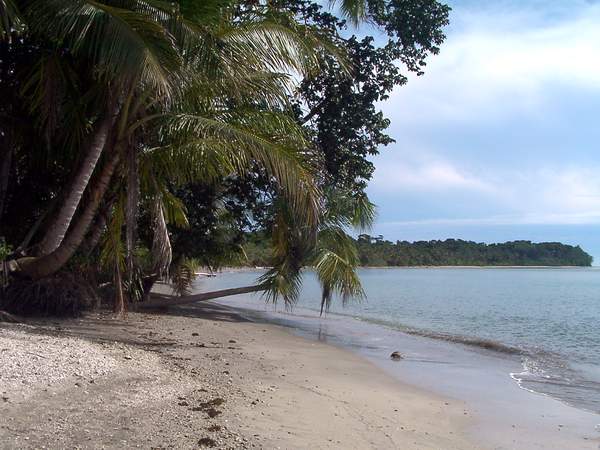 Pristine Beaches at Cahuita NP
June 3-4, 2002
Cahuita National Park, Costa Rica
Odometer: 204,403
Written by: Bárbara
Cahuita National Park was the perfect place to relax, and that's what we did: we walked next to the ocean and palm trees; we swam and watched multicolor fish with our visor; we visited the town of Cahuita, and we dedicated ourselves to other activities like reading, writing our reports, planning our next steps, cooking, or simply admire nature. The next morning we left towards San Jose de Costa Rica, crossing the Braulio Carrillo National Park and refreshing ourselves in a swimming hole in the Quebrada Gonzalez. We decided to spend the night in Heredia, a few km away from San Jose, since it is a smaller town. First we did not have much luck finding a good place to sleep. The hotels indicated in our guide were not easy to find given that many of Heredia's streets do not have signs with their names, and apparently people are not used to give directions using the names of the streets (they rather use specific landmarks).It became dark and we still could not find a place to camp or an inexpensive hotel. We found a good place only after having practically climbed and then gone down the Barva Volcano (mostly without knowing we were doing so), and after rejecting the offer of two drunk young men to stay in their cabins. A taxi driver guided us to the best place we could have found in Heredia: Las Flores hotel. Mauricio and Georgina, the owners of this clean and pleasant hotel let us camp in their backyard at a very reasonable price. The following morning Georgina surprised us offering us coffee for breakfast and one of the bathrooms to take a shower. Mauricio explained to us with great detail the process of raising the chickens that he has in the backyard, and he even gave us fresh eggs. Georgina, who is an excellent cook, provided us with homemade bread just out of the oven, and chayotes from her own vegetable garden. The daughters gave us a sticker of Costa Rica to put in our car and Georgina gave us beautiful posters. This welcoming attitude is one example of the hospitality we have encounter in many parts of this country.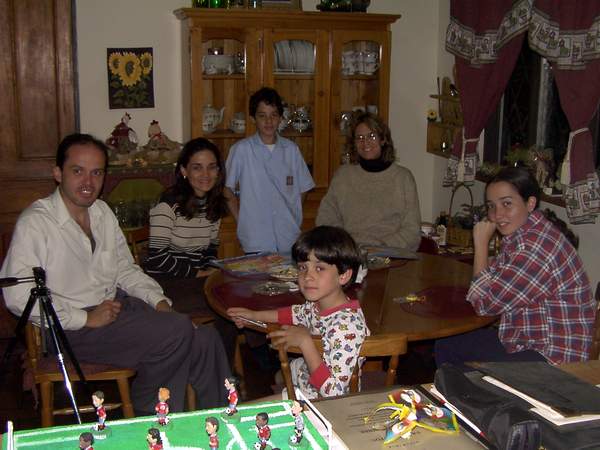 At the Faith´s Residence
June 5, 2002
San José de Costa Rica
Odometer: 204,567
Written by: Bárbara
In San Jose we connected with Erick Faith, a Volkswagen enthusiast who had been exchanging e-mails with Cris. Erick, his wife Marjorie, and their four children Margie, Erick, Mark, and Ilse, received us with open arms, and would deserve a special chapter in the "Book of Hospitality," if such a thing existed. They have been first class hosts, opening their house and helping us in many ways, in particular with critical issues like how to get to South America. The problem is that it is not possible to cross the Darien Gap between Panama and Colombia with the car since there are no roads there. In addition, we prefer to avoid Colombia due to the current political situation (which makes it dangerous to travel in that country). Niza and Jeff, a couple of travellers who we met in Guatemala had told us about the posibility of shiping our car from Costa Rica to Ecuador We confirmed this information, and it turned out that it was cheaper to send the car from Costa Rica than from Panama. Marjorie's father (who used to work as a custom's agent) helped us to establish contacts and find out info related to shipping our camper.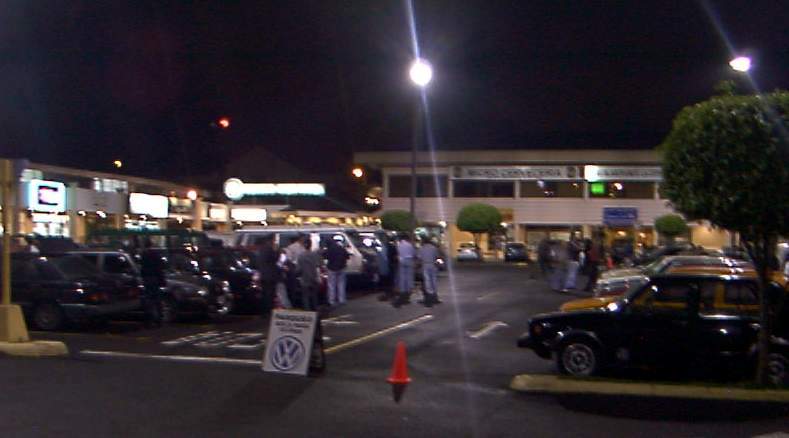 The VW Show in San José
June 6, 2002
San José de Costa Rica
Odometer: 204,587
Written: Cris
In the morning I picked up Joachim at San Jose´s airport. He brought the right water pump pulley and front shocks bushings from Oregon. Two hours after his arrival, we were done for good with Guapo´s overheating and suspension problems. What a relief. In the afternoon, our host Erick took us to the monthly VW club meeting (photo), where we had the chance of getting familiarized with the local VW scene, on top of showing Guapo and answering questions about the trip. Once again, it was excelent to be able to count with Joachim´s good humor, company, and technical advice.
June 7, 2002
San José de Costa Rica
Odometer: 204,603
Written by: Bárbara
The big event of the day was watching, at 5.30 am, the soccer World Cup game Argentina-England. Our friends Erick and Marjorie offered their home for the occasion. The whole family, especially the children had been completely immersed in the World Cup, watching the game, interviews with the players, collecting cards and little statues representing soccer stars, and writing the results of each game. We watched the game with the support of the whole family and Joachim, but all of this good energy and the cheering for Argentina did not translate in a positive result (for us), since Argentina lost 1-0 because of a penalty. The Argentine team is very good, in my opinion, but it always makes one suffer!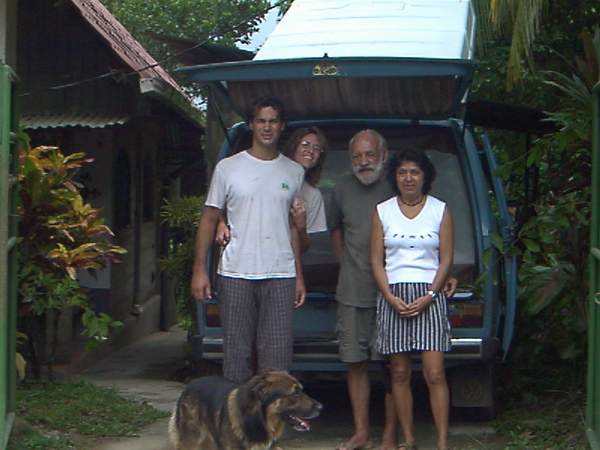 At Leticia and Ted´s in Dominical
We tried to overcome the game score by travelling with Joachim to the beach at Playa Dominical, where we wanted to meet Leticia, a friend of our friend Steve (see Steve's pictures in Week 1). Steve had given us CDs and cassettes recorded by his music group so that we could deliver them to Leticia. The route from San Jose to Dominical goes through forested mountains, and it took us between 4 or 5 hours of travelling. Dominical is a very small town next to a beach with palm trees, and with some small hotels, restaurants, and a little. Leticia is one of the owners of the pleasant Posada del Sol, which aparently casts a spell on the people which makes people who visit once to go back Leticia was very happy we were there, so we spent a long time remembering Steve and talking about traveling (especially interesting to us were the adventures of Leticia and her husband Ted in South America during the 70s). Given that there was only one unoccupied room in the posada, Joachim took it, and Cris and I camped in Leticia's house yard.
June 8, 2002
Playa Dominical, Costa Rica
Odómeter: 204,740
Written by: Bárbara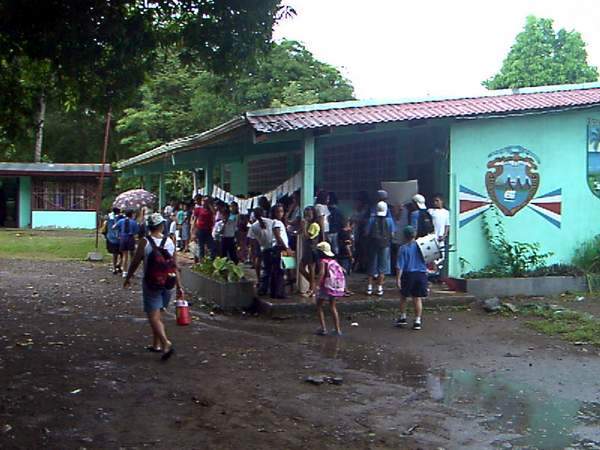 The Ceremony at the School
By the time we woke up, Ted surprised us with a wonderful breakfast for the five of us (Joachim, Cris, Leticia, Ted, and I). The beach was so enticing that morning that I could not resist jogging there with Chance, who jumped and run until he was exhausted, and even swam in the ocean following seaguls. The best part of the day was to attend a festival celebrating the environment that took place at the school in Dominical. There was a children music band, and students made presentations about what they learned about the protection of mangroves and their ecosystems. The late morning rain was not an obstacle for the festival, but added the colors of the umbrellas and the sound of the water to the show.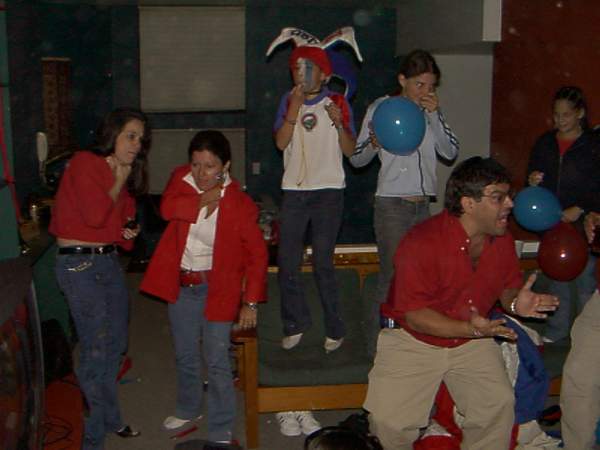 Goooool for Costa Rica!!
June 9, 2002
San José de Costa Rica
Odometer: 204,884
Written by: Bárbara
The ticos (Costa Ricans) seemed as fan of soccer as Argentines, so we woke up at 3 in the morning to go with Marjorie, Erick and the rest of the family to the home of their friends Arturo and Lore, where a group of friends gathered to watch the game Costa Rica-Turkey. That event was ridden with emotions, and all of those present were well-prepared to support Costa Ricas team: they were dressed with the national flag colors, some of them had painted their faces red, blue and withite, and a net with balloons was hanging from the ceiling, ready to celebrate when the ticos scored. When this happened a rain of ballons covered the room while everybody cheered, jumped, and hugged each other. It was excellent to share that moment. After the game, Cris took Joachim to the airport because his flight to Eugene was to depart that morning.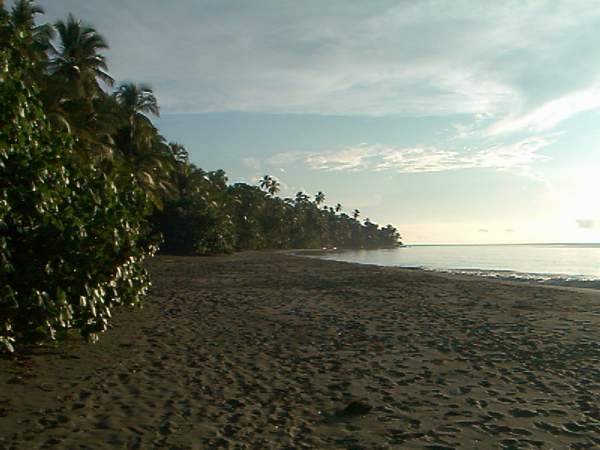 Cahuita National Park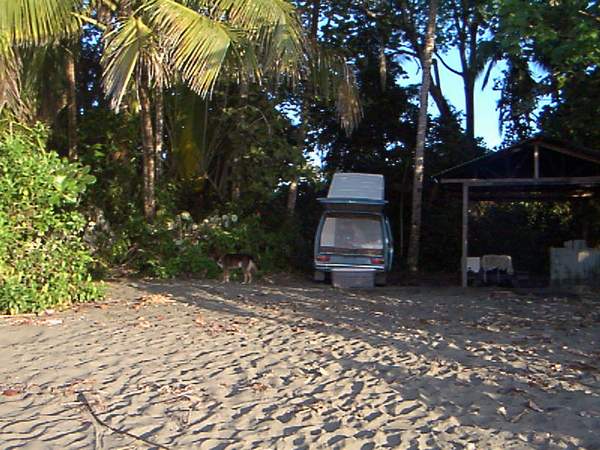 Our Campsite at Cahuita NP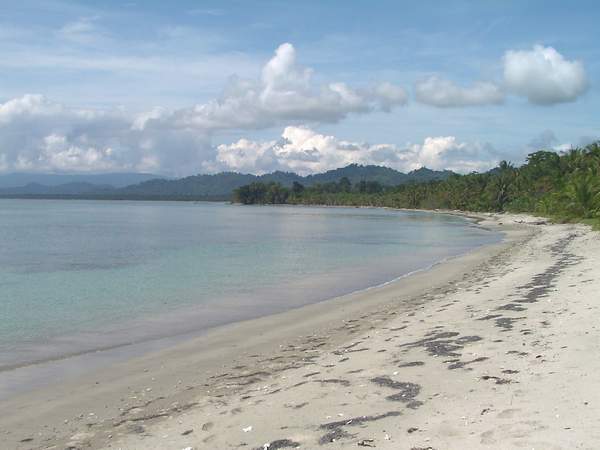 Did I Mention Nice Beaches at Cahuita NP?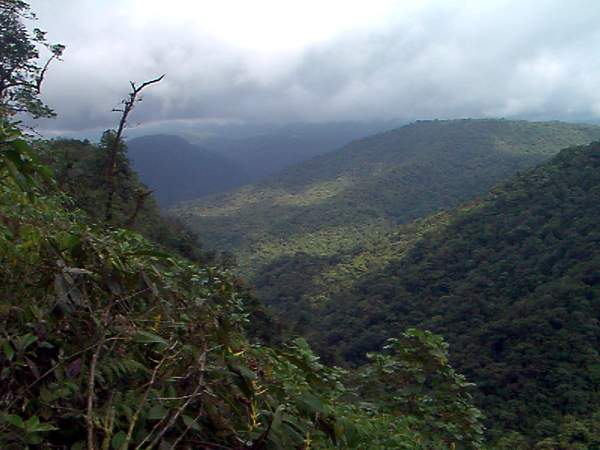 Costa Rican Highlands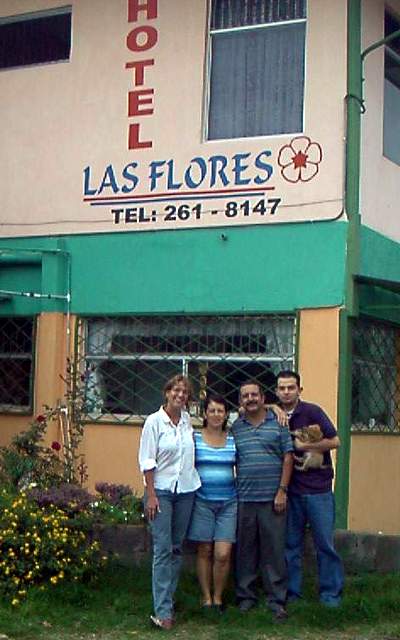 Our Friendly Hosts in Heredia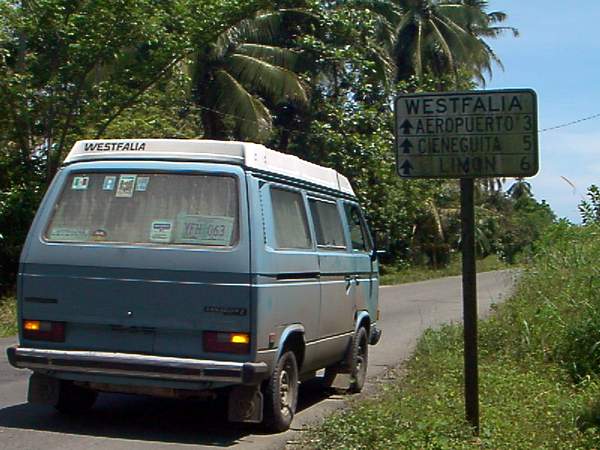 The Town of Westfalia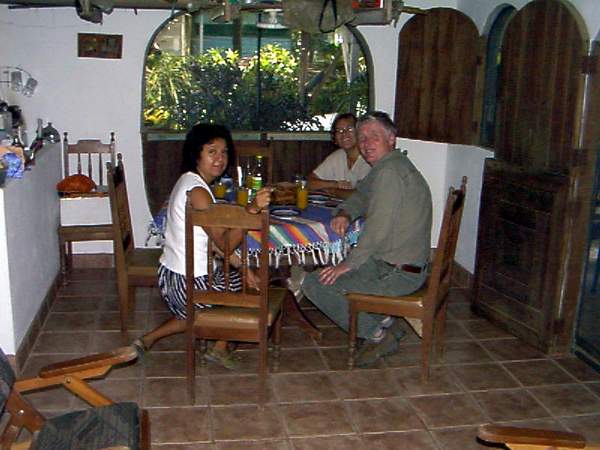 In Dominical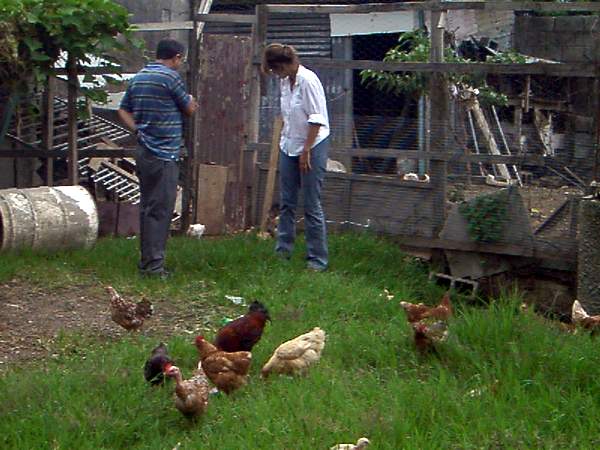 Barbara Learning Chicken Management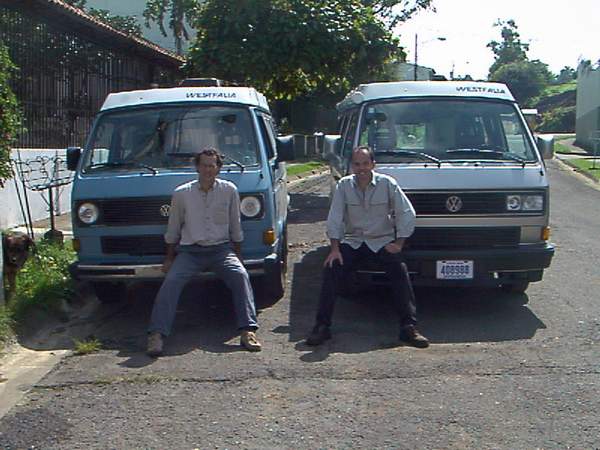 With Erick, Guapo and Elke in San José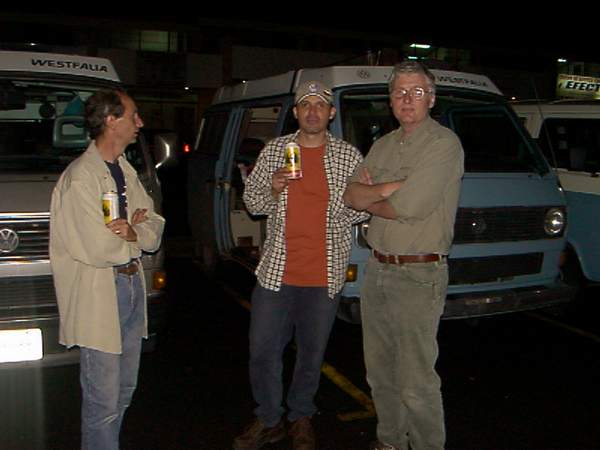 Tuti, Erick and Joachim at the VW Show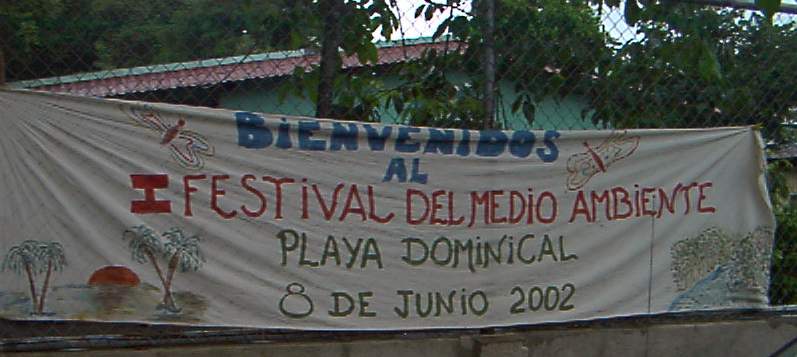 One of the Banners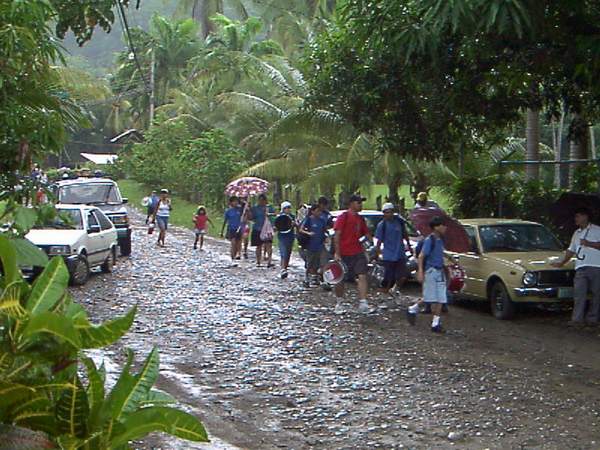 Environment´s Day at the Dominical School