We Witnessed a Tragic End for a Split Window VW Bus in San Jose
June 10-13, 2002
San José de Costa Rica
Odometer: 204,884
Written by: Bárbara
We spent about half of this week running errands and enjoying the company and friendship of the Faith family, whose members continued to help us in a thousand ways (to give just an example, Erick took a day off from work to spend time with Cris and help him with our car). In addition, we dealt with important issues like reserving space in a ship to send our car from Costa Rica to Ecuador (on July 1). We also reserved flight tickets so that we can go to Ecuador and pick up our car there since we are not allowed to go in the ship.
Our decision to stay a few days more in San Jose was partly influenced by the soccer World Cup. The Faiths invited us to watch with them the games that would determine whether Costa Rica and Argentina were to continue in the championship. Both games were nerve-racking and our screams and celebrations (when our favorite teams scored) must have been similar to those in many other homes. Unfortunately both Argentina and Costa Rica had to leave the World Cup, and we felt particularly sad after Argentina's last game.
On July 13 we headed to Panama since we had plenty of time to visit that country while waiting to ship our car to Ecuador. Our plan was to spend about a week in Panama and then return to Costa Rica to ship the car. Once more we took the route that we had previously taken to go to Ecuador. And once more Guapo had to climb, climb and climb forested hills embraced by clouds. Around dawn we arrived to the city of San Isidro del General (still in Costa Rica) and stopped to look for a place to sleep. We saw a hotel that seemed very convenient, named Los Crestones, and decided to ask for a place where we could park our camper and sleep. The hotel's owners, Melvin and Veracruz, were so kind to allow us to park there and they let us take a shower in one of the beautiful and comfortable rooms of the hotel-for free. And there's more, Veracruz invited us to eat a delicious lasagna that she had made, and the following morning she treated us with breakfast (it is important to note that Veracruz is and excellent cook, and that she herself manages and cook for the hotel restaurant). We also had the pleasure to meet other members of the family who help with the hotel (Karen, Jorge, and Andres) and had a great time exchanging impressions and chatting with these wonderful people. We were amazed to find out that Melvin and Veracruz had done in the past a trip similar to ours (from the U.S. to Costa Rica), but with a 18-wheeler, and in only 15 days!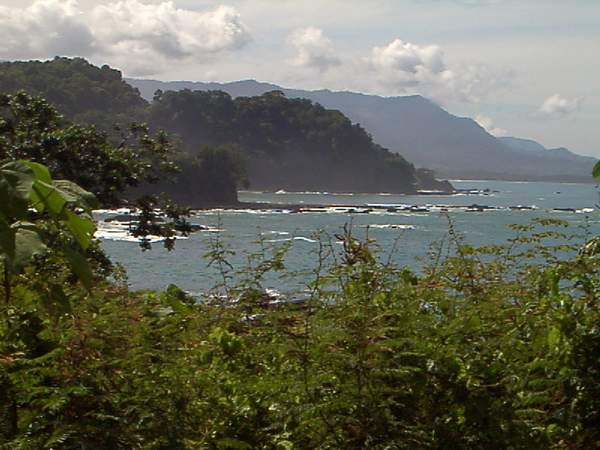 Costa Rica´s Pacific Coastline
June 14, 2002
San Isidro del General, Costa Rica
Odometer: 205,010
Written by: Bárbara
We left San Isidro early in the morning after promising Veracruz and Melvin that we would return to Los Crestones on our way back from Panama. They recommended that we go to Panama through the coast route. Thanks to this advise we were able to see the beautiful beaches south of Dominical, many of which seemed to be taken directly out of a postcard. We entered Panama at Paso Canoas, a border crossing that resulted to be surprisingly simple, without lines, bribes, and wannabe guides, and relatively cheap (in fact, it was the least expensive border-crossing in the whole trip so far). From the border we headed directly to the town of Boquete, in the highland region of Panama. By that time it started to rain hard, like it happens in many other parts of Central America during this time of the year.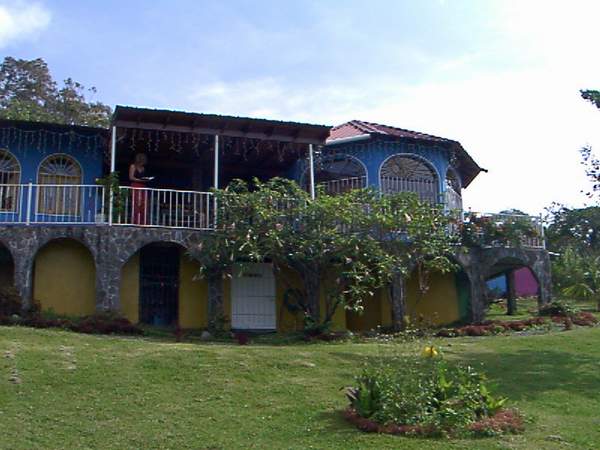 At Café/Hotel Mozart
We arrived at the Boquete area around 4 pm and we stopped at an excellent information center where we found out that a place called Café Mozart had space for camping. Café Mozart is located a few miles from Boquete and the town of Volcancito, in a big property with flowers, trees, and a panoramic view of the mountains. Artistically decorated and welcoming, this place has cabins and space for camping, as well as breakfast, lunch, and dinner available in the café. We camped in the beautiful garden with a view of the forest, mountains, and the flowers that Lorenza, the café's owner, cared for with dedication.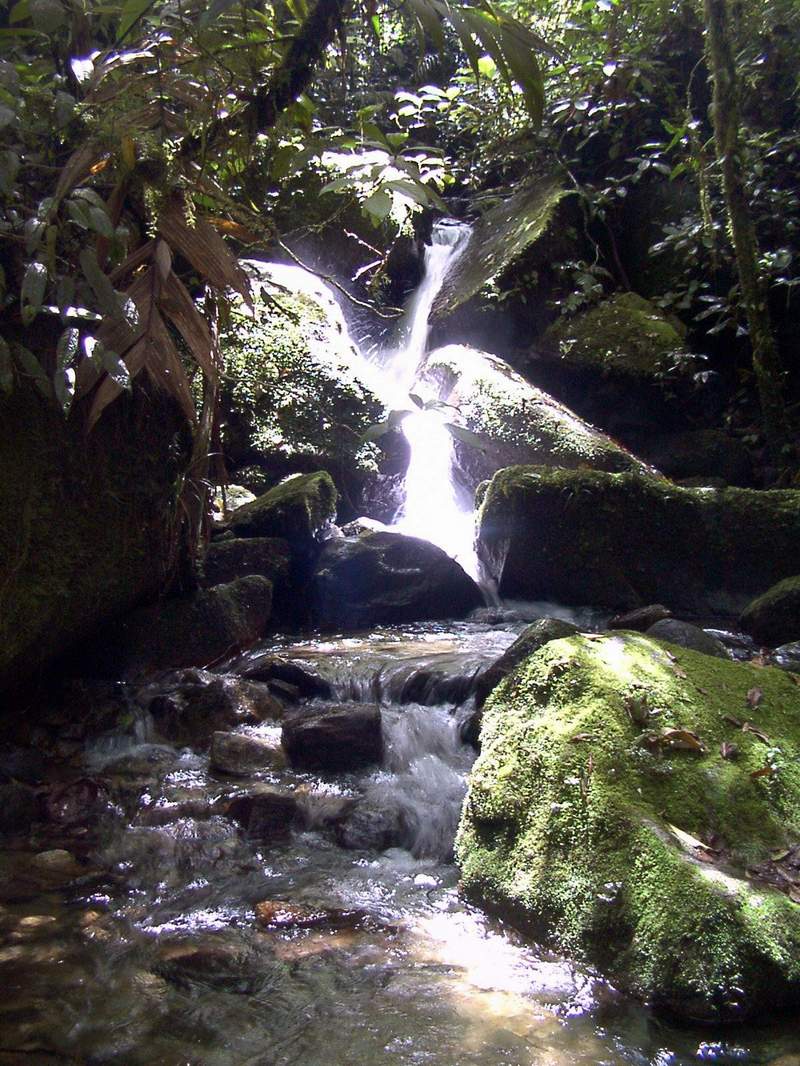 Along the Quetzales Trail
June 15-16, 2002
Boquete area, Panamá
Odometer: 205,187
Written by: Bárbara
We spent these two days mostly hiking in really beautiful places. On the 15th we hiked from Café Mozart to Boquete, and back, crossing coffee plantations, gardens, and a protected jungle area where it is said that an ocelot visit to have babies. The next day we hiked along the Sendero de los Quetzales (Quetzal trail), whose head trail is about 7 km from Boquete. In order to get to the trailhead we took a truck-taxi that allowed us to take Chance with us. Once in the trail we took one branch that took us to a lush rainforest, crossed by a river, sparkled with cascades, and colored by red, pink and orange flowers contrasting with in the intense and humid green of the forest. On our way back we had no choice but walk several km to Boquete because there was no taxi available. Walking back was tiresome, but the landscape was beautiful. On several occasions we asked local people how far we were from Boquete and the answer was always "about half an hour." Since we did not have a watch, and we were always "half and hour" away, we never found out how long it took us to walk from Sendero to town. Once in Boquete we ate a huge plate of rice, chicken, veggies, and beans in one of the places were locals eat (that is to say, way cheaper and more authentic than most restaurants catering to tourists). That night we slept with abandon, completely recovering from the hike.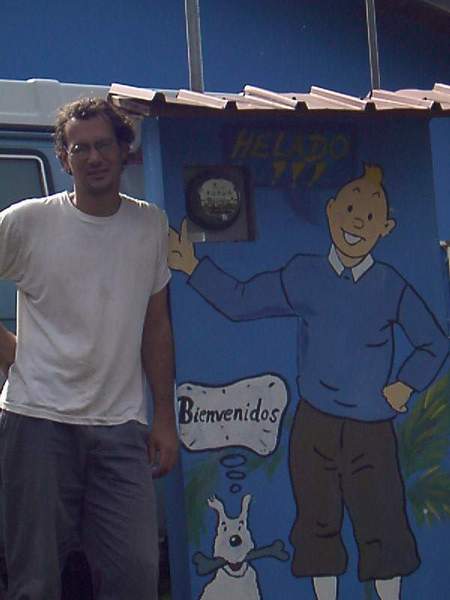 Cris With Two Childhood Friends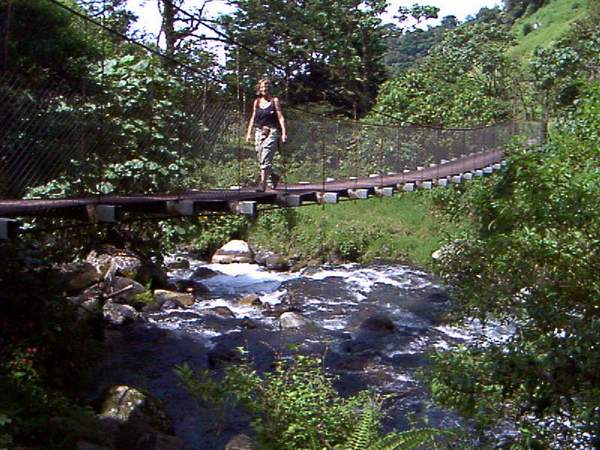 Along the Quetzales Trail
Room With a View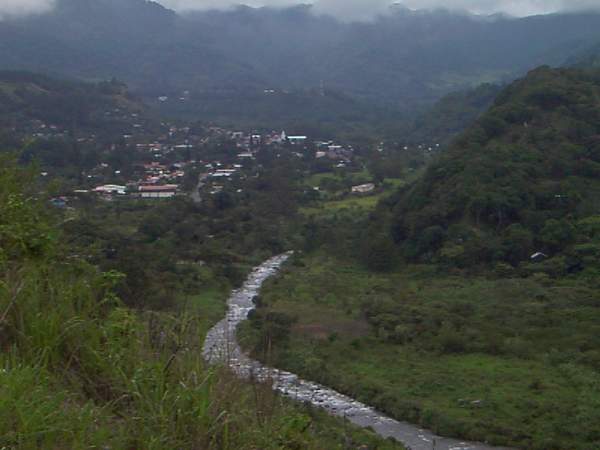 The Town of Boquete