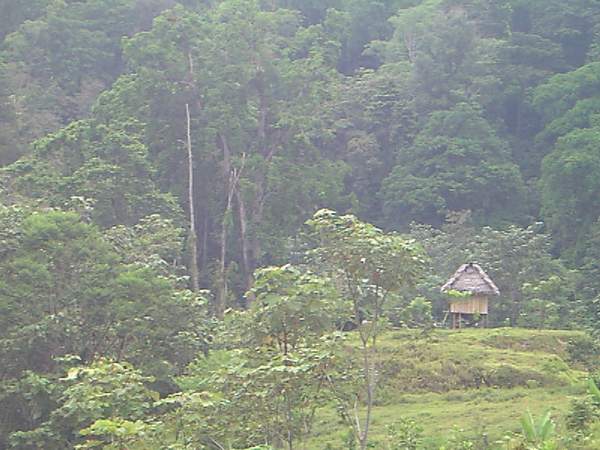 Indigenous Dwelling Along the Panamanian Coast
June 17, 2002
Volcancito, Panama
Odometer: 205,187
Written by: Cris
Today we left the Panamanian highlands, exchanging the pleasant weather and wonderful mountain views for what perhaps will be our last exposure to truly Caribbean reefs and beaches in the Bocas del Toro region. The latter is a group of islands located in the north east corner of Panama, a place that is growing as a tourist destination because of its pristine white sand beaches, colorful coral reefs, transparent water, abundant wildlife and snorkeling opportunities. Until a couple of years ago, this area was hard to access due to bad roads linking it to the rest of the country. Nowadays there is a brand new and excellent paved road that crosses the mountains from the Pan American hwy. to the coastal port town of Almirante, a company town that owes its existence to the Chiquita multinational company. From here, huge cargo ships are loaded with bananas from Costa Rica and Panama, heading to the US or Europe. It is also possible to reach the Bocas del Toro area from the Costa Rican Caribbean coast, driving south from Cahuita National Park.
After going through a very nice mountain scenery, we arrived to the lowland banana plantations and hotter weather. Almirante (named that way because of the pirates that used to roam this area in the 1800s) is a shanty area and definitely not a destination in itself. As soon as we got there, a group of teenagers approached us with lots of suggestions as far as the best hotels and boats to get to the islands. Contrary to our experience in Costa Rica, our presence in Panama was immediately interpreted as "foreigners", since there are no Vanagons or Westfalias in this country. We decided to follow one of these guys, since we felt a bit unsafe arriving to an unknown port town without any tourism infrastructure in a remote Panamanian region, and where we were calling too much attention. We were advised to spend the night at the fire station, the safest place to camp, according to our guy (and we believed it, from what we saw elsewhere). The fire station has personnel on a 24-hour schedule, and is located across the police station. It is also located adjacent to the banana port main entry, where trucks hauling containers with bananas didnt stop going in and out throughout the whole night. They have parked tourist cars in their yard in the past, a service that they charge U$S 3 for. We arranged for a taxi boat ride to the main island the next day, and went to sleep in the midst of all sorts of loud noises from all the nearby port activity, an almost intolerable hot and humid weather, concerns about our safety, and mosquitoes, lots of mosquitoes
Perhaps exaggerating the potential for robbery or being bitten by a dengue-infested mosquito, both of us wondered that night if our trip to the Panamanian coast had been a good idea.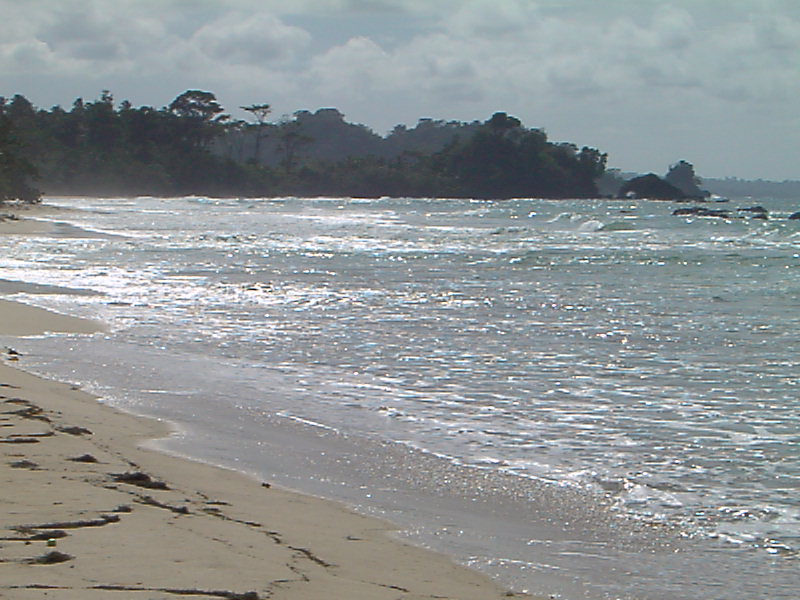 Our Beach at One of the Bocas Islands
June 18, 2002
Almirante, Panama
Odometer: 205,331
Written by: Cris
Well, everything today made worth what we went through last night. We spent an incredible day that included snorkeling in extremely colorful and alive coral reefs, seafood lunch in a group of huts built over the turquoise water, hiking through one of the islands jungle, body-surfing at one of its deserted beaches, and observing dolphins in their natural environment. Chance did not miss any of these activities; he joined us in the boat ride to the Bocas island, and then in the day long boat tour through some of the other islands, taking swims in the ocean and enjoying the jungle hike. Satisfied with such a fun day (we got lucky with the weather, since it is rainy season around here), we took a room at Heike's, a small hotel in downtown Bocas owned by a German woman who was kind enough to let Chance sleep in the room's balcony (as opposed to other places in town).
June 19, 2002
Bocas del Toro, Panama
Odometer: 205,331
Written by: Cris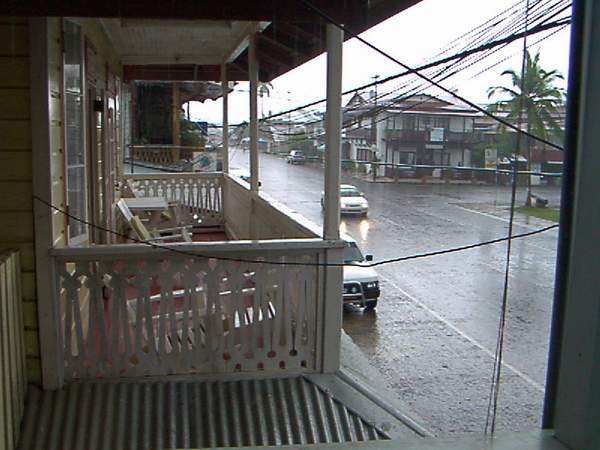 Downtown Bocas
Time to head back to the mainland, since we needed to start our return to Costa Rica, and were a bit concerned about Guapo, which we had left at the fire station in Almirante. The vehicle and all our belongings were there, and by early morning we were already driving west towards the Pan American highway. Once there, we stopped for a while in the city of David in search for a Panamanian sticker for our rear window, with success. So far, we are only missing the Belizean sticker, but have very little hopes of obtaining one. We spent most of the day on the road, crossing into Costa Rica in the afternoon. We were searched by Panamanian police. It seemed to me that it was more to satisfy their curiosity about our gipsy-mobile than to look for drugs or arms. In any case, after searching through all of our bags and cabinets, the guy opened the porta potty while asking me what was in there. I replied that it was our inodoro quimico (chemical WC), and he immediately let go the cover. Needless to say, the search was over at that point...This has been our cheapest border crossing so far, mainly because we were able to reuse the Costa Rican car paperwork from our previous entry. The total cost of going through this time was a mere U$S 3.50 for fumigation fee on the Costa Rican side.
We were able to make it to our friends at Hotel Los Crestones in San Isidro by early evening, who immediately set us up with a place to park, dinner, conversation, and soccer World Cup TV images. I was even invited to play indoor soccer. Perfect!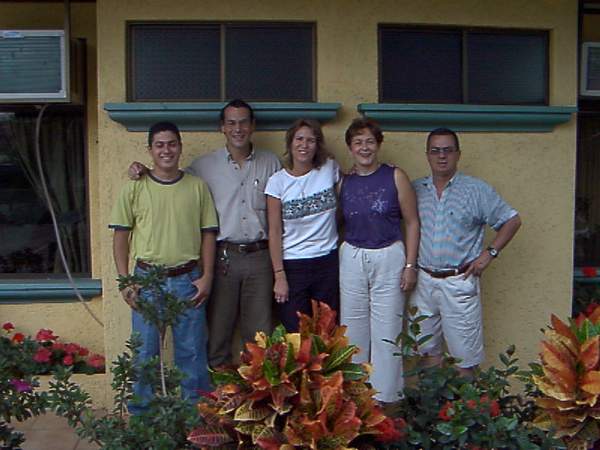 With Our Friends in San Isidro del General
June 20, 2002
San Isidro del General, Costa Rica
Odometer: 205, 609
Written by: Cris
Well, not that perfect...I started my day by going to a local chiropractor, since I had a knee injury last night playing soccer and could barely walk. Karen later drove us to a natural hot spring hidden in the nearby mountains, next to the Chirripo National Park. An extremely beautiful area. While waiting for the rest of the group (I couldn't hike to the springs due to my injury), I met a couple of locals who showed me their property and treated me to some delicious typical dishes. Another case of "Tico" hospitality. Barbara could not believe her eyes when they returned from the springs and saw me in these folks' living area, eating and deeply involved in conversation.
Back at the hotel, we were invited to spend another night in order to watch that night's World Cup game. We immediately accepted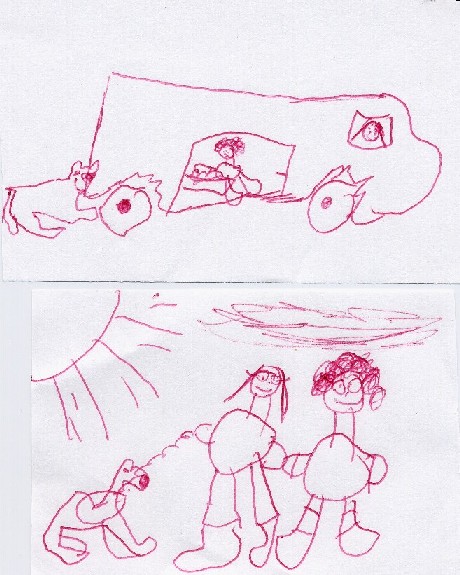 Ilse Faith Drew Us
June 21, 2002
San Isidro del General, Costa Rica
Odometer: 205,609
Written by: Cris
After a final farewell with our friends in San Isidro, we continued our journey to San Jose. It was the fourth time that we traverse this beautiful road that goes from practically sea level to over 3,500 meters of altitude (Cerro de la Muerte). Before this visit, I was not aware of the fact that Costa Rica has such high mountains and variety of climates. Once in San Jose, we were happy to meet with the Faith family again, where we are planning to stay until our vehicle is shipped to Ecuador on July 1 . We are very thankful to everyone in this family for their hospitality and friendship, it was great to have a place to come back to, which almost feels like home at this point.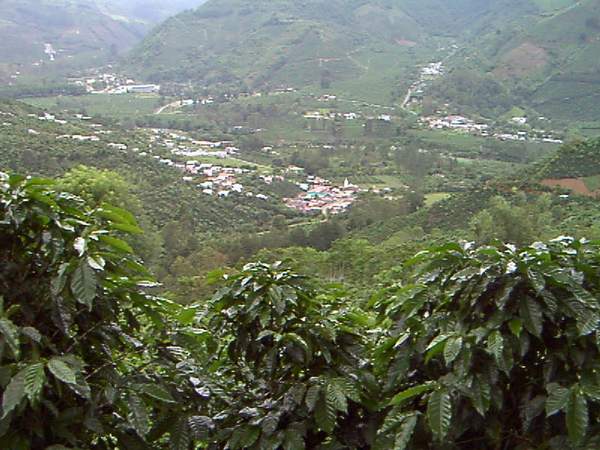 View From the Coffee Plantation
On Saturday, we were invited to Manuel and Maritsa's get together at their coffee plantation, located in the Orosi valley, about an hour away from San Jose. We caravanned with both Erick's and Tuti's Westfalias. The day went by really fast, between Manuel's complete tour of the coffee plantation, the potluck, dancing, ping pong, and conversation. It was very interesting to visit a coffee plantation in Costa Rica, specially after touring one in Guatemala. We learned about the many subtleties of the trade. But above all, it was fun to hang out with Erick, Manuel and Maritsa, and the rest of the guests.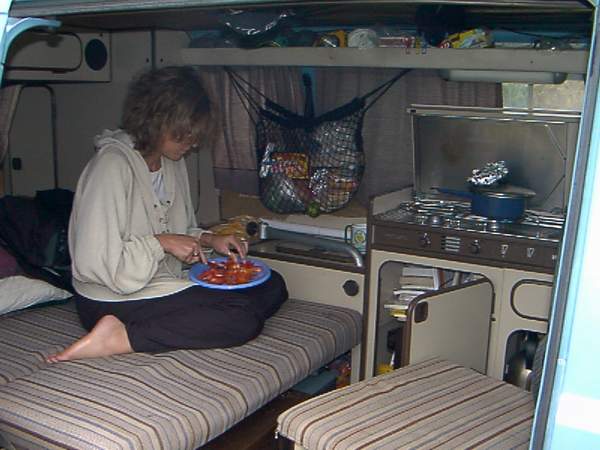 Lunch on the Road
Getting a Ride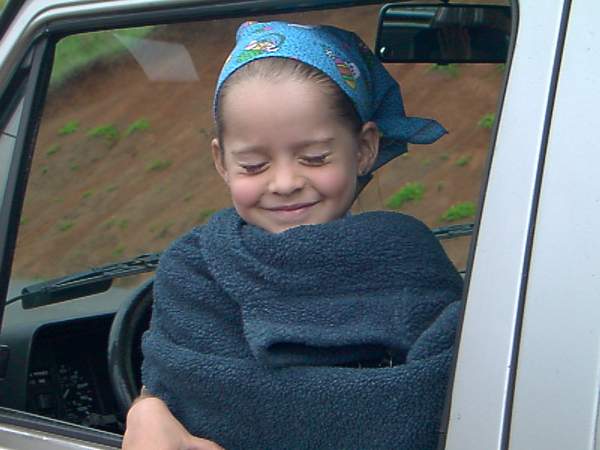 Ilse Faith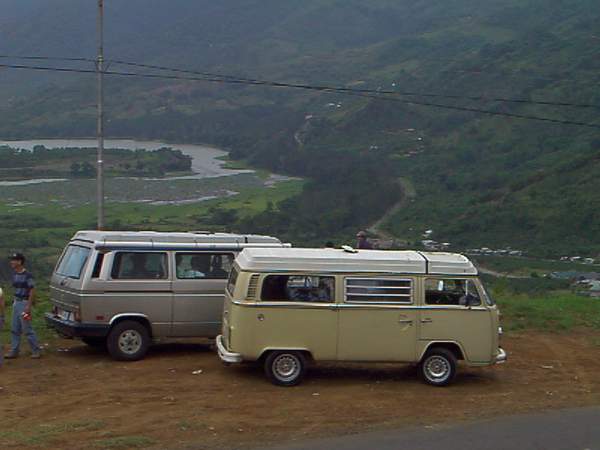 Tuti and Erick´s Westfalias on Our Way to the Coffee Finca
A Poisonous Local Frog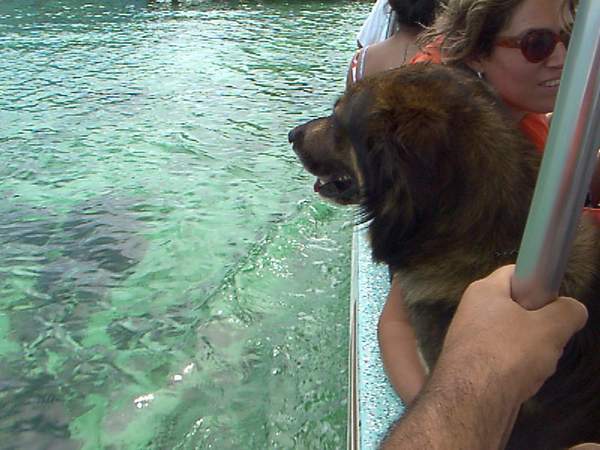 Chance in the Taxi Boat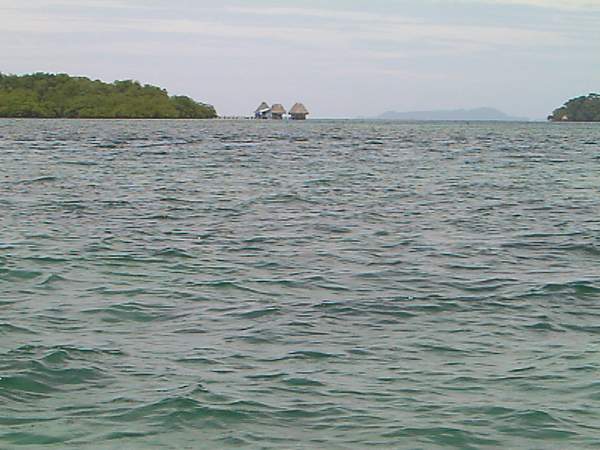 Our Lunch Spot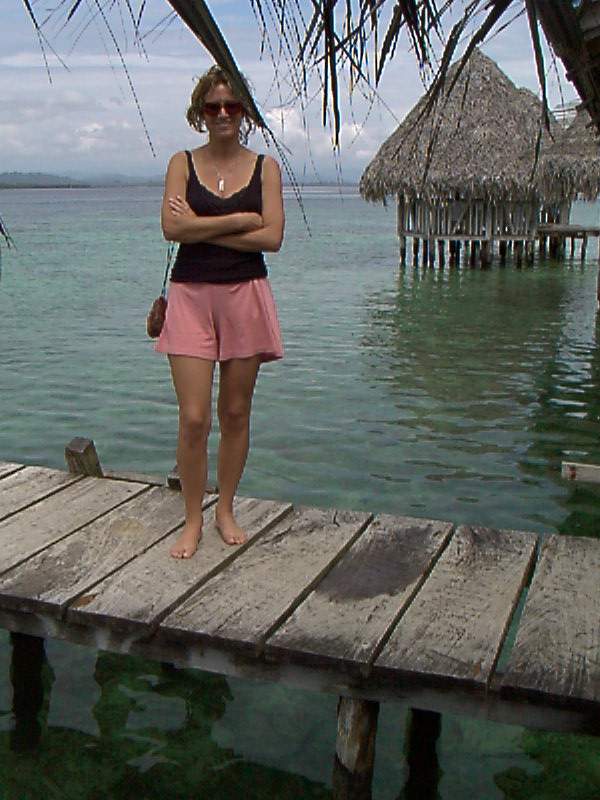 At Coral Cay