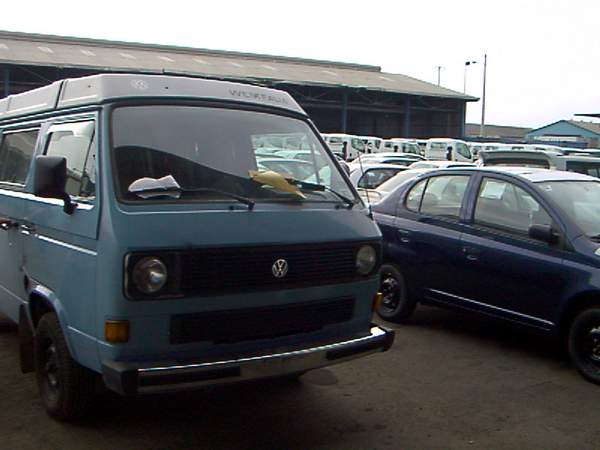 Guapo at The Custom's Warehouse in Guayaquil
July 8, 2002
Guayaquil, Ecuador
Odometer: n/a (car in port)
Written by: Cris
We spent the whole day dealing with paperwork at the port, most of it in the customs building. Our paperwork process was greatly helped by the presence of Carlos, a friend of one of Norma's sons that used to work for that institution. We were able to see Guapo for the first time since Costa Rica, stored in a warehouse and surrounded by hundreds of new Japanese vehicles. We were not allowed to get inside, though. The vehicle was apparently OK, although we could see through the windshield that a lot of things inside had been moved around. We were very anxious to get in and examine if everything was there
Despite being pretty efficient, we were not able to get the car out today, the main problem being that the paperwork for the customs custody could not be done after 2:00 PM.
That night, we joined the birthday celebration of one of Norma's sons and met some of the family's friends and relatives.
July 9, 2002
Guayaquil, Ecuador
Odometer: n/a (car in port)
Written by: Cris
Another full day spent at the port. After rushing all morning, we barely finished all the paperwork by 2:00 PM, just in time to get a custom custodian. In one of the countless lines that we were in today, someone actually put his hand in the pocket where I had some money. He waited until I was busy talking with the clerk to do this, but fortunately I realized it and hit him with my elbow. Unfortunately though, upon closer examination of our belongings inside the vehicle, we realized that a few things were missing. Someone had been looking around our stuff and picking up things, mostly clothing. My spare master cylinder was also missing, which doesn't make sense, since there are no Vanagons in Ecuador...Also, the pristine desiccated monster bug that I had found in Costa Rica and kept safe on the dash, had been completely messed up, apparently just for the fun of it. Oh well, one should expect these things to happen at some point in a trip like this one. At least no major mechanical component was missing. When we packed for this trip, Barbara and I agreed that everything inside the car, with the possible exception of our passports and vehicle title, was expendable, including the laptop and cameras.
Completely burned out, we briefly stopped at Norma's house around 5:00 PM to pick up Chance and our belongings. Lidia, the house helper had prepared some food for the road, which we gladly accepted. With the customs custody on board, we drove non stop to the border with Peru. We finally arrived to a customs building around 10:30 PM, where we spent the night, still on the Ecuadorian side. We later realized that this was the last night in the whole trip in which we saw (and felt) mosquitoes. From here on, things started to get colder and dryer.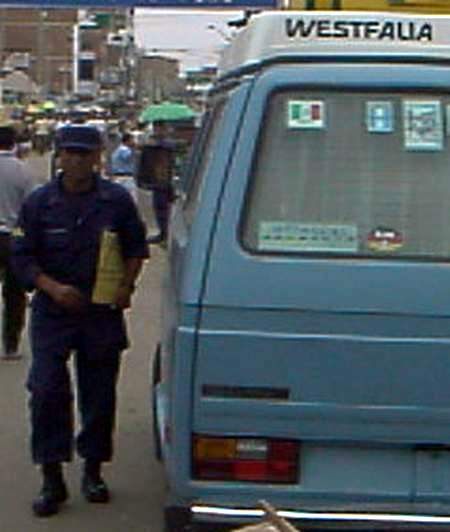 Our Escort, Cabo Aguirre
July 10, 2002
Close to Huaquillas, Ecuador (border with Perú)
Odometer: 206,071
Written by: Bárbara
Cabo Aguirre, the customs officer who was escorting us, required to head to Huaquillas (the border town with Peru) at eight in the morning, so that's what we did. Huaquillas is located at a close distance from the place where we spent the night. Thus we must have started the paperwork to cross the border at about 8.15 am. When we got to the border Cabo Aguirre asked us to park our car and wait for him, which gave us the opportunity to watch the scene. This border is full of activity, with lots of people walking, street vendors, money changers, booths with imported merchandise, policemen and other uniformed officers, and curious persons who touch your car, whistle, or tell you something as they walk by. All this with the sound background of pumped up tropical music. After a long time, Cabo Aguirre returned with a little paper listing the documents that needed to be photocopied. Surprise, surprise! (At that point, and after dealing with the car related paperwork in the port -where I felt I had given photocopies of everything we had-I thought that if someone else asked me for yet another photocopy of the signature-in the stamp-of the document-certifying-I don't know what the hell, I was going to kill someone and will end up the trip lonely in a jail because of aggravated manslaughter). The photocopy requirement took another half an hour, Cabo Aguirre disappeared again and returned later with additional officers who compared the information in the papers with the vehicle. To summarize, it took us about 3 hours and a half to finally cross to Peru, after which Cabo Aguirre left us alone for good.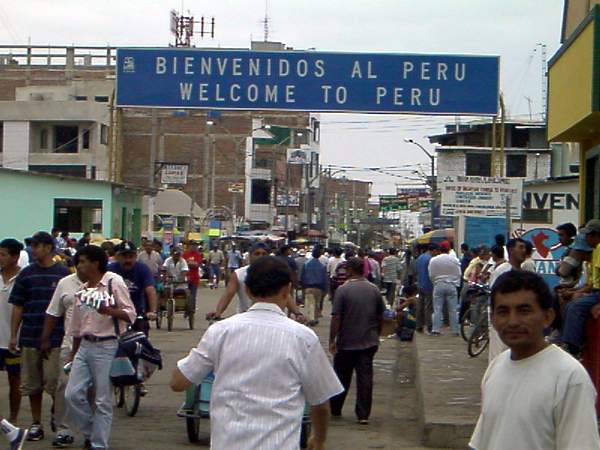 Stuck at the Border
Happy to have finished the paperwork in Ecuador, we went to the immigration office in Peru to have our passports stamped. Unfortunately, that was not possible because we did not have the exit stamp from Ecuador. Our Ecuadorian escort forgot or did not know this detail, and since many countries do not put an exit stamp we did not imagine we needed one (assuming our escort knew what he was doing). Now we were in trouble because the Ecuador immigration office was about five km away from Huaquillas, we were not allowed to enter Ecuador with our car again, and we did not want to leave the car parked alone on the Peruvian side (for safety reasons). Finally we decided that Cris would return to Ecuador and would try to get our two passports stamped, while I waited in the car on the Peruvian side. It was quite possible that the officers required to see me personally before stamping my passport out, which meant that I would have to do the 5 km and do my paperwork when Cris returned (which would entail an additional hour minimum). By that time it was almost noon, time when the Ecuadorian immigration office closes until 2 pm. While being roasted alive inside the car, I sent my good energy so that the immigration officer would stamp the two passports, and at the same time cursed Cabo Aguirre for not knowing the stamp detail. After begging and explaining our situation, Cris returned victorious with the two passports stamped, which allowed us to do the paperwork in Peru, and enter the country after more than four hours of bureaucratic requirements!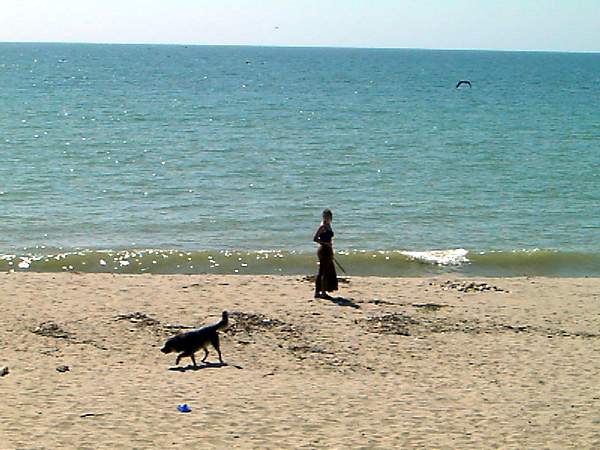 We Hit Many Beaches in Northern Peru
Our afternoon route went right next to the ocean, through a beautiful area of tranquil beaches, fishing villages, and small ships anchored close to the coast. This atmosphere helped us to relax, despite having to stop regularly for police control (involving questions, documents verification, or car searches), something that was promising to be a regular feature of our visit to this country. In two days we were stopped exactly 10 times by the police (I counted them), and even though the officers where generally polite, it is a nuisance to have to stop so many times, especially since one never knows what the police really wants. In one occasion it was obvious that they wanted money or food: The police officer started the conversation warning that he was involved in a "big operation" (according to us, the "operation total bribe"), and that they would have to search our car with great detail, that it would take a long , long time, so that they could search well. At that point I was losing my patience for those things, and I said abruptly "OK, search!" Probably surprised by my tone, the man started to examine our stuff, opening the boxes with my photo rolls, and looking at othe things. After one minute of searching, the officer seemed to change his mind and asked us whether we had sodas. When we replied that we only had drinking water, he looked at us dissapointed and decided to finish the great operation. Luckily he kept it short, since it was getting dark, and we prefer not to drive at night. We slept in the city of Piura, in a public parking place where we where alowed to spend the night.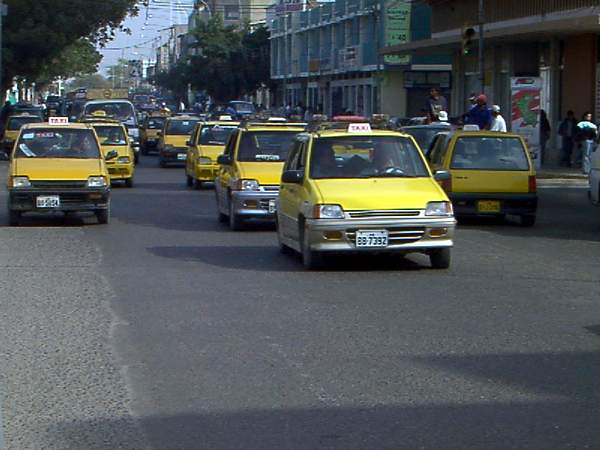 The "Pollitos" Constantly Honking Their Horns...
July 11, 2002
Piura, Perú
Odometer: 206,275
Written by: Cris
Piura is a medium size city with a university and pretty nice buildings. Like every other city and town that we've visited in Peru so far, it's streets are crowded with motorbike-based tricycles taking passengers back and forth, and giving the place the ambience of a south east Asian city. This phenomenon, we were told, did not exist before president Fujimori's years, and was fueled because of a raise in unemployment. But there is something that struck me as more unique; we noticed that all the taxis in this city (there are hundreds of them) are exactly the same brand and model (Daewoo "Tico"), and for some reason drive around honking their horns on and off continually. When driving through downtown, we would suddenly become surrounded by these screaming yellow vehicles which seemed to be alive; we called them "pollitos" (chicks), for their size, color and sound.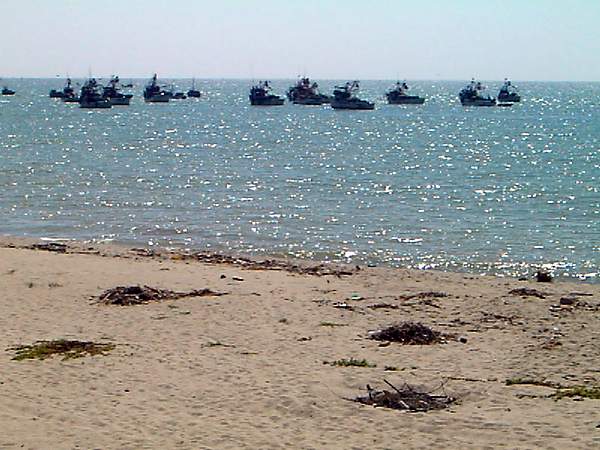 Each Village in Northern Peru had its Fleet of Fishing Boats
We left Piura in the morning, heading south in the coastal Pan American highway (called Interamericana here). As soon as we left town, the sandy desert landscape began. The vast majority of the Peruvian coast is extremely dry. Every now and then, the road goes along the coast and the views become magnificent. We could tell when a small town was approaching by the fishing boats grouped next to them. We went through extremely desolate places, and pretty poor dwellings along the road every now and then. These places didn't seem to have running water or electricity, and I honestly can't imagine how they manage to survive in such a harsh environment.
Ocasionally, we would go through a toll station that was charging a fee to the oncoming traffic, but not to vehicles going south like us. This became a pattern after a while, until I couldn't resist asking the reason for this to one of the many police officers that stopped us that day (Barbara is counting them). The reason, he explained, is that due to austerity measures the management had decided to cut jobs, so what they do is charge double to those going north, and nothing to those going south. That way, they could get rid of half of their toll booth personel. Ingenious, but not completely fair... (no complaints from us, though. We are going to cross most of this huge country from north to south, and the savings in toll expenses will be huge!). So if you ever have to drive through Peru, try to do it from north to south! .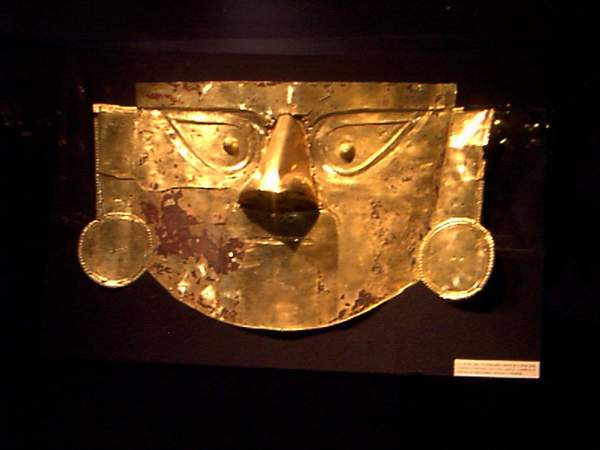 Gold Work at the Bruning Museum
In the town of Lambayeque we stopped at the Museo Arqueológico Bruning, where many of the treasures found in 1987 at the nearby ruins of the Mochica civilization are exhibited. The museum shows an impressive collection of gold, copper, spondilus, and silver craft work found mostly in the tumbs of their leaders, called Senor de Sipan. We also saw a couple of very well preserved mummies. It was interesting to learn about a civilization of warriors, farmers and builders that thrived in this harsh part of the world more about 2,000 years ago, having an irrigation ditch system throughout the desert that surpasses in technique and area the ones used nowadays. I was also very impressed by the crafstmanship and beauty of all their artifacts and ornaments.
We made it to Trujillo at dusk, found a hotel with a parking area, cooked dinner in the Westfalia and went to sleep right away.
July 12, 2002
Trujillo, Perú
Odometer: 206,539
Written by: Cris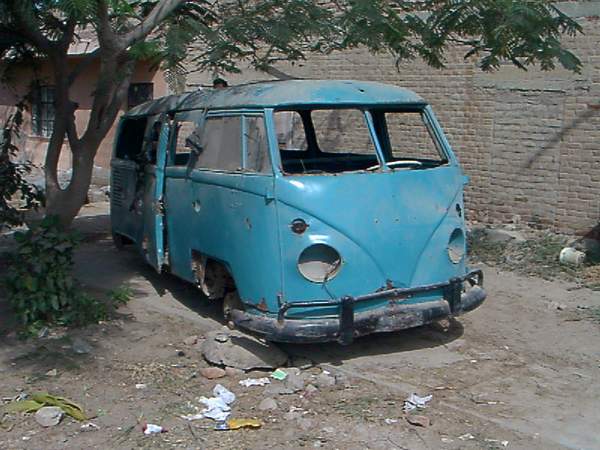 The Abandoned Bus in Trujillo
We drove briefly through downtown Trujillo and noticed the old colonial buildings in the area. But we didnt explore more, we were eager to make some miles, since we are starting to get a feel of how big this country is, as opposed to the ones we had been after Mexico, and how slow we are making progress in the map. As we were getting out of town, I saw a split window VW deluxe bus parked and decided to stop (there is always time for this...). The bus was being repaired and the mechanics knew about a similar bus abandoned nearby. My heart started pumping faster, and I asked one of them to show me the location. While driving there I kept imagining safari windows, deluxe trims, bumpers, middle seat, etc., etc. Barbara was gracious enough to agree to take some time for this side project, even though she doesnt really understand the force behind it (but she has been with me long enough). Well, the abandoned bus wasn't exactly what I expected, it was a real rust and bondo pile, with nothing valuable whatsoever.
Back in the highway, the landscape kept turning dryer and sandier as we made miles, to a point where we were all we saw was huge sand dunes. The landscapes we saw in today's drive were trully spectacular, a thousand different arrangements of sand forms and shapes, every now and then hitting the ocean. For one of those things, it just happened that in such a prime photo day, both cameras had some kind of problem. My digital camera just refused to turn on, and Barbara's ran out of batteries. Imagine the odds, three months travelling and both cameras decide to quit on the same day! On one occasion, the whole Pan American highway was blocked by a huge mixed herd of llamas, sheep, and goats, a trully Kodak moment...
(Next paragraph written by Barbara)
At noon we stopped at the archeological site of Sechin, close to Casma. This place is composed by a museum, the archeological site, and several places to relax under the trees. Cris was pretty tired after driving for a long time, and decided to take a nap while I explored the site and visited the museum. Even though this museum does not have treausures like the ones in the Bruning museum, it has some interesting archeololgical pieces, mostly potery and other items of the Chimu culture. There is also the mommified body of a woman whose facial expresion of pain is touching even after hundreds and hundreds of years. The archeological site consists of a group of building wals at the base of a dry hill. There are stairs surrounding the site which allows to see it from above and enjoy the panoramic view. The most interesting parts of the site are the carvings of people, animals and other designs on the walls. I was the only person visiting the site at that moment, and something strange happened. At one point while I was walking I felt something like a wind over my head, and then the same again. When I looked up I saw a redish bird flying like combat plane with me as a target. I could not finish my visit to the site because this bird finally decided to attack me, hitting my head! I was probably walking too close to the bird´s nest without knowing it, although I prefer to think that this bird was sent by the "ancient ones" to protect their place from intruders.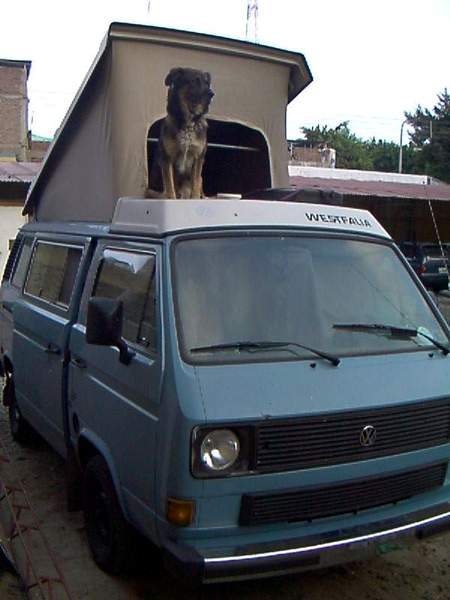 A Favorite Hangout for Chance: the Roof Rack
July 13-14, 2002
Barranca, Peru
Odometer: 206,539
Written by: Barbara
We spent these two days in the town of Barranca, mostly because we need to prepare ourselves better to the next leg of the trip, which is going to be much colder, and will go through much higher roads. We are also following closely the news about the "polar invasion" which has affected the areas of Puno, Cuzco, Arequipa, and other parts of the country. I am talking about exceptionally cold days, including heavy snowstorms that have killed several people and thousands of animals, isolated communitties, and caused many other problems.
We are now at a crossroads, not sure of which way to take, that is to say, wether to enter Argentina through Chile (safest), or through Bolivia (as planned originally). It seems that the weather conditions are slowly improving, so we decided to wait a few days before choosing our route, and in the meantime will visit Huascaran National Park and it's surrounding area, which we were told has some he most beautiful mountain views in the country, and it is only a few hours away from Barranca.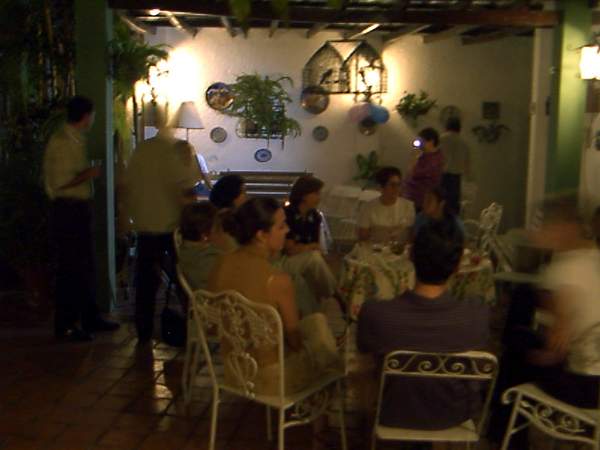 Party at Norma and Eduardo's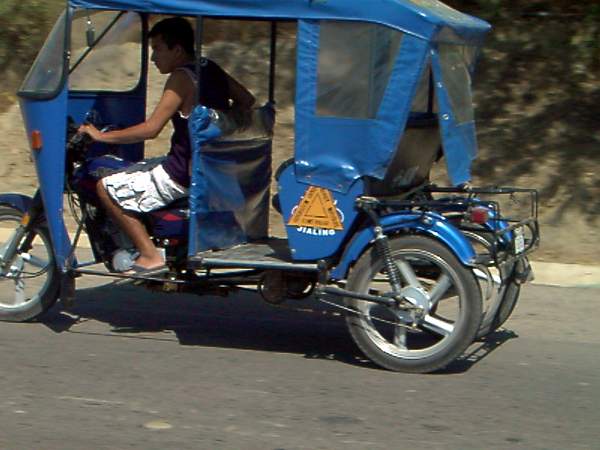 Hundreds of People-Carrying Motorcycles at Each Peruvian Town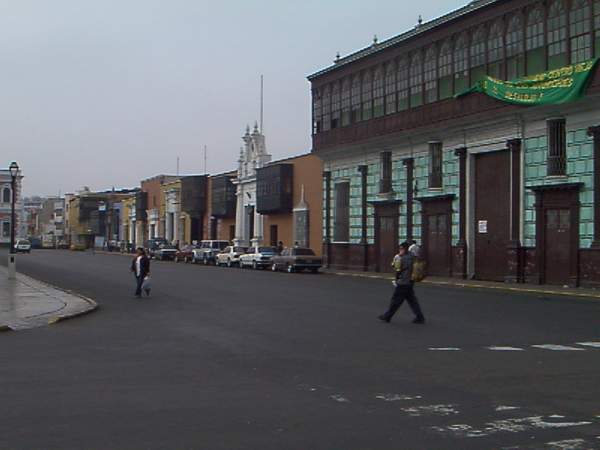 Downtown Trujillo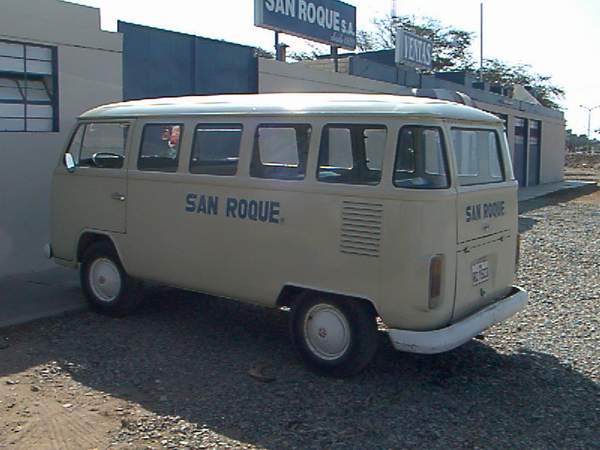 A Newer Brazilian Bus