Click on the thumbnails for larger photos: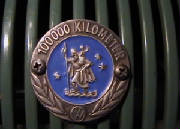 Original VW 100,000 km St. Cristopher Badge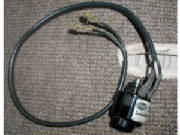 NOS Hella Back Up Light Speedometer Sending Unit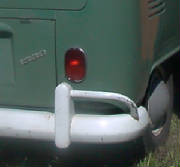 Genuine VW "1500" Emblem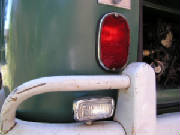 NOS Hella Back Up Light
What I've done:
There was not much to add to this bus, all I did was to install an original set of yellow/white/brown plaid Westfalia curtains, front seats were reupholstered to match the original salt & pepper pattern exactly, and new rubber gaskets where necessary (front doors/windows, windshield, pop top, etc.). I also installed a new set of 195/75/14 tires, a NOS Hella back up light along with a NOS Hella speedometer sending unit for it, and new commercial (grey) hubcaps (but I do have the original ones!). Other than that, just the usual maintenance stuff, always using the best available parts and products. The bus has been garaged throughout its entire life.